Technical Analysis Of The Markets
Bouncing from Oversold - Following the sharp break lower in October, stock markets are now bouncing from an oversold position. The NYSE Index lost -11% in October, so a relief rally is overdue in the short-term. A lot of damage has been done to the technical picture, however, following the recent sharp decline and it is likely now that a multi-year bear market has begun. Stock markets would need to recover quickly to negate this view. If we are now in a bear market, rallies should be sold rather than dips bought.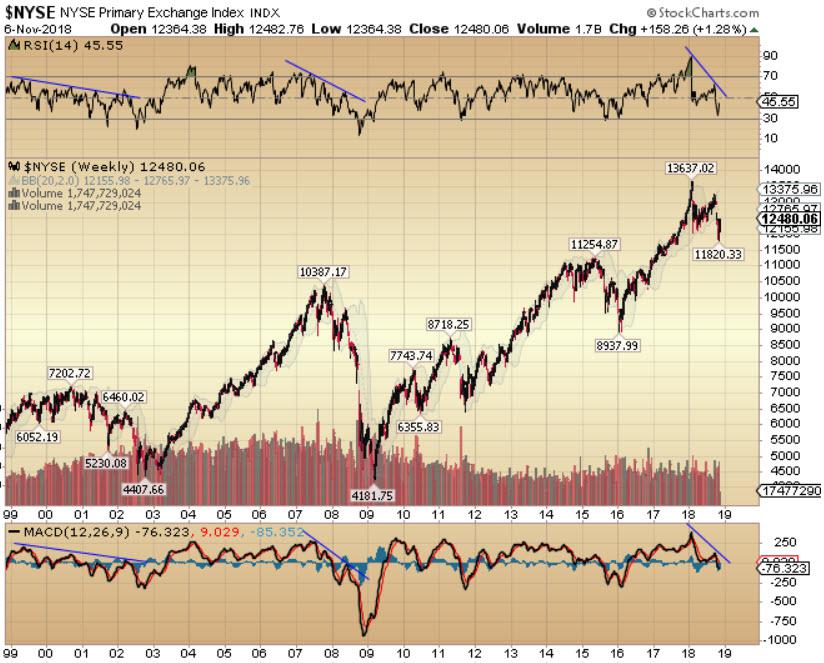 Trending Lower - While the stock markets are bouncing off the lows following a brutal spate of selling in October, all is not well when we take a look beneath the surface. Despite the recent rally, just 35% of the 3,000+ stocks trading on the NYSE remain in uptrends, above their long-term 200 day moving averages. When two thirds of stocks in the US have shifted to a bear market downtrend, investors should be concerned and take heed. Following almost ten years of steadily rising stock prices, the tide has turned.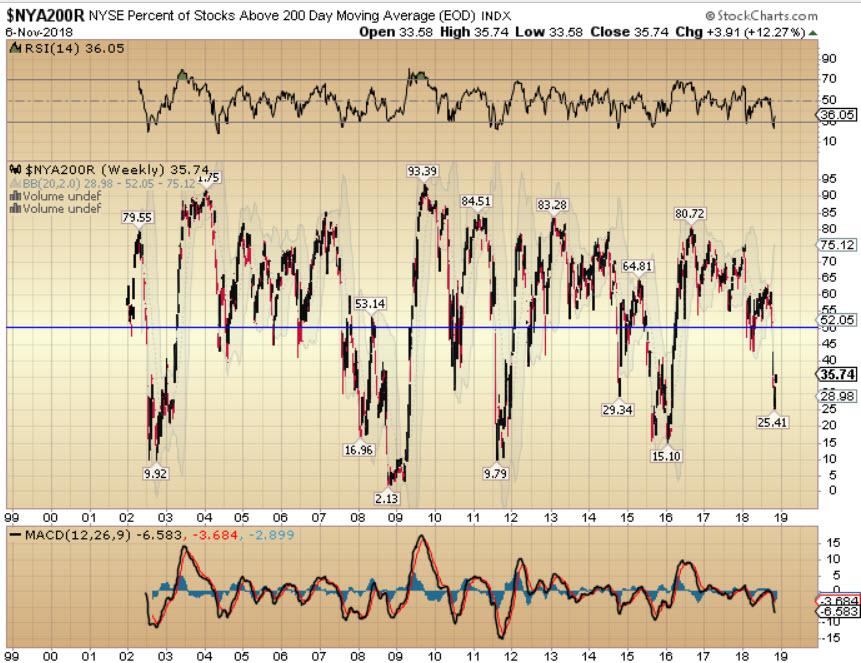 Riding the Curve - During periods of economic growth, long-term government bond yields typically trade 1.5% - 3.0% above short-term bond yields as fixed income investors demand a higher return on their capital for longer duration investments. As the market cycle matures, while short-term yields generally continue to rise, long-term bond investors tend to accept a lower return (yield) with capital preservation becoming a primary focus. The yield curve flattens as a result. The chart below captures the difference between 2 and 10 year US government bond yields.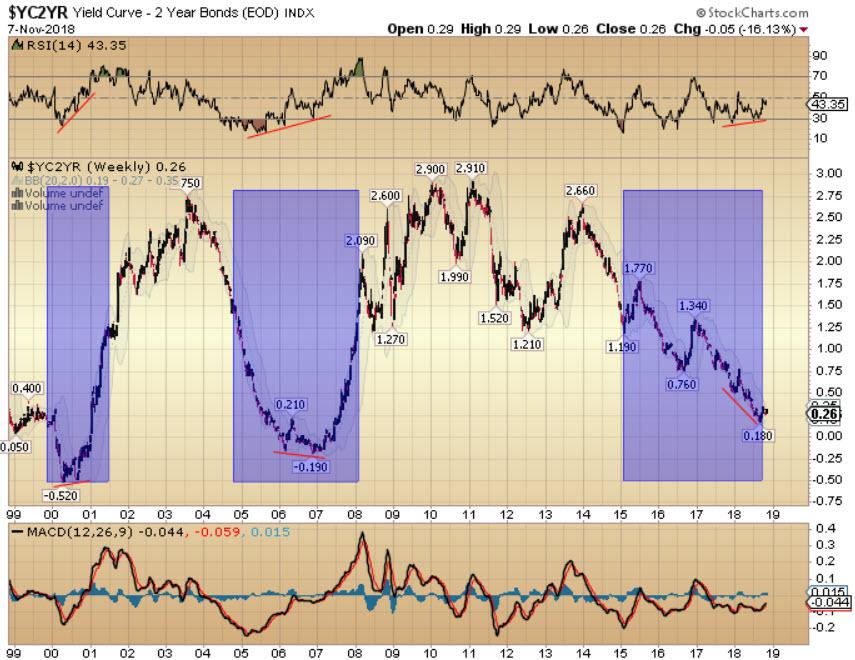 The Centre Must Hold - Back in May 2018 I started highlighting a potential head-and-shoulders topping pattern that was forming in the German stock market. Over the following 6 months, that pattern has played out to a tee with German equities recently breaking sharply lower in October. If the engine of Europe is slowing down, it does not bode well for the rest of the region. I am waiting patiently to add a position in European equities in the Active Asset Allocator, but as long as the growth engine of Europe is sputtering, cash remains the preferred position and capital preservation the primary focus.
Gold Cycle Revisited - Last month, I noted how the gold cycles have been a little trickier to navigate as we have experienced a series of quite abnormal left-translated daily cycles where the gold price pops higher at the start of a cycle and then trades lower for the next 10-15 days making it difficult to read. Since the last investor cycle kicked off in August, gold traded sideways for a few months before rallying in October. So far, the pattern is quite similar to the bottom that formed in late 2015.
FORWARDED THIS MESSAGE? SIGN UP
Join a growing list of savvy readers and get exclusive content for free. No spam, ever. Just great stuff.

Brian Delaney, CFA
Director, Secure Investments
Tel: +353 86 821 5911
Website: www.secureinvestments.ie
Email: [email protected]
LinkedIn: Brian Delaney, CFA
Twitter: @briandelaney_