Teryl Resources an Undiscovered Gold Dynasty
A little-known mining concern is rapidly making progress in exploring and developing gold-rich properties in Alaska and Canada. The company is already sitting on several highly developed claims in the Northwest with excellent gold, silver and diamond prospects, and is ripe for being acquired by its partner Kinross Gold. More importantly shares of this company are being quietly, yet rapidly accumulated by insiders who see its enormous profit potential with its stock ready to explode.
The company is up-and-comer Teryl Resources Corp., a natural resources concern that is beginning a major investor awareness campaign on the basis of their gold reserves and possibilities of finding a new major gold strike. Teryl has 4 gold properties in Alaska within 6 miles of Kinross Gold's famous Fort Knox and True North deposits. Teryl's main asset, the Gil, is made up of 4 sub-properties and is a 20%Teryl - 80%Kinross joint venture that already contains nearly 11 million tons of drill indicated reserves grading 0.04 ounces of gold per ton, or 433,000 ounces. Teryl geologists are confident that current drill programs could hit new mineralizations with grades higher than at Fort Knox.
The Fort Knox mill will be able to process Teryl's ore at an estimated cash cost of US$200oz. In 1999 Kinross purchased the True North property from Newmont and La Teko containing 660,000 ounces of gold (same vicinity as Gil) for US$28 million cash and 10.5 million shares of stock. Kinross recently raised US$97 million dollars and is on a roll. Kinross has about 400 million shares outstanding trading around C$3 a share, while Teryl has about 30 million shares outstanding trading around C$.15 a share. Clearly, Teryl offers greater upside potential in view of the numbers.
From a trader and investor standpoint, Teryl is a major percentage-play dream. Shares currently trade around 13 to 15 cents with a well-defined trading range of about 7 cents over the past five months. From a chart reading perspective there appears to be strong supporting interest at around the 7-8 cent area, which happens to be where a 1-year uptrend line intersects. Proof that net accumulation has been taking place is readily apparent in the chart, which shows that two major lines of supply (i.e., trend lines) have been broken in the past three months with a third and final area of supply on the verge of being taken out. A penetration above $0.15 would also signal a buy signal in the 3-day swing-trading chart, a signal that cannot be ignored. When this final supply of shares is absorbed (right around the 15 level, also the 5-month trading range top) by all indications there should follow a rally up to at least the 23-25 cent level, a potential gain of up to 60% over a short period! Once Teryl successfully penetrates its 2002 high of $0.27, chart pivots suggest a swing up to the doubling point of at least $0.54 before the next consolidation. Based on price equilibrium studies, however, once $0.50 is exceeded Teryl should have little trouble making it to $1.00 after a brief consolidation.
Another technical study to see the excellent trading opportunity Teryl presents is to overlap the gold futures chart with Teryl's chart and note the upward gains Teryl has made each time gold prices start to move. Teryl made a high of $0.27 on the last gold move to $333oz, and another similar run is clearly in the making. We know of no faster way in the gold market to multiply trading capital in a short time period than by trading in Teryl shares. The entire gold share market capitalization is only about ½ the size of just Coca Cola. It will not take much buying to see gold share prices multiply by many times once the fun begins.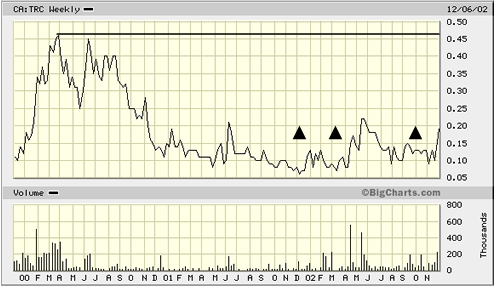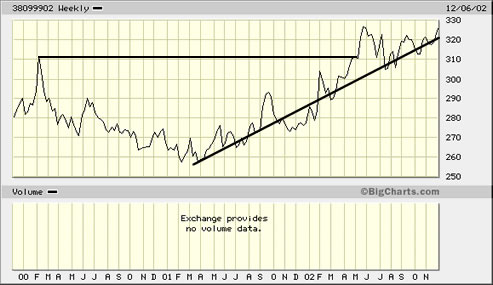 U.S. traders and investors are urged not to let this enormous profit-potential Canadian stock turn you away. If unable to trade these shares through your current broker, we recommend using a firm in Idaho - www.penntrade.com or phone (800) 953-2860. An account can usually be opened within a day.
More information is available on Teryl's website at www.terylresources.com - symbol TRC on the TSX venture exchange in Canada. It would be a good idea to leave your email to receive their press releases.