Two Shoes & Rogue Event
Pictures are worth a thousand words, that is 1000 words for each picture. Well, here are several thousand words condensed for easy view. Let's put the right side of the brain to work in order to track the unfolding crisis to the US Economy. That distress is being reported, but fully denied, even as clowns put forth the nonsensical notion that the reconstruction effort from a "one-two whack" is beneficial to the economy. No, if the US Federal Federal Reserve decides to monetize the higher energy cost shock, AN UNCERTAIN EVENT SINCE RATE HIKES CONTINUE, the stress will not only widen, it will reverberate. Higher interest rates will enhance the threat of economic decline and recession. The recent warnings which go largely unheeded are the Philly Fed cratered figures, and the ISM non-mfg decline. Ahead, derivative events loom. At the same time, the quality of economic forecasts is truly horrible. Energy prices trend up from shortage and disruption. They will soften from economic slowdown, but Asian economic growth is a juggernaut. They are dependent upon US markets, but they also have regional strength and growing parochial interest which serve them well.
My expectation is that Q4 might go on record as the first economic pullback, with negative TRUE REAL GDP growth, registered and reported as slight GDP positive growth. The cost shock will NOT be properly adjusted out, and much of purported economic growth will simply be inadequately improperly fallaciously adjustments to price inflation on the purchases & sales of goods & services. The GDP Price Deflator (used to pull out inflation from nominal GDP numbers) is more fraudulent than the broken joke of the Consumer Price Inflation index, aka the Constant Price Index. Q4 growth will simply be price inflation falsely labeled as growth, in keeping with the trend in the United States of institutional lying. The October Hat Trick Letter issue goes into more detail that this pictorial story as it unfolds in tragic form.
The BANK SECTOR, despite loyal fealty directed to it by the USFed, lies directly ahead in the crosshairs. Issues pertain to profit margins, defaults, extensions to payment schedules, lost yield curve differentials, the list goes on. Setasides to loss reserves from non-performing loans will be heard before long. Credit card providers have seen fit to double minimum monthly payments, just in time to pressure already stressed households. The "BKX" bank sector index looks ready to seriously challenge the 95 level.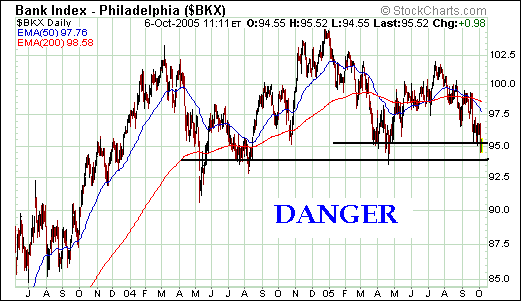 Look out below!!!!!! FANNY MAE looks like a cratered internet stock, only it is plumbing the depths in a more graddddddual decline. And this tainted gem is the cornerstone of the entire US housing market finance industry, the nucleus of the great mortgage finance centrifuge. As my childhood friends would say, noting the Rosh Hashanah holiday, "oy veh." My take is that as Fanny and her fat haunches go, so goes the housing industry. If her bloated behind is exposed as bankrupt with absent capital core, Asians and Europeans will cease and desist from their bond support. Esoteric accounting methods from exotic mortgage contracts and their derivatives make for very murky water. Fraud charges lie in the future, in my opinion.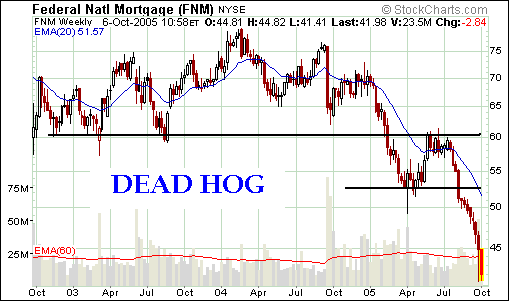 The first shoe is sharply rising GASOLINE PRICES, and the pinch to household budgets. We hear of 2.8% lower demand for gasoline from the same week one year ago. Diesel costs have hurt truckers in a 50% price rise, now figuring as far more than the usual 25% of total costs. Shipping costs are being passed on to customers of diverse product groups, beginning but not ending with construction and building materials. See the FedEx announced hikes. The greatest single stress point related to gasoline prices is the plummet in Detroit car sales, down 24% in GM and down 19% in Ford for September. Daimler Chrysler sales are actually up 4% in September, unlike rivals. Sport Utility Vehicle sales are the stone around their necks. SUV used prices are down a stunning 10% in the latest month. And let us not forget the airlines, under constant duress, with two recent bankruptcies, enormous cost stress from jet fuel.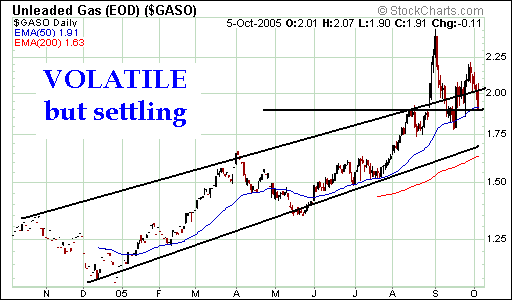 The second shoe is sharply rising NATURAL GAS PRICES, and the pinch to home heating and commercial enterprise. Beware that 52% of American homes are heated with natural gas. In addition, natgas is a feedstock to dozens of key items such as farmer fertilizer and PVC plastic pipe, often in hidden fashion. See the DuPont announced hikes. Natgas is critical to industrial processes, from plastics to smelting. A woman friend is a milk maid, who enjoys a suburban music dance hall in common. She tells me of horrendous cost conditions to dairy farmers, whose cows must live in heated barns. Micheal Economides of the University of Houston points out how 80% of all natgas supply pipelines go through Lake Charles in Louisiana. That area saw a direct hit from the second hurricane. We got kicked in the shins after being kicked in the groin with these hurricanes. Unbeknownst to most Westerners, the United States is home to the most violent weather on earth, with three oceans (actually Gulf of Mexico is the third) and tropical equatorial heat sources working north into the US mainland.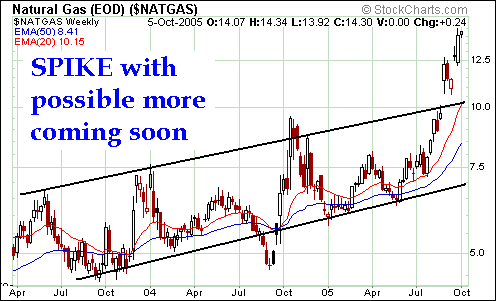 Consumers will surely be challenged. A Reuters News caught my eye today.
Britt Beemer, head of America's Research Group, which tracks consumer trends, said Labor Day sales in September are an accurate predictor of holiday demand 9 times out of 10, and this year's sales were disappointing. Beemer said he surveyed 1,000 people two weeks before Labor Day -- which was also before Hurricane Katrina -- and some 38% said they intended to go shopping over the holiday weekend. He polled those same people again after Labor Day weekend and found that only 28% actually shopped. "If things don't change, I still think there is a possibility that we could have the first negative Christmas sales season in two decades," Beemer said, referring to same store sales.
The RETAIL SECTOR and its pathetic indulgent shopping mall shrines are expected to see continued strain in the absurd US Economic foundation. For an economic crew to claim that a trade of manufacturing base for a series of retail chains and malls can be justified as healthy and viable, to me is absolutely absurd on its face, like claiming a pastel yellow leisure suit is the height of fashion. A national economy built on consumption is a house built on sand, as we will see. Comp sales growth at retail chains seems good, but just like with General Motors and Ford, sales without profits are the order of the day. Prices are being slashed to maintain sales levels, and keep customers spending at all in retail chains. In the last two to three years, zero percent finance terms drove sales. Next price cuts will do the same.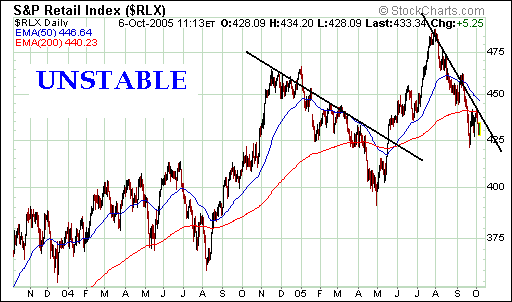 Even in the basic foundation of the SEMICONDUCTOR INDEX, the SOX, we see strain. Lower sales for consumer electronics, cars, and other equipment will soon translate into lower chip demand generally. Notice the emerging trend with some weakness. If it breaks down, a harbinger of negativity will sound for the technology sector generally. In past cycles, the bank index BKX and chip index SOX served as dual indicators on economic strength. The former is in clear danger, the latter in imminent danger.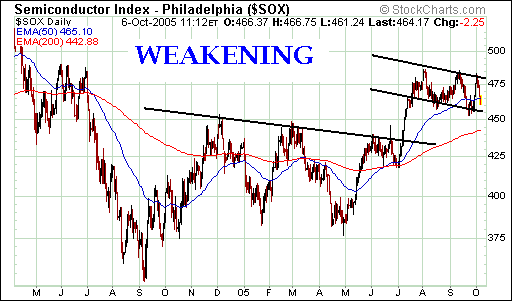 The hurricanes serve as dreaded rogue events. The first shoe is the highly visible gasoline price spike. The second shoe is the rising cost of natural gas, less visible until home heating begins next month, but highly visible on the industrial side. The third shoe will be rising electricity costs and brownouts in California from natgas supply disruptions.
From Hat Trick Letter subscribers:
"You are on my fairly short list of economic writers who actually 'have a clue' which pretty much guarantees that I will be a subscriber as long as you a writer."
    (Bob T at USArmy base in Germany)
"Your free commentaries are of a higher quality than several of the fee-based newsletters that I have subscribed to. For a statistician, you have an incredibly high quality of writing. In fact, it may be the best that I have ever read."
    (David F in North Dakota)
"I think your commentaries have some of the soundest analyses that I've read."
    (Cheryl K in California)
---
Jim Willie CB is a statistical analyst in marketing research and retail forecasting. He holds a PhD in Statistics. His career has stretched over 23 years. He aspires to thrive in the financial editor world, unencumbered by the limitations of economic credentials. Visit his free website to find articles from topflight authors at www.GoldenJackass.com.