The Two Things Every Investor Needs To Know About The War On Cash
For six years straight, the Fed has been trying to "trash" cash.
First it cut interest rates to zero… making it so that savings deposits produced almost nothing in the way of interest income. Consider that at current rates, a retiree with $1 million in savings earns a measly $2,500 per year in interest income.
The Fed's hope was that by making it painful for savers to sit in cash, said savers would move into risk assets such as bonds and stocks. This has worked in that stocks are now in one of, if not THE biggest bubbles in history… while bonds are trading at yields never before seen outside of wartime.
However, the Fed overlooked two outlets for investors who didn't want to be forced into risk. They are: Gold bullion and physical cash.
Bullion and Cash represent two of the best means of "getting your money" out of the system. They are a way of saying "no" to Central Banking madness (at least unless hyperinflation sets in).
How is this?
Warren Buffett once noted, Gold doesn't do anything "but look at you." It doesn't pay a dividend or produce cash flow.  However, the fact of the matter is that Gold has dramatically outperformed the stock market for the better part of 40 years.
I say 40 years because there is no point comparing Gold to stocks during periods in which Gold was pegged to world currencies. Most of the analysis I see comparing the benefits of owning Gold to stocks goes back to the early 20th century.
However Gold was pegged to global currencies up until 1967. Stocks weren't. Comparing the two during this time period is just bad analysis. And once the Gold peg officially ended with France dropping it in 1967, the precious metal has outperformed both the Dow and the S&P 500 by a massive margin.
See for yourself… the below chart is in normalized terms courtesy of Bill King's The King Report.
According to King, Gold has risen 37.43 fold since 1967. That is more than twice the performance of the Dow over the same time period (18.45 fold). So much for the claim that stocks are a better investment than Gold long-term.
Indeed, once Gold was no longer pegged to world currencies there was only a single period in which stocks outperformed the precious metal. That period was from 1997-2000 during the height of the Tech Bubble (the single biggest stock market bubble in over 100 years).
In simple terms, as a long-term investment, Gold has been better than stocks.
As for physical Cash…
The US Dollar actually returned the same amount as stocks in 2014. Those investors who simply put their money in cash saw their wealth increase the same amount on a relative basis as those who stomached the stock market roller coaster. 
This is not changing. In fact, those sitting in cash have made even MORE money this year than those who own stocks. Even with the correction in the US Dollar, it's massively outperforming the stock market.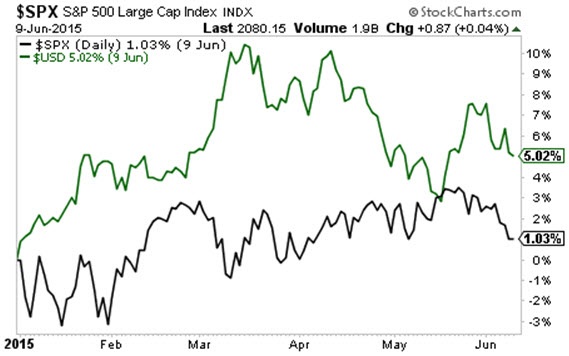 This has infuriated the Fed and is forcing it to take more and more aggressive measures to trash cash.
Indeed, we've uncovered a secret document outlining how the Feds plan to take hold of savings during the next round of the crisis to stop individuals from getting their money out.
We detail this paper and outline three investment strategies you can implement right now to protect your capital from this sinister plan in our Special Report Survive the Fed's War on Cash.
We are making 1,000 copies available for FREE the general public.
To pick up yours, swing by….
http://www.phoenixcapitalmarketing.com/cash.html
Phoenix Capital Research