Ukraine Lurches to Full Scale War as Russia Drastically Reduces Gas Supply to EU
Gold surged in dollars, pounds and especially euros yesterday after the Swiss Natonal Bank (SNB) caused turmoil in markets. Spot gold surged $30.50 or 2.48% to $1,258.50 per ounce and gold in euro terms rose by 4 per cent from EUR 1,044 to over EUR 1,085 per ounce, as investors diversified into gold.

The Swiss National Bank shock move caused turmoil on markets and led to an increase in demand for physical gold which we spoke to Bloomberg about this morning - see here
Gold is up almost 3.5% this week in dollar terms its largest gain in nearly a year. In euro terms gold is is up 5.3 per cent and in sterling terms by 3.6 per cent.
2015 year to date, gold is up 5.5 per cent in dollar terms, 11.6 per cent in euro terms and almost 8 per cent in sterling terms.

Geopolitical risk from terrorism and deepening tensions with Russia is contributing to gold's gains.

Vladimir Putin has ordered the Russian state energy giant Gazprom to cut natural gas supplies to and through Ukraine to the EU in a little reported move. It took place late on Wednesday and was overshadowed by the shock SNB move.

Russia has shut off gas supplies through Ukraine to six EU states, ostensibly due to Ukraine's alleged illegal siphoning of gas from the pipeline. The European Union warned that the sudden cut-off to some of its member countries was 'completely unacceptable'. The move comes just as winter begins to bite across Europe.

The pipeline crossing Ukraine supplies over 60% of the entire EU's natural gas. Six countries - Greece, Bulgaria, Macedonia, Croatia, Romania and Turkey - report a complete halt of gas coming in from Russia.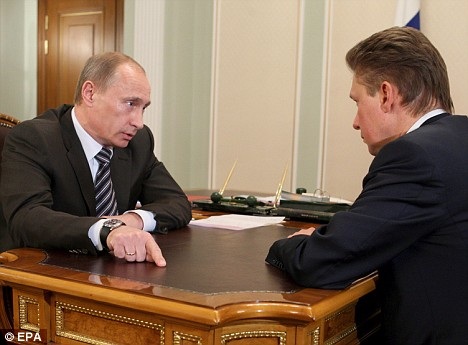 Russian Prime Minister Putin instructs Gazprom chairman Alexei Miller during a meeting yesterday

There is the risk of an energy crisis and it is worrying that the move comes about at a time of increased maneuverings and posturing by NATO and the Russian army and deepening conflict in Ukraine.

Ukraine lurched back toward full-scale conflict today as troops loyal to the new Ukraine government battled with pro-Russian forces for control of an eastern airport.

Ukraine said yesterday that cease fire violations have surged to a new record, while the nation's security council warned the unrest may spark a "continental war" and German Chancellor Angela Merkel called for emergency talks.

Geopolitical tensions are escalating across the world, concurrent with indications of an imminent and severe recession globally.

Gold has played an important role in protecting peoples' wealth in uncertain times and will do so again in the coming years.