V-E-R-T-I-C-A-L-I-C-I-O-U-S!
[During this time of year for giving thanks, I found myself in a bit of a strange circumstance this afternoon. I was watching a show on television that was filled with hope as a young person gives it his all in an attempt to accomplish something special. In this case it was a young lady, and she was given help by her friends and family at all of the crucial times that she needed a little push. In the end the young lady was very appreciative toward her family and friends for all of the help they had provided. Yet, tears came to my eyes as my mind wandered off to thoughts of all of the debt and corruption present in society, today. Those tears left me with one question. In the future will our children look back on what we have done, today, and still feel like giving thanks?]
Two weeks, ago, we discussed the possibility of the HUI index moving sharply higher according to our "fractal" analysis. Over the last few months w have covered the similarities of the fractal patterns in the HUI from about every direction I can think of- all of which suggest a move to much higher levels. This week I did find one new look at the fractals that I had not considered, yet. When the two fractals are compared at different degrees, the time factor for each to break-out are almost exact, should be have a major breakout in this time-frame. Such a similar break-out of the HUI index might be an almost vertical move to around the 370 level (range of 345 to 390) over about 45 to 60 days. And what a delicious thought such a vertical move would be! We might call such a move, VERTICALICIOUS!!!!!!
HUI- "Verticalicious Target"
This first HUI chart shows the corrective portions of the fractals circled in yellow. The hot pink arrows show the earlier fractal target and the current potential fractal target.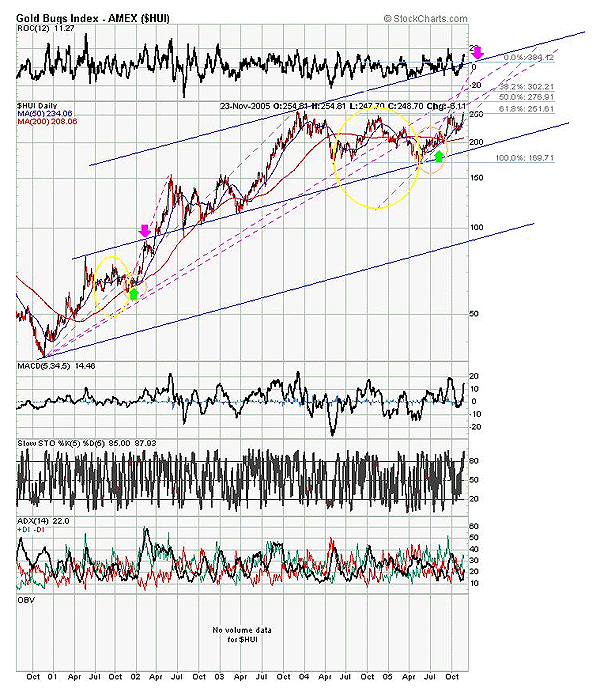 This second HUI chart shows where the current price lies in the context of a larger framework of trend…….and brings up the question, "Who's afraid of the big bad wolf?"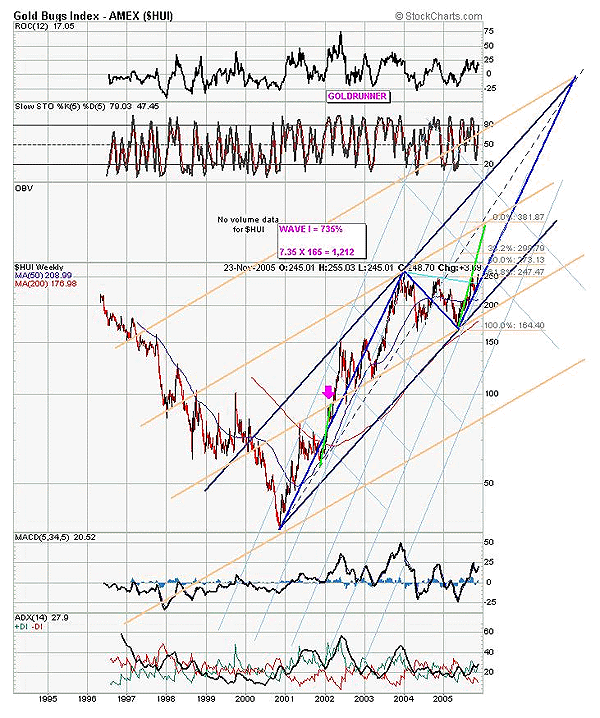 SILVER
On August 29th we showed a chart of Silver, right when everyone was screaming "breakdown!.....run away….run away!" At that time Silver was trading, if memory serves, around $6.70. In that article we posted a chart of Silver, showing a price target of around $11.87 in about 9 months. With the help of Dr. Vronsky on the timing issue, we only missed posting the article to that bottom by one day. Today, our target remains the same so we will stick with the same chart, but add one more Silver chart that shows the time relationship a bit more clearly. Our target for Silver remains at around the $11.87 level in a 4 to 6 month time-frame. That would be somewhere in the vicinity of March to May, 2006. As you can tell, we still feel that an explosion is coming. For anyone wishing to look back at our editorials to date, they can be found at the URL listed, below.
ORIGINAL SILVER CHART
SILVER RIBBONS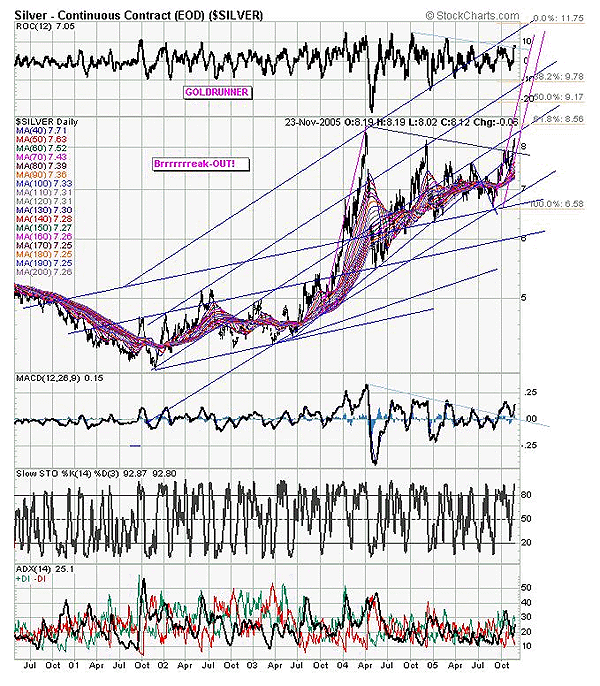 It is certainly true that the HUI is bumping its head against some resistance as we speak, but we expect the index to make a dramatic break through that resistance. It seems that many investors are leery of the break-out so many have placed buy stops, just above the break-out area. Can you say, "Verticalicious!.....like in explosive?"
Again, I'd like to thank all of the posters at the Gold-Eagle Forum for their daily input. This thank you is especially extended to TQ and to Grininbarrett. Special thanks go to Dr. Vronsky and Westerman for creating the GOLD-EAGLE.com site and for editing my work. A very special "Congratulations" go out to Dr. Vronsky and Westerman after GOLD-EAGLE.com saw its hit counter ring up 200 million this last week.
The Gold-Eagle Forum can be linked at
www.gold-eagle.com/cgi-bin/gn/get/forum.html
Thanks also go out to CaptainHook and David Petch of TreasureChests since I have learned so much from them. They can be found at
www.treasurechests.info/index.php
There are many great editorials that can be found on the GOLD-EAGLE.com site at the following link.
www.gold-eagle.com/research/petchndx.html
E-mail contact: