Valentine's Day Is Golden
The world's ultimate asset, gold bullion, continues to act superbly.  That's because fundamental, cyclical, and technical price drivers are very positive and are in play at the same time.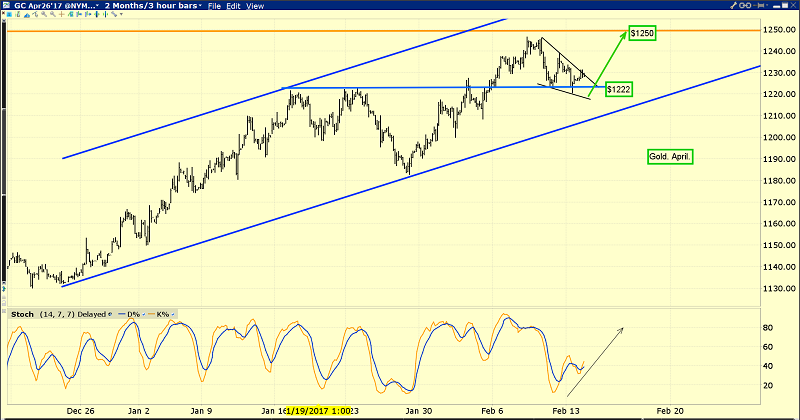 This is the gold chart.
Gold is poised to burst upside from a small bull wedge pattern, after recoiling from $1250 area resistance.
Support sits at $1222, and testimony from Janet Yellen today along with key US retail data tomorrow could be the fundamental catalysts that launch gold's next assault on that $1250 zone.
Experienced technicians understand that their charts only work when fundamentals are creating the technical picture they see on their charts.
In the case of the US dollar, most amateur technicians were very bullish on the dollar at the start of the year.  They've essentially been crushed by "Trumpamentals".
The bottom line:  The fundamentals of the Trump administration are changing institutional liquidity flows from a safe haven orientation to a US economy risk-on orientation.
That's very positive for gold, as a pick-up in Main Street (small business) business activity can be very inflationary.  That's because money velocity tends to accelerate quite dramatically when the pick-up gets underway.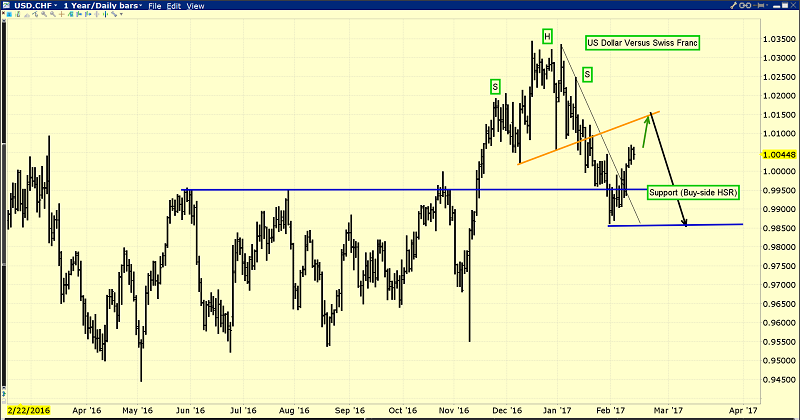 This is the dollar versus franc chart.
The dollar has broken down from a head and shoulders top pattern.  A textbook rally back towards the neckline is now in play.
Once that rally is completed, the dollar is likely to retest the recent lows, helping gold surge through the resistance at $1250.
This is the weekly gold chart.
While $1250 is acting as short to intermediate term resistance, gold seems poised to move even higher in the big picture, likely to about $1300.
Two key trend lines of resistance converge in the $1300 area, making that the next likely upside stop for gold above $1250.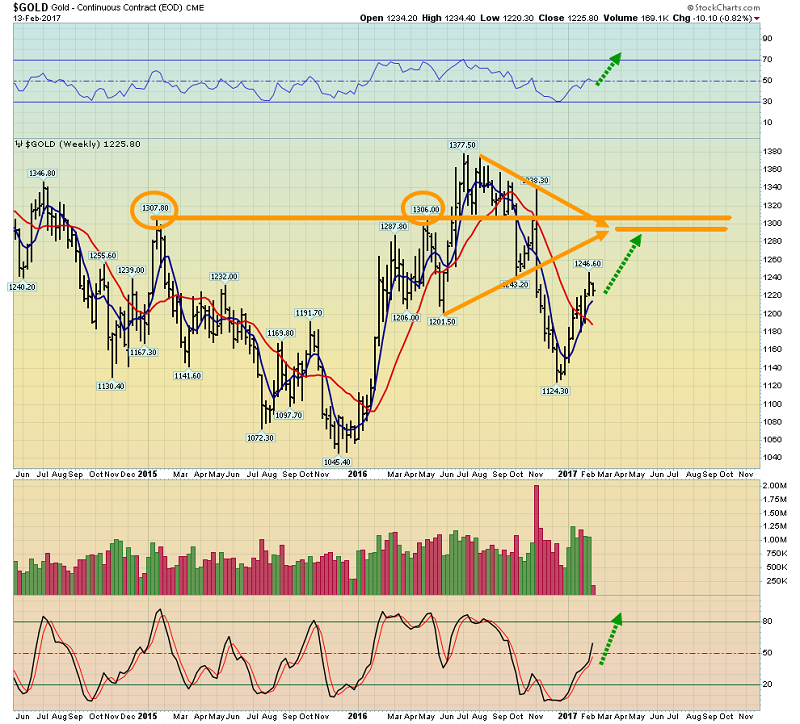 That's another look at the weekly chart for gold.  Both the RSI and Stochastics oscillators are crossing above the 50 area.  That tends to happen when upside momentum is increasing.
Also, note the highs in the $1306 - $1307 area.  They are also likely to offer a profit booking opportunity for happy gold bugs soon!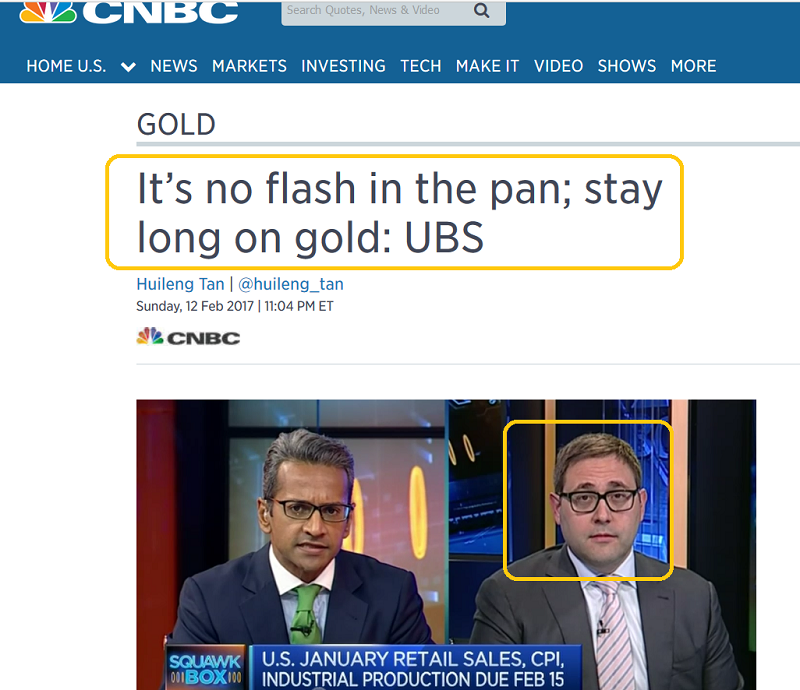 It turns out that I'm not alone in my view that gold can rally to $1300.  Dominic Schnider is a heavyweight economist at monster bank UBS, and he sees gold making a beeline for $1300 too!
Institutional money managers gain extra confidence when top economists recommend an asset class, and having Schnider "on side" with higher prices will certainly build that confidence.
Silver bugs should also feel confident right now. 
That's because silver is beginning to act with less volatility, and more like a slightly "jacked" version of gold!  On rallies, silver is outperforming gold against the dollar, but not excessively so. 
Modest outperformance by silver against gold tends to occur during long term uptrends.  Wild outperformance tends to occur when the precious metal sector is ending a big uptrend.  The current action in the silver market is ideal for investors.
As good as gold and silver bullion look, the stocks that mine these mighty metals look even better, as they typically do when economic growth and inflation come into synergistic play.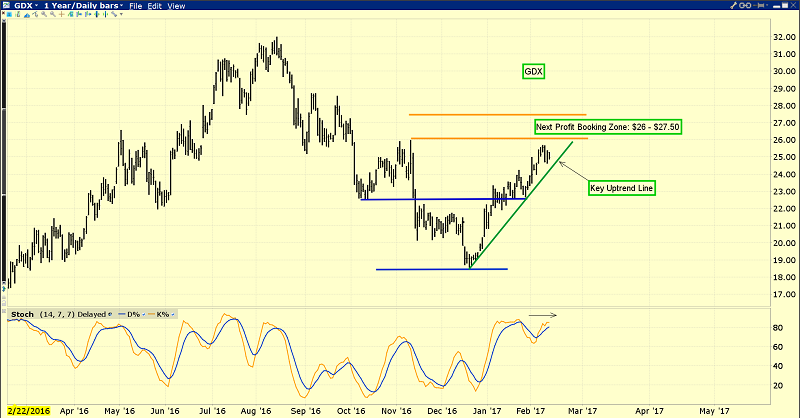 This is the GDX chart.  Happy gold stock investors should wait for my $26 – $27.50  target zone before booking any more profits.  That target may be achieved this week.  Valentine's Day is today, and may I suggest as a gift… something golden! 
********
Special Offer For Gold-Eagle Readers:  Please send me an Email to [email protected] and I'll send you my free "Gold, Silver, & Uranium Stocks Triple Play!" report.  All three sectors are blasting higher.  I cover 3 top stocks from each group that are likely to excite all resource investors!
Note: We are privacy oriented.  We accept cheques, credit card, and if needed, PayPal.
https://www.gracelandupdates.com  
Email:
Rate Sheet (us funds):
Lifetime: $999
2yr:  $299     (over 500 issues)
1yr:  $199     (over 250 issues)
6 mths: $129 (over 125 issues)
To pay by credit card/paypal, please click this link:
https://gracelandupdates.com/subscribe-pp/
To pay by cheque, make cheque payable to "Stewart Thomson"
Mail to:
Stewart Thomson / 1276 Lakeview Drive / Oakville, Ontario L6H 2M8 Canada
Stewart Thomson is a retired Merrill Lynch broker. Stewart writes the Graceland Updates daily between 4am-7am. They are sent out around 8am-9am. The newsletter is attractively priced and the format is a unique numbered point form.  Giving clarity of each point and saving valuable reading time.
Risks, Disclaimers, Legal
Stewart Thomson is no longer an investment advisor. The information provided by Stewart and Graceland Updates is for general information purposes only. Before taking any action on any investment, it is imperative that you consult with multiple properly licensed, experienced and qualified investment advisors and get numerous opinions before taking any action. Your minimum risk on any investment in the world is: 100% loss of all your money. You may be taking or preparing to take leveraged positions in investments and not know it, exposing yourself to unlimited risks. This is highly concerning if you are an investor in any derivatives products. There is an approx $700 trillion OTC Derivatives Iceberg with a tiny portion written off officially. The bottom line:  
Are You Prepared?