This Week in Gold
The gold sector remains on a sell signal since April, and prices continue to deteriorate.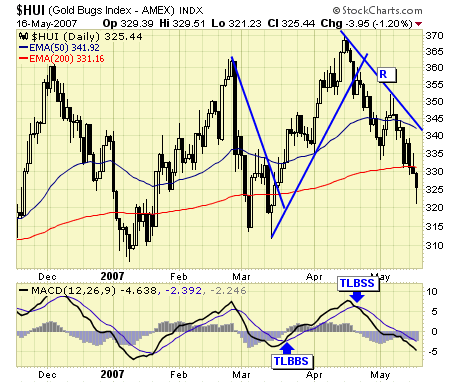 $HUI - is now below the 200ema support and oversold.
$XAU - also below the 200ema support and oversold.
GDX - like both $HUI and $XAU, closed below the 200ema support and oversold.
XGD.TO - the Cdn gold ETF is deep below the 200ema support and deeply oversold. A bearish cross (50ema crossing below 200ema) is about to occur, which means XGD will soon slip into a bearish configuration, at which time set ups to short can be initiated.
Summary
The gold sector continues to bleed from our April sell signal but is deeply oversold and can bounce sharply at anytime. As always, we will only enter the markets when we have signals, set ups, and stops. Otherwise we remain in cash and out of harm's way.
********
Disclaimer: Words of caution: public readers of my commentaries should exercise their own judgment as to whether to buy or sell anything. Never trade based on other people's analysis. Knowing which way to place our bets is only half of the formula to success. Wishing you peace and profits......................................