The Western Love Trade: Gold Stocks
Have oil and US rates peaked, and does that mean gold is making a major low?
For some technical insight into the matter,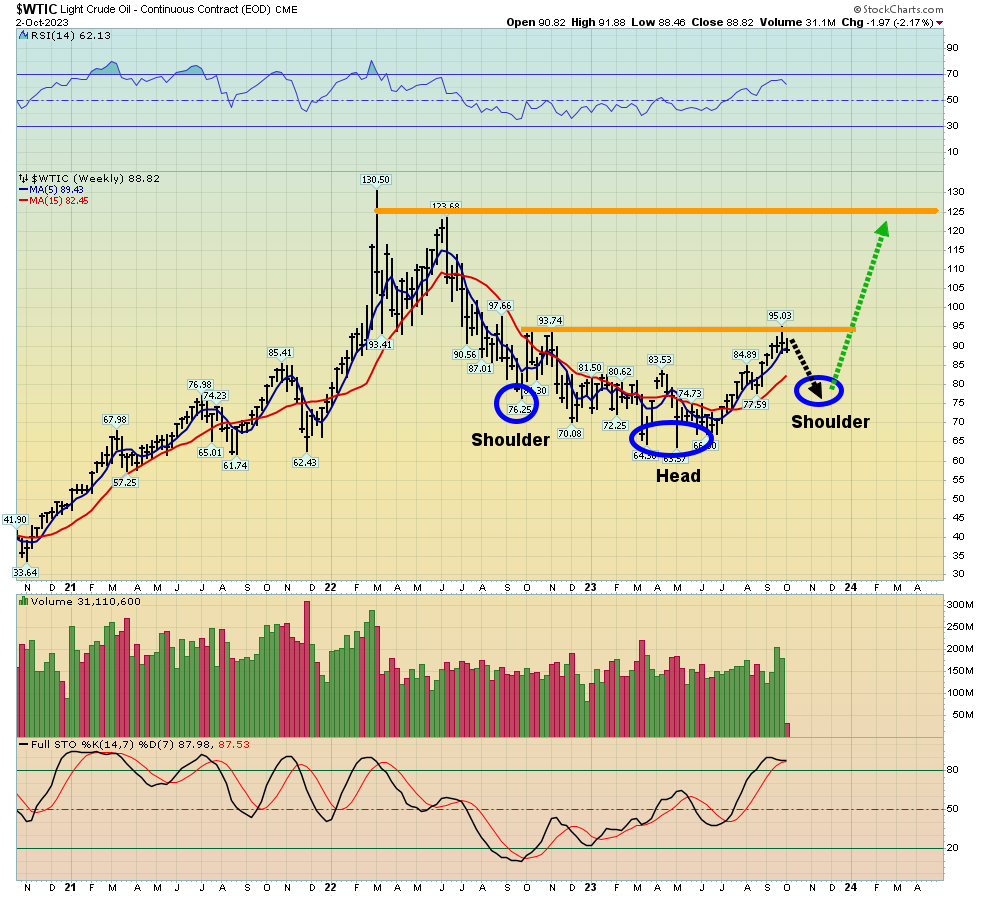 Double-click to enlarge this weekly oil price chart. Oil is likely peaking, but only in the short to medium term.
There's a big inverse H&S formation in play, and the target zone is roughly $120. A pullback to about $83 or $76 looks likely before the next rally takes place.  
For short-term look at oil,
Double-click to enlarge this magnificent chart. The $83 and $76 support zones are very clear. What are the implications of significantly higher priced oil for gold? I'll get to that in a moment but first…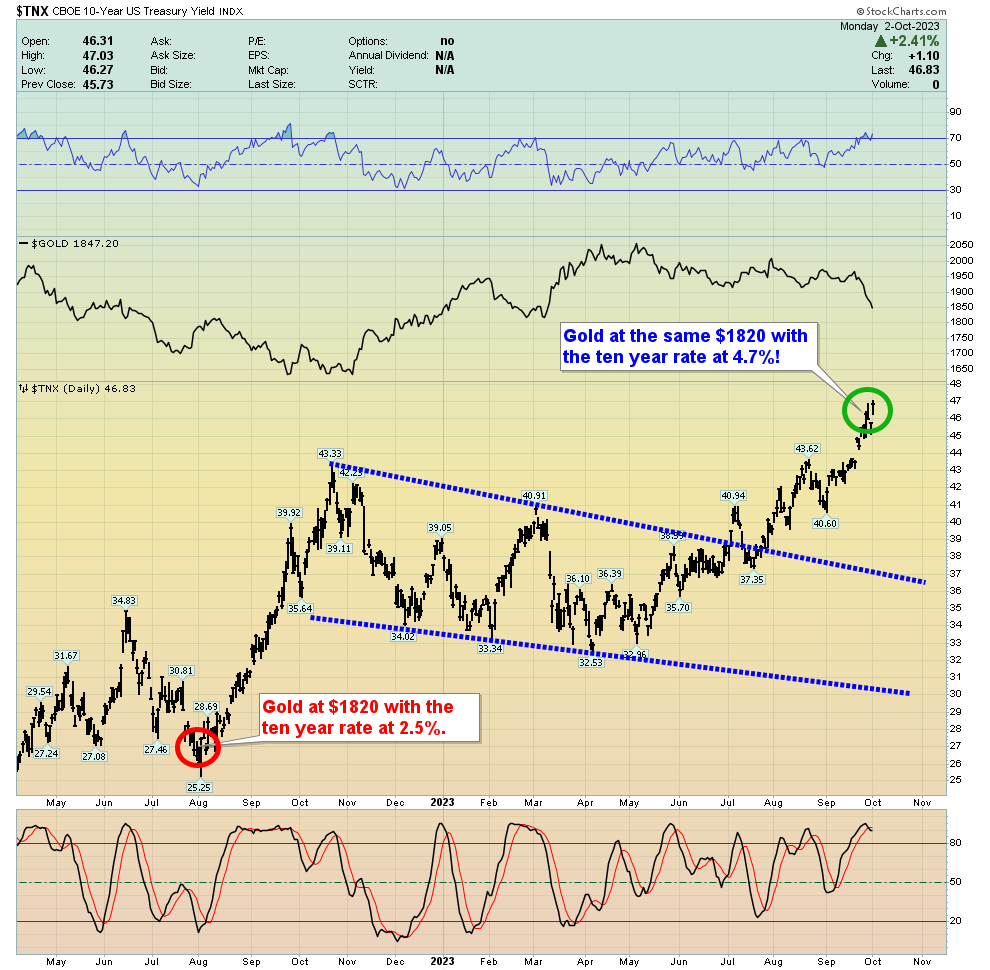 Double-click to enlarge this TNX rates chart. It's difficult to call a top for rates, but what is most evident… is the stunning resilience of gold.
The ten-year bond rate was about 2.5% a year ago, and gold was trading around $1820. Now, after rates have been jacked up to 4.7%, gold is still trading at $1820!
I've suggested that America is at a point in time that resembles both 1929 and 1966. In 1929 the stock market crashed and in 1966, an inflationary era began. There were numerous hiking cycles from the Fed, and only the final one reigned in the horrific inflation.  
For gold "to be all it can be", both average US citizens and institutional investors need to become as excited about it as they were in the 1970s.
In a nutshell, gold can easily rally $300/ounce on recession news, lower oil, and peaking rates, but it would likely rally $3000/ounce (!)… if consecutive waves of 1970s style inflation hit both citizens and markets.
Can that happen? Well, a surge to $120 for oil would almost create the first stage of inflation-oriented investor panic, and higher prices could cause food and fuel riots.  
Because the debt and fiat themed US government would likely collapse if the Fed hikes rates much higher than where they are now, the next Fed play could be to raise the inflation ceiling from 2% to 3%.
Interestingly, that itself could cause panic because it would be a de facto admission that the central bank has lost some of its ability to contain inflation. 
Clearly, mainstream investor interest in gold lies ahead, and that interest could become… fever.
Double-click to enlarge. Gold has arrived at the outskirts of the massive $1800 buy zone.
$1900 was a buy zone, but modest in size. The $1800 price is significant. I've marked it as an "all things gold" buy zone, meaning that in addition to gold bullion, silver bullion and mining stocks can be bought there as well.
For a look at the US stock market,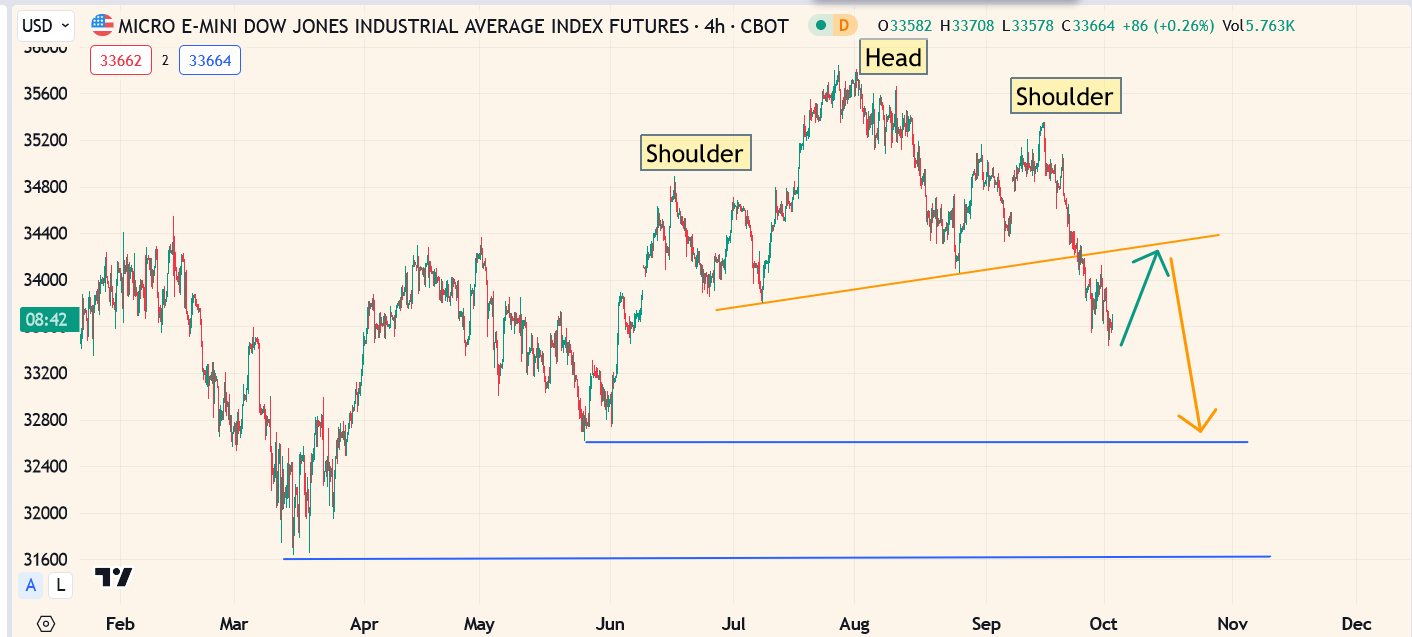 Double-click to enlarge. The Dow looks shaky, and while higher rates would push both stocks and gold lower, a panic out of stocks and into bonds looks increasingly likely.
That panic would push rates lower, push the dollar lower, and ignite a gold, silver, and mining stocks rally.
A consistent focus on rates, debt, government horror, and other key big picture items is critical for investors. I cover the big picture 5-6 times a week in updates just like this one, in my flagship Galactic Updates newsletter. At $199/year, investors feel the price is too low, and I'm doing a $179/15mths special offer that investors can use to get in on the winning action. Click this link to get the offer or send me an email and I'll get you a payment link. Thanks!
For an update on the Eastern love trade,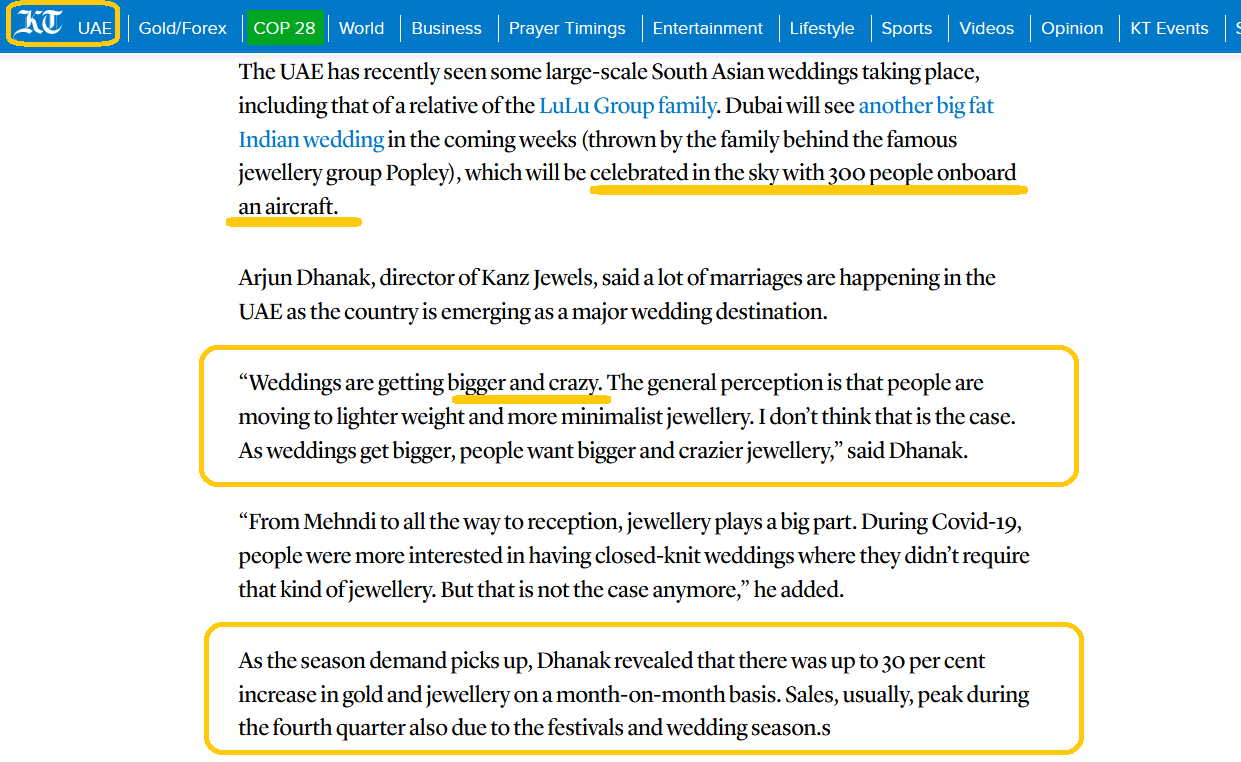 Dubai is known as the "City of Gold", and rightfully so. While hedge funds trading on the COMEX sell gold because the long futures contracts pay them no interest...
Big fat gold-themed weddings (with some in the sky!) are a powerful theme in Dubai. The current gold price sale has caused demand there to surge 30%.
Here's the bottom love trade line: Asians don't really care if gold pays interest. All they care about is whether it's on sale or not and…
It's on sale now. Gold bugs in the West should consider joining the Indian "titans of ton" on the buy right now… because there may not be much time left before this glorious price sale comes to an end!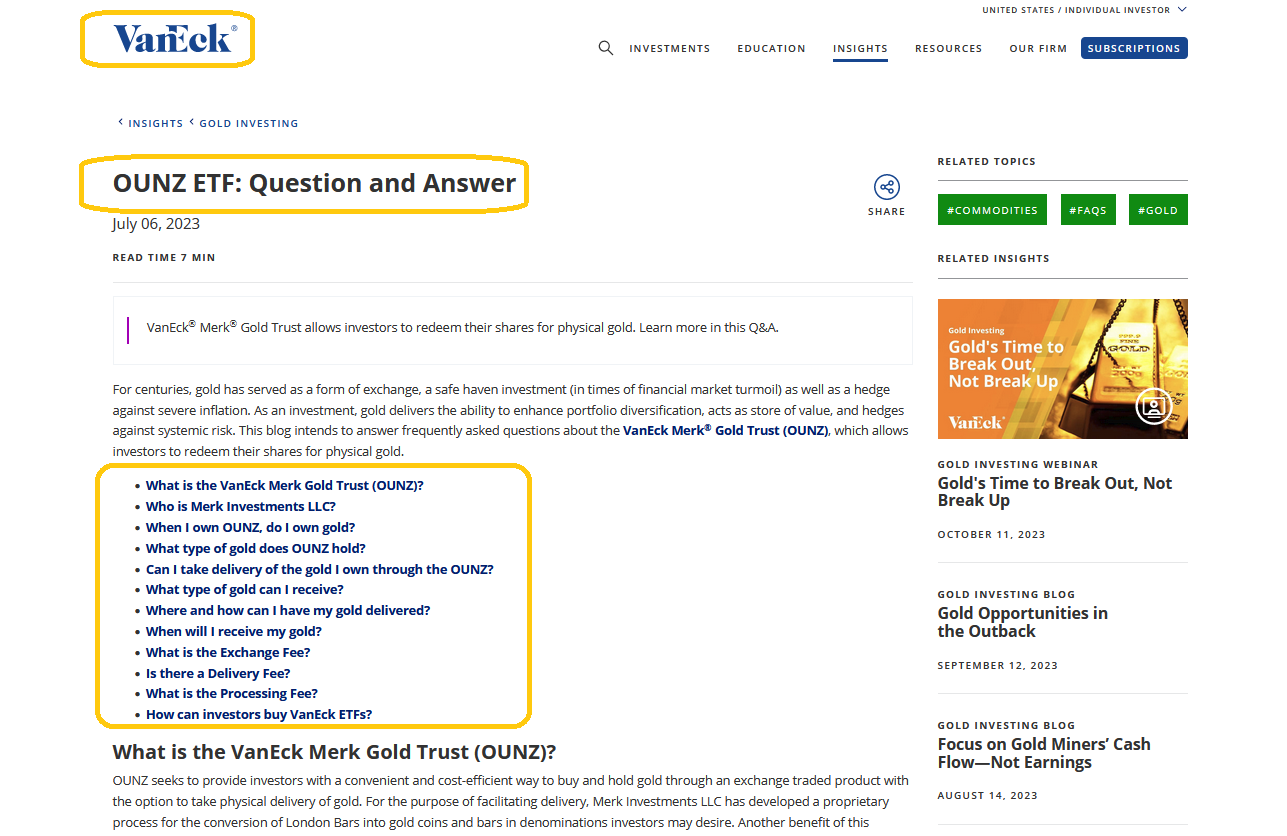 For many investors, Van Eck's OUNZ product could be an ideal way to buy gold. Liquidity is decent and physical delivery is an option.
What about the miners? Clearly, mining stocks are as important to most Western gold bugs as jewellery is to bugs in the East. They are the de facto love trade of the West, and on that note,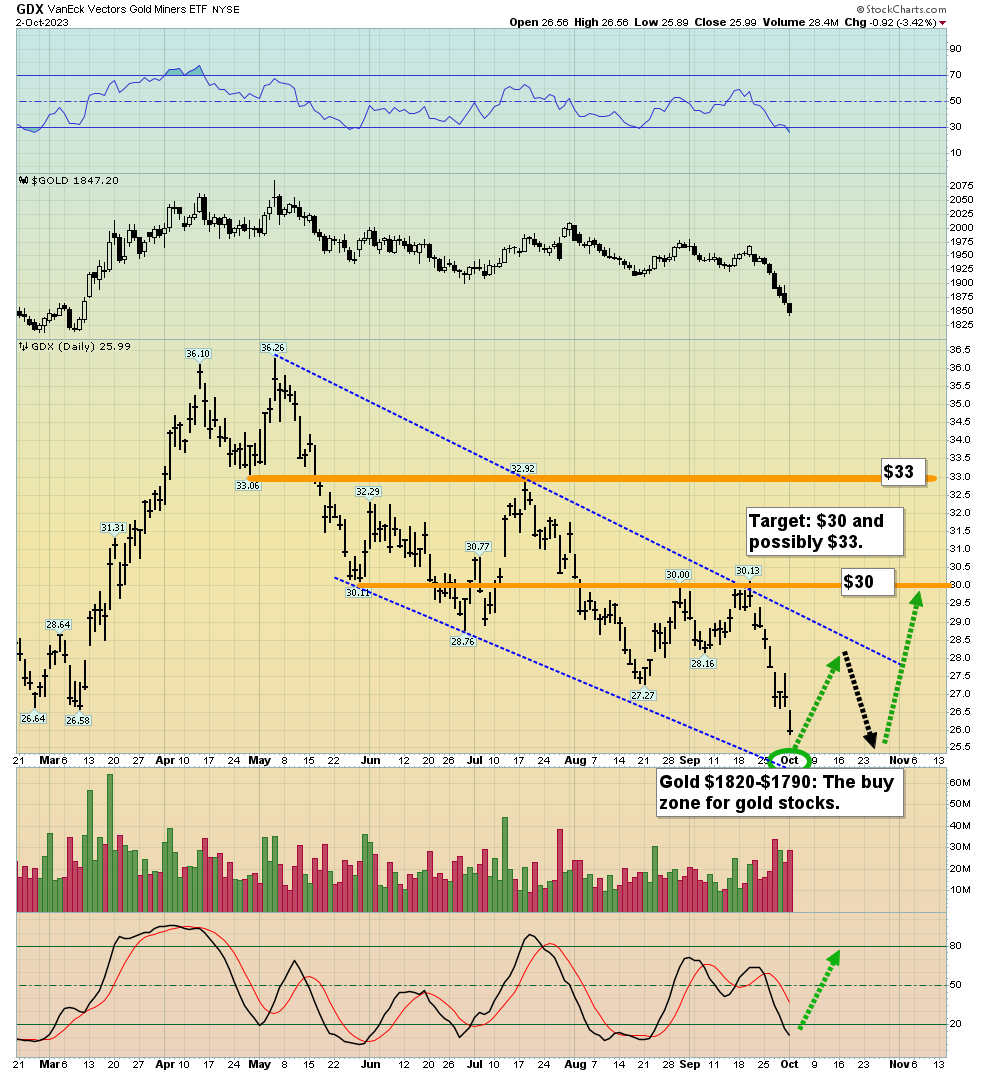 Double-click to enlarge this GDX daily chart. My suggested approach is to buy gold stocks in the $1820-$1790 price area for gold. A 20% rally for GDX (and GOAU) looks likely from the buy zone… and the highest quality individual miners should gain quite a bit more!
Thanks!
Cheers
St
Special Offer For Gold-Eagle Readers: Please send me an Email to [email protected] and I'll send you my free "Get Jacked With J!" report. I highlight key GDXJ stocks that could surge after Fed man Jay's speech this week! Both core and trading position tactics are included in the report.
Stewart Thomson
Galactic Updates
Note: We are privacy oriented. We accept cheques, credit card, and if needed, PayPal.
Written between 4am-7am. 5-6 issues per week. Emailed at aprox 9am dailyhttps://www.gracelandupdates.com/
Email:
Rate Sheet (us funds):
Lifetime: $1299
2yr: $299 (over 500 issues)
1yr: $199 (over 250 issues)
6 mths: $129 (over 125 issues)
To pay by credit card/paypal, please click this link:
https://gracelandupdates.com/subscribe-pp/
To pay by cheque, make cheque payable to "Stewart Thomson"
Mail to:
Stewart Thomson / 1276 Lakeview Drive / Oakville, Ontario L6H 2M8 Canada
Stewart Thomson is a retired Merrill Lynch broker. Stewart writes the Graceland Updates daily between 4am-7am. They are sent out around 8am-9am. The newsletter is attractively priced and the format is a unique numbered point form. Giving clarity of each point and saving valuable reading time.
Risks, Disclaimers, Legal
Stewart Thomson is no longer an investment advisor. The information provided by Stewart and Graceland Updates is for general information purposes only. Before taking any action on any investment, it is imperative that you consult with multiple properly licensed, experienced and qualified investment advisors and get numerous opinions before taking any action. Your minimum risk on any investment in the world is: 100% loss of all your money. You may be taking or preparing to take leveraged positions in investments and not know it, exposing yourself to unlimited risks. This is highly concerning if you are an investor in any derivatives products. There is an approx $700 trillion OTC Derivatives Iceberg with a tiny portion written off officially. The bottom line:
Are You Prepared?
********