When the Bearish Case Looks Too Good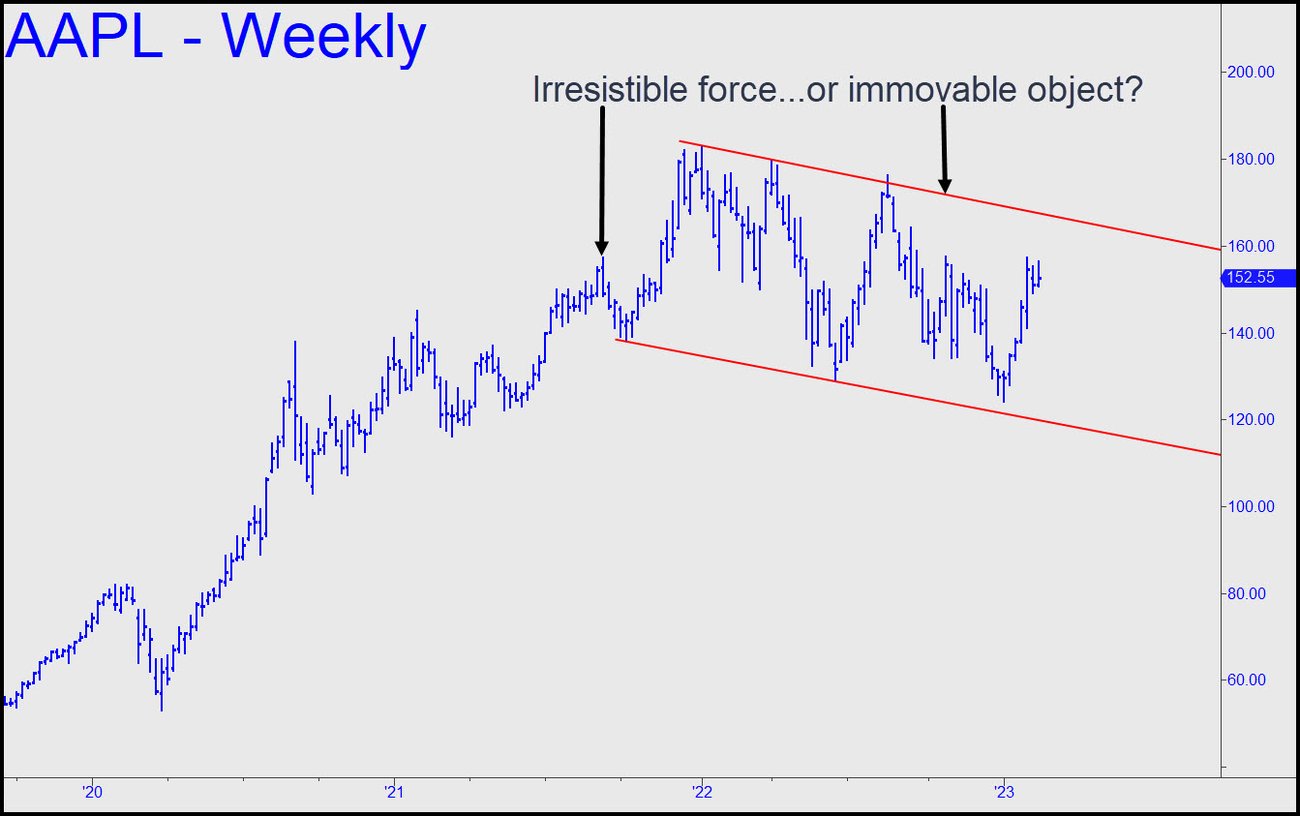 Get AAPL right and you get the stock market right. That has been our mantra for years, and it has never failed us. Apple shares and the broad averages are unlikely to go their separate ways because so many portfolio managers regard the stock as they do their Patek Phillipe wristwatches: something to pass on to the next generation.  Even the Sage of Omaha, who reportedly moved back into AAPL in a big way recently, seems to have a jones for the company.
So what is AAPL saying now, you ask?  Fix your eyes on the chart above, and it's easy to imagine the steep, 25% rally since January reversing when it hits the trendline. That's the way picture-perfect channels are supposed to work. The resistance will come in at around 167 this week, a daunting 16 points shy of early 2022's summit at 183.
Suspect the Obvious
However, any time a chart speaks so clearly, alarm bells should go off. For what looks like a simple picture is often more devious and complex than a three-way showdown in a spaghetti western. Were it otherwise, every chartist would retire rich at 40.  So whenever we look at a graph that seems to spell everything out for us, realize that the stock is calculating how to screw everyone.  In this case there would appear to be three distinctly different possibilities: 1) the rally fails right here or perhaps somewhat above, giving way to the ruinous implosion of a $2.5 trillion company; 2) heedless buyers impale the trendline within the next month or so , launching AAPL into the firmament; or 3) the stock wanders in the desert for 40 years, or at least until no one cares about the channel any longer.
A bullish outcome, or even a lengthy period of indecision, would seem unlikely, given that pricey iPhones are staring down a possible global recession-or-worse. Even so, I'm leaning increasingly toward the insane-rally scenario for a couple of reasons, to wit: 1) the channel that has reliably contained the stock's swings for nearly 15 months has attracted too eager a following; and, 2) buyers have been chomping on the bit, pushing AAPL to the upper line more than twice as quickly as they've allowed it to fall back to the lower.
Join the Crazies
Earlier, I explained here in great detail how AAPL's rallies are driven more by manipulation and short-covering than by bullish buying. It is a sleazy game run by con artists who noticeably differ from carnies in two obvious ways: they are a product of  Sloan and Wharton rather than the school of hard knocks, and they have more teeth. But we shouldn't let the fact that the stock market is a rigged game discourage us from trying to make money betting the pass line. As for the mass psychosis that would be pushing AAPL and other institutional favorites beyond all rationality, think of it, simply, as...opportunity. Don't fight it, just go with the flow and savor the good times while they last.
********