Will The Momentum In Precious Metals Continue?
The precious metals complex has enjoyed a nice run in recent months.
GDX has gained 25% since the September lows while GDXJ has gained 22% since its November low. Gold has rallied over $100/oz since its October low and Silver has surged in recent weeks.
The Gold community is getting excited again. They think the equity market is doomed and Gold has started a real bull run. That may be true but in the interim there are questions on the sustainability of recent strength.
Below we plot GDX with its advance decline (A/D) line and its RSI indicator. We already know that the A/D line has been carrying a few negative divergences.
With respect to RSI, typically in a strong, trending move it will surpass 70 (sooner rather than later) and that indicates strong momentum which implies some sustainability.
As GDX tests its 400-day moving average, it is lacking strong breadth and strong momentum.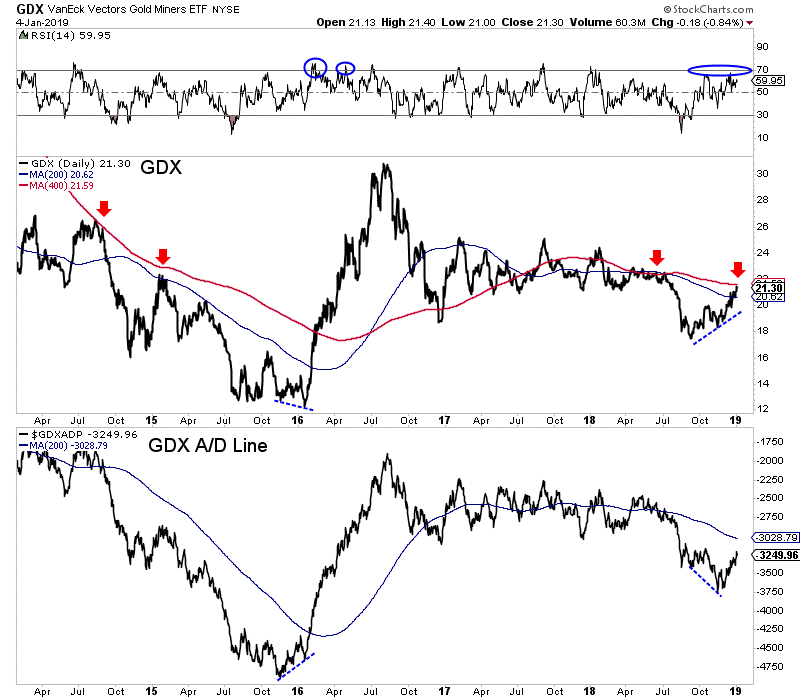 Meanwhile, Gold finally reached an RSI of +70 but after it occurred Gold formed a bearish reversal at strong resistance at $1300. That is why we want momentum to reach overbought conditions sooner rather than later.
Silver (not shown) formed a similar bearish reversal as it approached resistance at $16.00.
Precious metals have tested resistance but with a lack of strong momentum and strong breadth. This implies that recent strength is probably not immediately sustainable.
Can precious metals digest and maintain recent gains or will they give most of them back as has been the case for years and years?
Assuming precious metals correct and consolidate, then there are multiple things we want to watch including breadth and relative strength against stocks and foreign currencies. In addition, we also should watch how the miners perform relative to Gold.
If Gold pushes past $1300 and the gold stocks surge past their 400-day moving averages it would signal a change in character for the market. At that juncture it would difficult to argue against a bull market.
In any case, it is not wise to chase strength until we get more evidence that a bull market has started. There will be plenty of time to get into cheap juniors that can triple and quadruple once things really get going. Note that many juniors began huge moves months after lows in January 2016, October 2008, May 2005 and November 2000.
 - Jordan Roy-Byrne CMT, MFTA, thedailygold.com