ECB Does Not Give Up…Neither Does Gold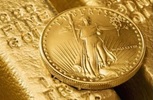 Yesterday, there was a meeting of the European Central Bank. Will it affect the gold market?
The January ECB Meeting is behind us. As expected, the Governing Council left the interest rates unchanged. In his introductory statement to the press conference, Mario Draghi pointed out: "downside risks have increased again amid heightened uncertainty about emerging market economies' growth prospects, volatility in financial and commodity markets, and geopolitical risks". This is why he hinted that the European Central Bank is prepared to offer more stimulus measures in March to boost inflation: "it will therefore be necessary to review and possibly reconsider our monetary policy stance at our next meeting in early March".
In anticipation of further stimulus from the central bank, the stock prices rose, while the euro fell against the U.S. dollar. In consequence, the price of gold declined slightly on Thursday. However, gold prices rose modestly in Asia on Friday and the yellow metal is set for a weekly gain.
Draghi's comments are bearish for the gold market, as investors will anticipate further stimulus and will sell euro and buy the U.S. dollar, which is usually negatively correlated with gold. A similar statement in October created such expectations and pushed up the greenback. Given the ECB's failure to meet the investors' expectations in December, Draghi will be determined to please the markets in March and save the bank's credibility. This increases the likelihood of substantial additional monetary stimulus. On the other hand, investors may be more cautious this time, keeping in memory the disappointing ECB actions in December and some recent disagreement in the Governing Council.
Summing up, the January ECB Meeting was dovish, which is bad news for the gold market. The expectations of further stimulus in March will support the U.S. dollar and might become a headwind for the price of gold. However, the recent gains were more on the safe-haven status than a weak greenback. Therefore, just as Draghi doesn't give up in his heroic struggle with the lack of inflation, neither does gold.
If you enjoyed the above analysis, we invite you to check out our other services dedicated to the precious metals investors. We invite you to join our gold newsletter today – you'll also gain 7-day trial of our premium Gold& Silver Trading Alerts. It's free and if you don't like it, you can easily unsubscribe.
Arkadiusz Sieron
Sunshine Profits' Gold News Monitor and Market Overview Editor