Will Japan's Recession Move Gold?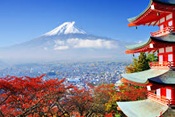 Japan's economy fell back into recession again. What does it imply for the gold market?
The Japanese GDP shrank 0.8 percent in the third quarter on an annualized basis, after a revised 0.7 percent decline in the second quarter. Thus, the world's third largest economy fell into a technical recession for the fourth time since the global financial crisis.
The chronic stagnation is clear evidence that Abenomics has been a total failure. Fiscal and monetary policy can buy only some time, but Japan needs mainly structural reforms as it struggles with the debt overhang, the ageing population and the shortage of skilled labor. Actually, because of repeated interventions, fiscal packages and monetary easing, the Japanese economy has not ever fully recovered and self-corrected after the bursting of one of the biggest financial bubbles in history at the turn of 1989 and 1990.
However, the structural reforms are not going to happen. Instead, we will probably see more QE and more asset buying as weak data puts more pressure on the government and central bank to continue to "stimulate" the economy. Welcome in the magic world of central banking and mainstream economists where the source of problem is regarded as its cure.
Theoretically, the fact that the world's third economy in the world fell into recession should shake financial markets and spur safe-haven demand for gold. But this is not what we are observing right now. It seems that investors have become accustomed to chronic stagnation in Japan. Moreover, financial press says that there is nothing to worry as Japan reached full employment and the recent recession resulted from a shortage of labor. Well, we have no idea how that explanation is supposed to calm investors, since the shortage of labor is one of the problems which monetary and fiscal policies will not resolve for sure. Given Japan's strict anti-immigration stance, the shortage of labor could be a serious headwind for a long time for the Japanese economy.
The key takeaway is that Japan fell into another recession. This is rather negative news for the gold market, as it should strengthen the U.S. dollar exchange rate, which would exert downward pressure on the price of gold.
If you enjoyed the above analysis, we invite you to check out our other services dedicated to the precious metals investors. We invite you to join our gold newsletter today - you'll also gain 7-day trial of our premium Gold & Silver Trading Alerts. It's free and if you don't like it, you can easily unsubscribe.
Arkadiusz Sieron
Sunshine Profits' Gold News Monitor and Market Overview Editor