Will November US Retail Sales Affect Gold?
Americans purchased more goods and services at retail stores in November. What does it imply for the Fed's policy and the gold market?
According to the U.S. Census Bureau, retail sales and food services rose 0.2 percent from the previous month, slightly below expectations. On an annual basis, retail sales and food services increased 1.4 percent. As one can see in the chart below, it was the weakest annual increase since November 2009.
Chart 1: Retail and food services sales (percent change from year ago) from 2005 to 2015.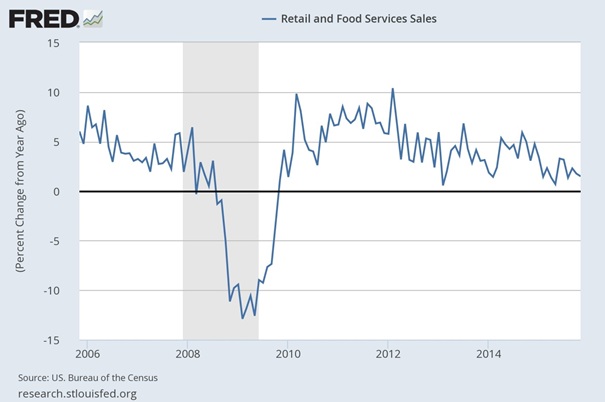 The weakness (on a monthly basis) came from vehicles. Excluding them, sales increased a solid 0.4 percent. Vehicle sales fell 0.4 percent, following a 0.3 percent decline in October. Therefore, it seems that vehicle sales have already peaked.
The report is modest at best, but it will not change the Fed officials' minds. The overall perception is that the U.S. economy can withstand a December hike and stay on a moderate growth track next year. Right now it seems that only an alien invasion or a serious stock market crash would prevent the U.S. central bank from hiking at the upcoming meeting. 
However, the retail sales data is unlikely to support further monetary policy tightening. This is perhaps why the U.S. dollar fell on Friday, and the price of gold rebounded. Gold's behavior indicates that the Fed hike in December is already factored into the price of gold, but the future pace of the tightening is not fully priced into the shiny metal.
The key takeaway is that in November U.S. retail sales rose slightly from the previous month, but the annual dynamics is rather weak. Moreover, the automotive boom may be near the end, as it seems that vehicle sales have already peaked. The report will not prevent the Fed from hiking in December, but it may discourage it from further hikes next year. Therefore, the November data on retail sales is positive news for the gold market.
If you enjoyed the above analysis, we invite you to check out our other services dedicated to the precious metals investors. We invite you to join our gold newsletter today – you'll also gain 7-day trial of our premium Gold& Silver Trading Alerts. It's free and if you don't like it, you can easily unsubscribe.
Arkadiusz Sieron
Sunshine Profits' Gold News Monitor and Market Overview Editor