The 1970s Stagflation: Is It About To Repeat?
The US yield curve inversion suggests the next recession is about 18-24 months away.  That recession could mark the start of a long period of stagflation like 1966-1980.
This is the long-term bond market chart.
Some gold analysts have noted the H&S top pattern in play, but it's important to wait for a trend line break before getting too excited.
In the intermediate term, negative rates are the mover for all major markets. 
Trump wants the US central bank to "compete" with the ECB and the BOJ, and drive US interest rates lower.
The H&S top on the T-bond chart could be voided by this policy.  Horrifically, US commercial banks are responding to the lower rates madness… by selling existing loans rather than issuing new ones.  This is one of many recessionary catalysts now in play in America.
A new risk is that banks will go back to engaging in risky market speculation like they did with OTC derivatives in the runup to the 2008 crisis.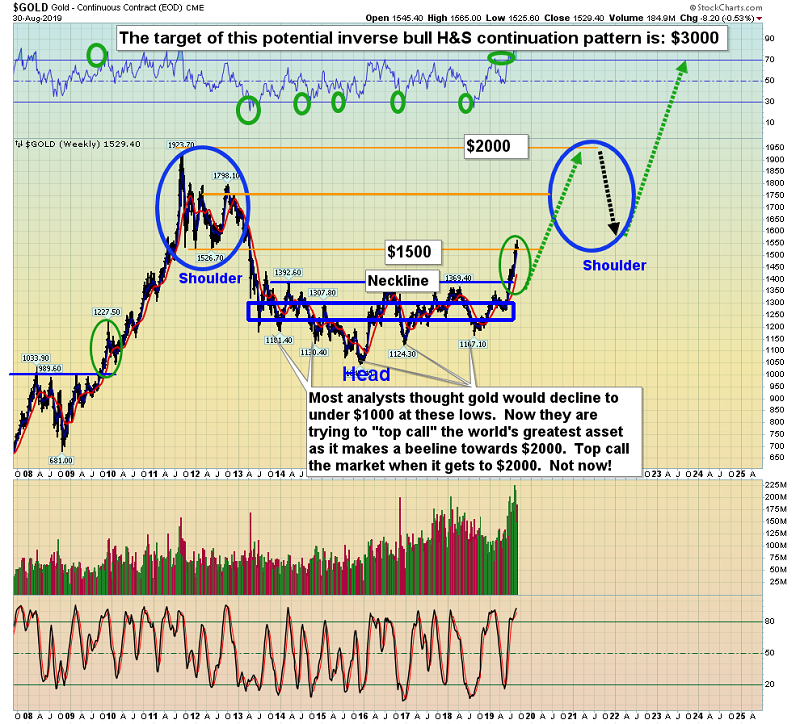 It's all win-win for gold; higher rates will crush the ability of governments to borrow money. 
If they can't borrow, they print, and they could start printing like Germany did in the 1920s.
Lower/negative rates create more incentive for governments to go deeper in debt and that creates institutional interest in gold.
The bottom line:  Stagflation is coming, but not until the uptrend line on the long-term T-bond chart snaps. 
What's coming in the meantime could be negative rates in America and vastly more government debt.  It's obvious that Trump isn't going to stop his crazed deficit spending and tariff tax implementation.
America's President (who I sometimes refer to as "Super Tariff Tax Man") wants to implement another blast of tariff taxes just as US Christmas holiday shopping gets underway.  That could be the catalyst that turns fading earnings negative for the SP500.
Is President Trump morphing into a tariff tax grinch that is poised to steal Christmas?  Sadly, the answer seems to be: yes.
If he loses the 2020 election to the democrats, the potential for stagflation will continue to grow.  The democrats have promised tax increases that could crush GDP growth and reduce demand for stock market buybacks and corporate bonds. 
The coming recession will likely be mild under a Trump administration, at least initially.  Under a democrat administration though, it could quickly morph into an inflationary depression that would be "fixed" with a gargantuan wealth tax. 
The money from that wealth tax would soon be wasted by the government and debt would continue to rise. 
The bottom line:  US government money printing appears imminent regardless of who wins the 2020 election. 
Please click here now:  Gold is the obvious winner, and likely the only winner, in all scenarios in the intermediate term, and it's the biggest winner in the long term.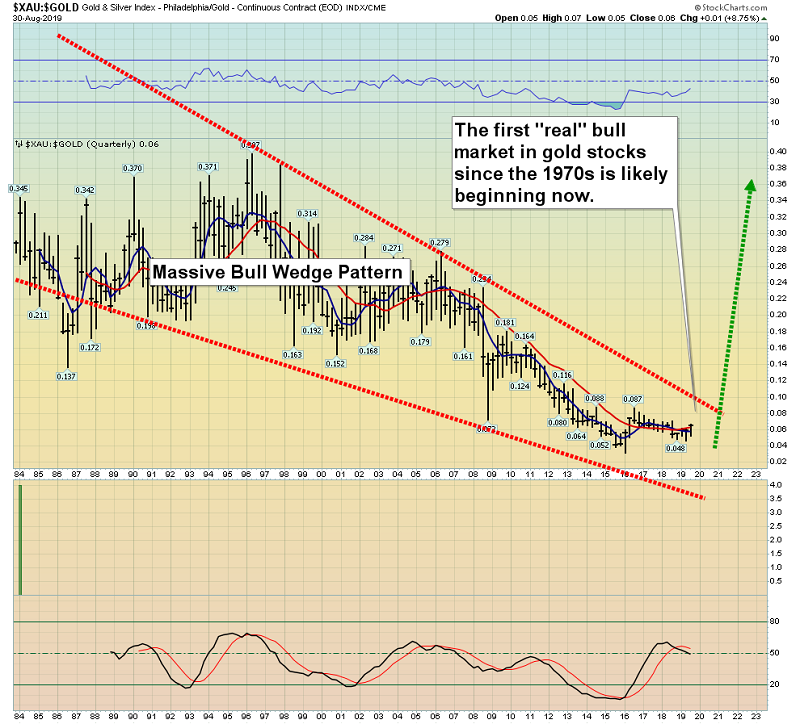 What about gold stocks?  This is gold stocks versus gold chart.  A breakout from the immense bull wedge formation would likely signal the start of the first major bull market in gold stocks since the 1970s. 
That breakout, and the bull market that occurs, would be enhanced by a failure of the trendline on the T-bond chart.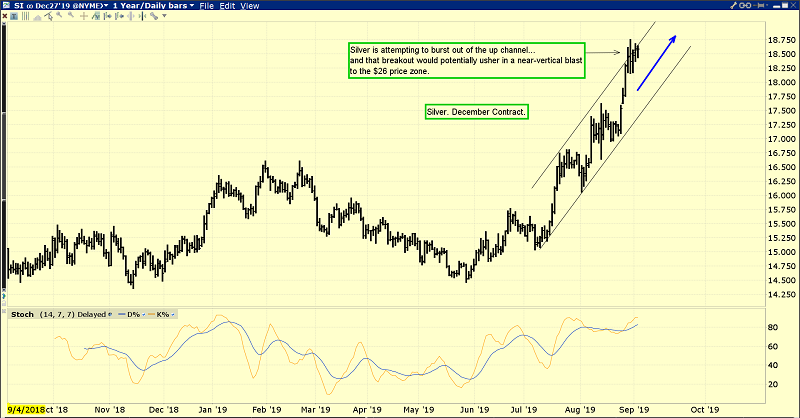 This is the spectacular silver chart. As good as this daily chart looks, the long-term charts are my main focus.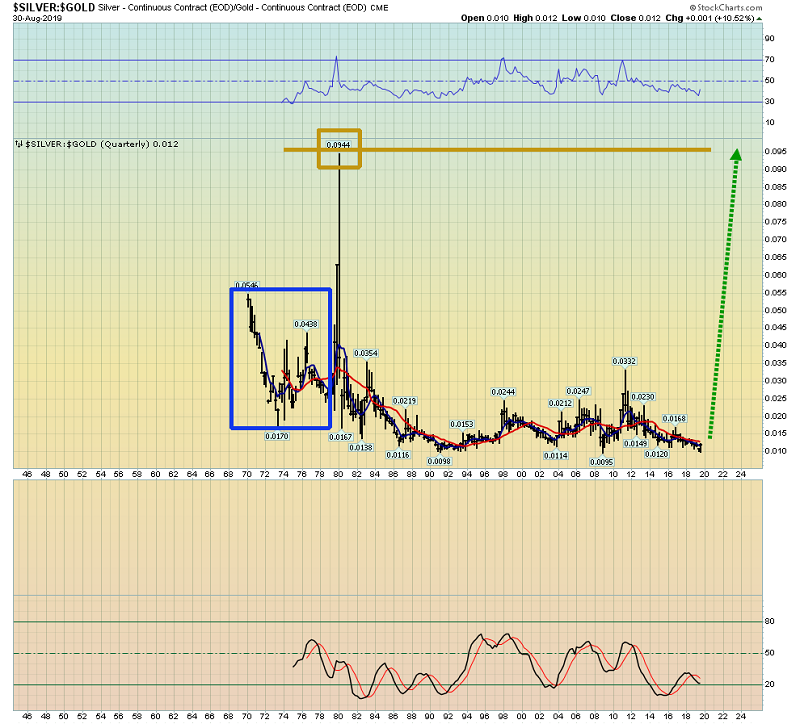 In the 1970s bull run, my biggest holding was silver bullion.  The stagflation theme made it the go-to asset. 
Is history about to repeat?  I think so.  Note the excellent overall performance of silver against gold during the 1970s.  Singapore dealers are suddenly reporting that investors are buying more silver than gold.  My simple advice to investors in the West is:  Join them and buy silver bullion now!
Special Offer For Gold-Eagle Readers: Please send me an Email to [email protected] and I'll send you my free "Silver Stocks Moonshot!" report.  The only items with more upside right now than silver bullion are silver mining stocks.  I highlight five of the best ones, with key buy and sell signals for each stock!
Note: We are privacy oriented.  We accept cheques, credit card, and if needed, PayPal.
Written between 4am-7am.  5-6 issues per week.  Emailed at aprox 9am daily.
Email:
Rate Sheet (us funds):
Lifetime: $999
2yr:  $299     (over 500 issues)
1yr:  $199     (over 250 issues)
6 mths: $129 (over 125 issues)
To pay by credit card/paypal, please click this link:
https://gracelandupdates.com/subscribe-pp/
To pay by cheque, make cheque payable to "Stewart Thomson"
Mail to:
Stewart Thomson / 1276 Lakeview Drive / Oakville, Ontario L6H 2M8 Canada
Stewart Thomson is a retired Merrill Lynch broker. Stewart writes the Graceland Updates daily between 4am-7am. They are sent out around 8am-9am. The newsletter is attractively priced and the format is a unique numbered point form.  Giving clarity of each point and saving valuable reading time.
Risks, Disclaimers, Legal
Stewart Thomson is no longer an investment advisor. The information provided by Stewart and Graceland Updates is for general information purposes only. Before taking any action on any investment, it is imperative that you consult with multiple properly licensed, experienced and qualified investment advisors and get numerous opinions before taking any action. Your minimum risk on any investment in the world is: 100% loss of all your money. You may be taking or preparing to take leveraged positions in investments and not know it, exposing yourself to unlimited risks. This is highly concerning if you are an investor in any derivatives products. There is an approx $700 trillion OTC Derivatives Iceberg with a tiny portion written off officially. The bottom line:  
Are You Prepared?
********