Back to the Future - Part 2
Tis the time of the year when analysts and market observers are busily presenting their forecasts and outlooks for 2006, and as always, it will be a mass confusion for the investing public, as both bulls and bears will showcase their impressive arguments on why this and why that. At Traderscorporation, we simply follow the markets and position ourselves accordingly.
Many investors have been interested in our trading models, and have put their faith in our signals these past few months, and are richly rewarded for their efforts. For those who have not read my previous article "Back to the future", here is the link and I suggest that you read that first for some background: www.gold-eagle.com/editorials_05/chan070805.html
This article is a follow up. But first, lets welcome the Nasdaq, who is making the first appearance on our major buy signal list….
The Nasdaq composite finally joined the party, and it has already assumed leadership. This is our first "IP1" since the bull market for technology was confirmed late 2004.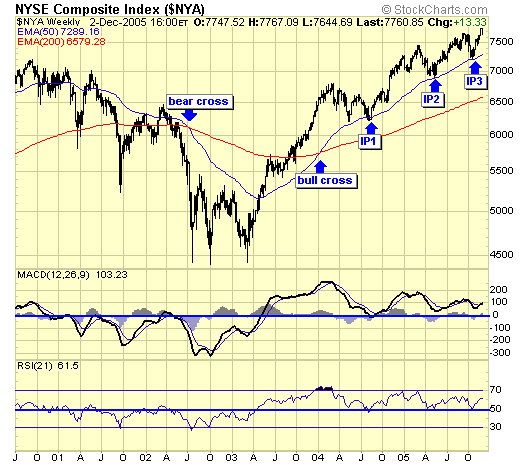 The big board gave us another buy signal in early Nov, making this the third major buy signal in this new bull market for the broad market.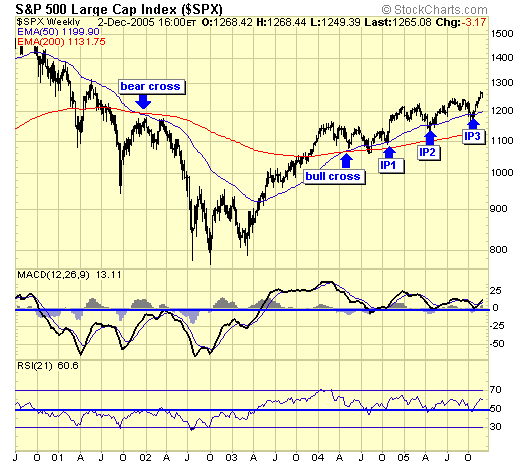 The SP500 also gave us another major buy signal, the third in this new bull market.
Gold rallied to a new high since our IP4. New money should wait for next signal, which will come upon a pullback to the 50ema, near the $450 level. Do not mistake this as a forecast that gold will now drop to $450, my model does not tell me that, what it tells me is that now is not the time to buy, the time to buy gold is when we get an IP5.
Crude oil went on to make a new high since IP3, and we are getting a new major buy signal now with IP4. Subscribers with new money have bought the energy sector this past week using our shorter term signals.
Summary
Folks, the future looks very bright indeed from our trading models' perspective. With Nasdaq finally joining the party, we should see an accelerating phase for the entire broad market in 2006, with the semi conductors likely to be the next to give us an IP1 sometime in the spring or summer next year. Obviously, the best potential for high returns in the near term comes from the energy sector on this fresh IP4, which at the same time will likely trigger a pullback on other sectors which will allow new money to establish positions using our shorter term trading signals. But the big picture is clear, and the naysayers provide the best contrarian sentiment going forward: negative sentiment amid positive price action is exactly the wall of worry a bull market needs.
Jack Chan at www.traderscorporation.com
8 December 2005