The Big Golden Bang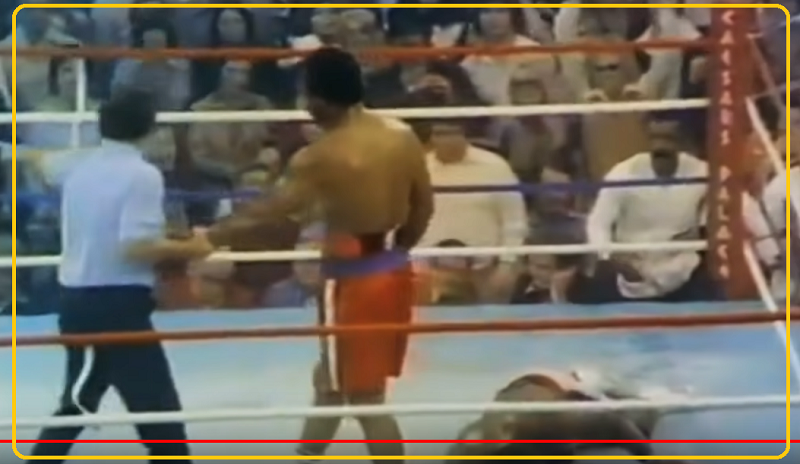 To understand the financial sea change occurring in this stage of the ongoing demise of the American fiat empire, after being knocked down repeatedly himself, George Foreman finally knocked out Ronnie Lyle, and announcer Howard Cosell uttered the immortal words:
"This time it may be over, this time it may finally be over."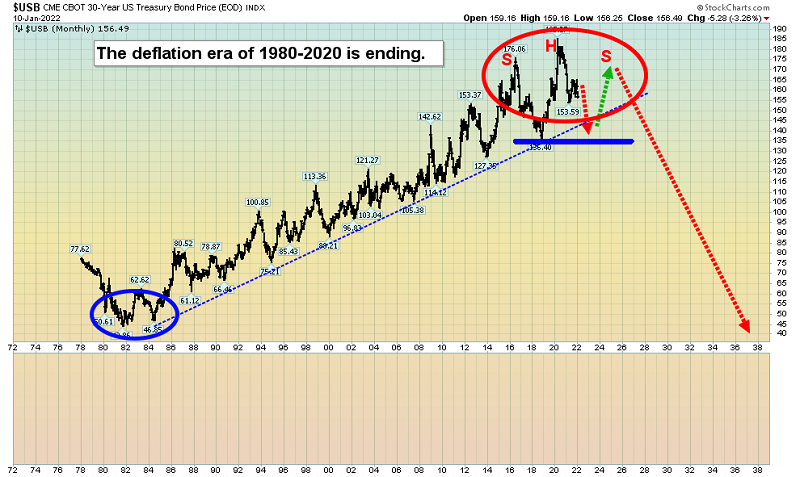 The long-term T-bond chart.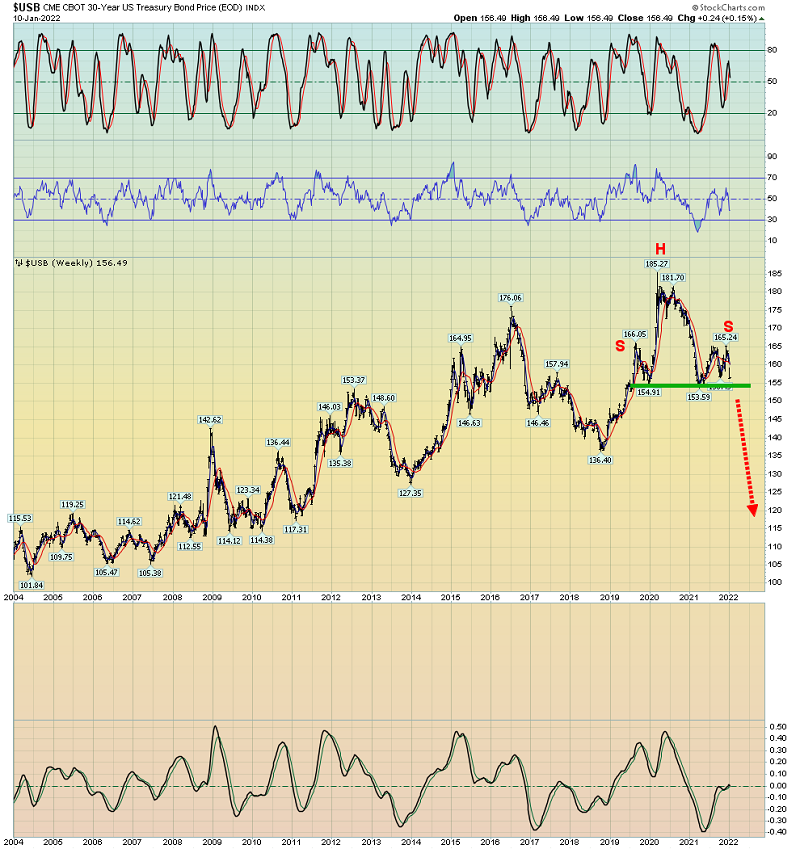 A closer look at the current top formation.  This time, it's finally over… 
The biggest socialist welfare program in world history is finally ending.  That is the despicable QE welfare program for America's rich stock, bond, and real estate price chasers. They are finally going to be financially knocked out.
The era of deflation is over, and a decade of RHI lies ahead.  What is RHI?  The answer is:  Rate hikes to infinity. 
For the next ten years, the main story told, will be inflation and the glory of gold.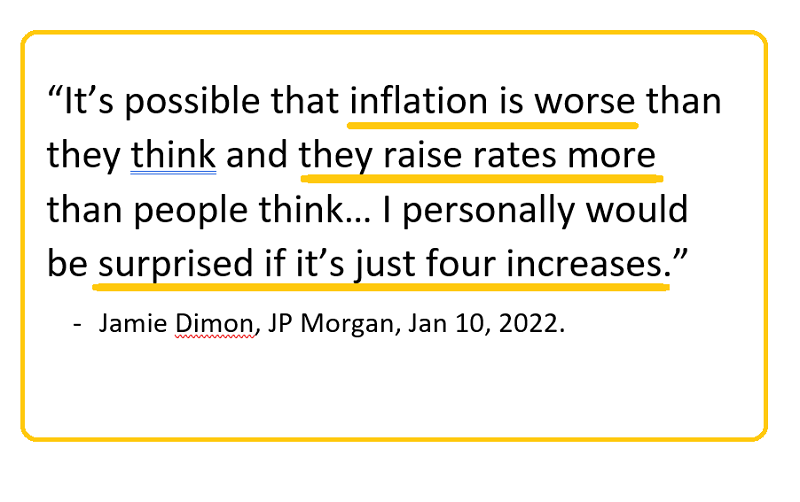 With Goldman calling for four rate hikes, and Jamie calling for more, the world's "newbie" gold bugs are set to learn that gold, silver, and the miners do best…
When rates are hiked relentlessly, and those hikes fail to stem an even bigger rise in inflation.
I've suggested that US bond market rates should be raised to 50% or even 100%, while loan rates for citizens should be cut to the near-zero rates that the stock, real estate, and bond market investors (welfare bums) got for the past 13 years.
The Fed, and most of the government itself, needs to be shut down.  While my wish isn't my command, the relentless rise of inflation is likely to push interest rates to record highs (above 20%) over the next decade or so.
That will put extreme pressure on the US government to kill its outrageous regime change schemes, shut down its FATCA stormtrooper operations, and ultimately force the government to understand that a fiat-themed nation deserves to crumble.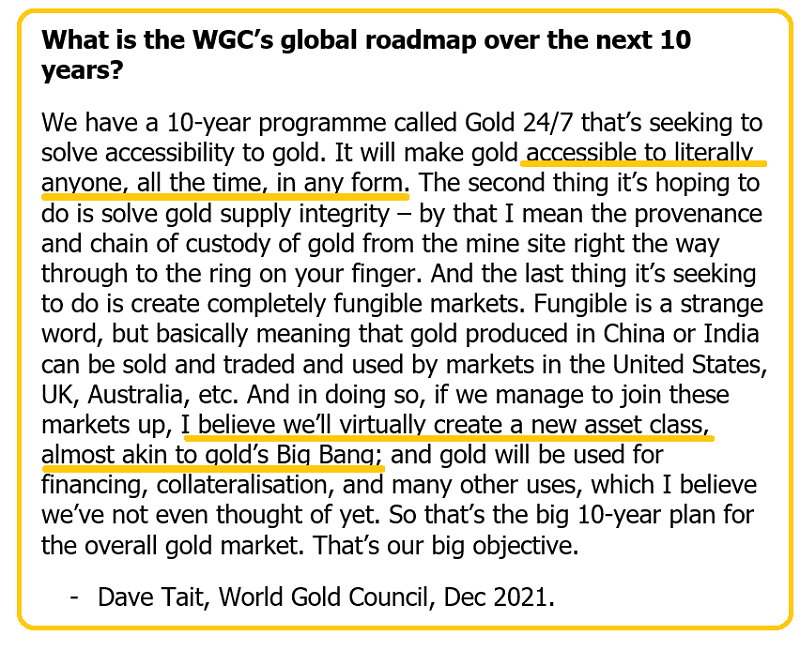 While the comical demise of the American fiat empire continues, a truly mindboggling "Big Bang" event is occurring at "world gold headquarters", the nation of India.
As inflation ravages the world, Indian gold organizations are working with the WGC to turn gold into "the money of the world's citizens". 
Ultimately, gold likely ends up on a payments blockchain with speed that dwarfs not only Bitcoin, but Mastercard and Visa too. 
It's the beginning of a gold bull era, and citizens of the world who embrace the gold and commodities theme will build sustained wealth that is almost unimaginable.
What is obviously the most magnificent chart in the history of markets.
Note the "triple fan line" on the right shoulder of the pattern.  Basis Edwards & Magee, reactions like the current one from $2089 often feature three fan lines.
It's the breakout from the third line that is often the big one.  What can be said is that in the face of four or five rate hikes just this year (and I'm predicting as many as fifty hikes over the coming decade), gold looks and feels… incredibly solid.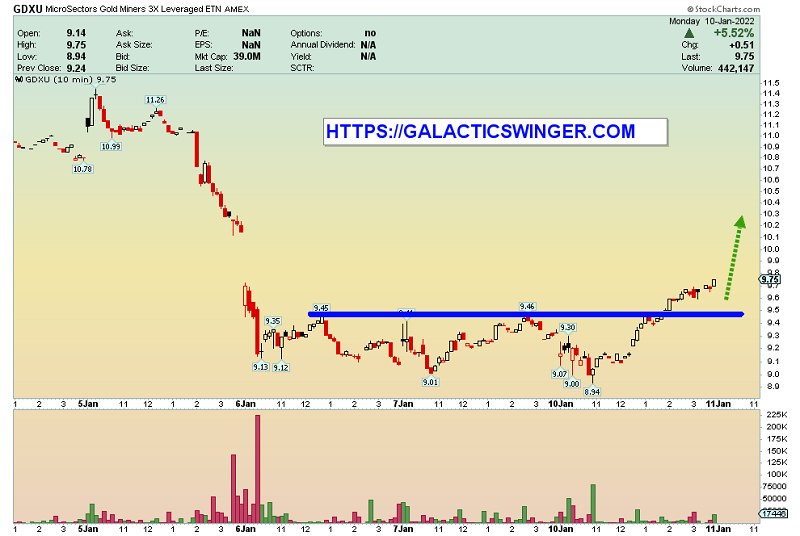 What about the miners?  To kick off the new year, I've added GDXU (triple leveraged GDX) to the roster in my swing trade newsletter, and the chart looks great.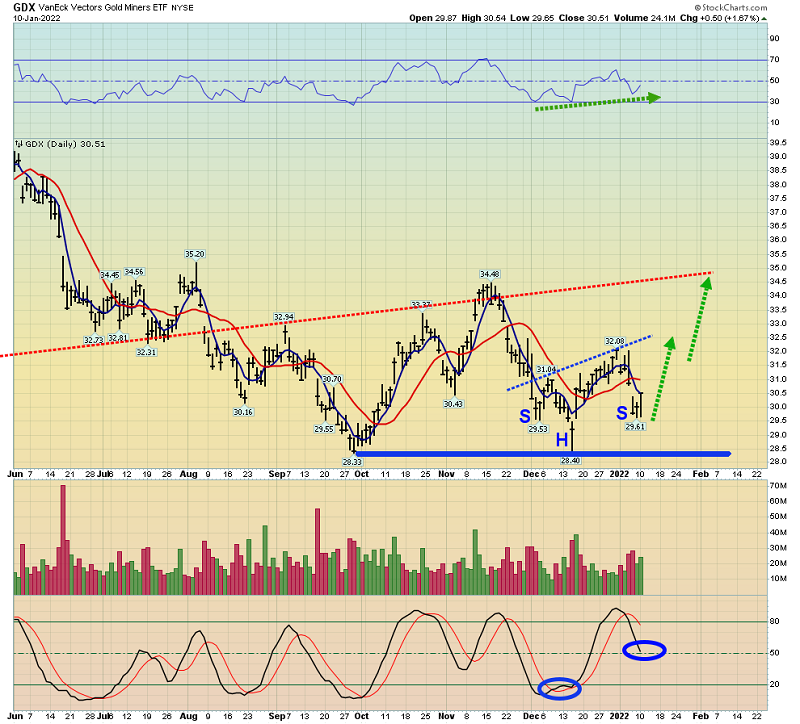 The GDX daily chart.
The chart looks decent, but it's not wildly bullish.  That is expected and normal; it will take probably twenty rate hikes before intense institutional panic about inflation (and panic about the existence of the government) sets in.
Once the panic begins, the US stock market will quickly begin to resemble a gulag much like that of the 1970s, only it will be much worse.  I expect that a 10%-20% allocation to gold by US institutions will become the norm by 2035.
By the time the panic reaches a crescendo, the big golden bang in India will have turned gold into money for all the citizens of the world, and gold and silver stock investors with their space helmets on… will begin the trip to Pluto they so richly deserve!
Special Offer For Gold-Eagle Readers: Please send me an Email to [email protected] and I'll send you my free "Big Juniors Bang!" report.  I highlight ten junior miners trading under $1 that look set to stage near-immediate rallies of size!  Key tactics are included for each mighty miner.
Thanks!    
Cheers
St
Stewart Thomson 
Graceland Updates
Note: We are privacy oriented.  We accept cheques, credit card, and if needed, PayPal.
Written between 4am-7am.  5-6 issues per week.  Emailed at aprox 9am daily    
Email:
Rate Sheet (us funds):
Lifetime: $1299
2yr:  $299     (over 500 issues)
1yr:  $199     (over 250 issues)
6 mths: $129 (over 125 issues)
To pay by credit card/paypal, please click this link:
https://gracelandupdates.com/subscribe-pp/
To pay by cheque, make cheque payable to "Stewart Thomson"
Mail to:
Stewart Thomson / 1276 Lakeview Drive / Oakville, Ontario L6H 2M8 Canada
Stewart Thomson is a retired Merrill Lynch broker. Stewart writes the Graceland Updates daily between 4am-7am. They are sent out around 8am-9am. The newsletter is attractively priced and the format is a unique numbered point form.  Giving clarity of each point and saving valuable reading time.
Risks, Disclaimers, Legal
Stewart Thomson is no longer an investment advisor. The information provided by Stewart and Graceland Updates is for general information purposes only. Before taking any action on any investment, it is imperative that you consult with multiple properly licensed, experienced and qualified investment advisors and get numerous opinions before taking any action. Your minimum risk on any investment in the world is: 100% loss of all your money. You may be taking or preparing to take leveraged positions in investments and not know it, exposing yourself to unlimited risks. This is highly concerning if you are an investor in any derivatives products. There is an approx $700 trillion OTC Derivatives Iceberg with a tiny portion written off officially. The bottom line:  
Are You Prepared?
********