A Blowoff For Rates & A Surge For Gold
Will history repeat? Will this final week of September be like last year, with gold rallying $100/oz higher from here, then trading sideways for a month, and from there gold bugs enjoy a spectacular rally that continues from November to March?
The good news is that history often repeats.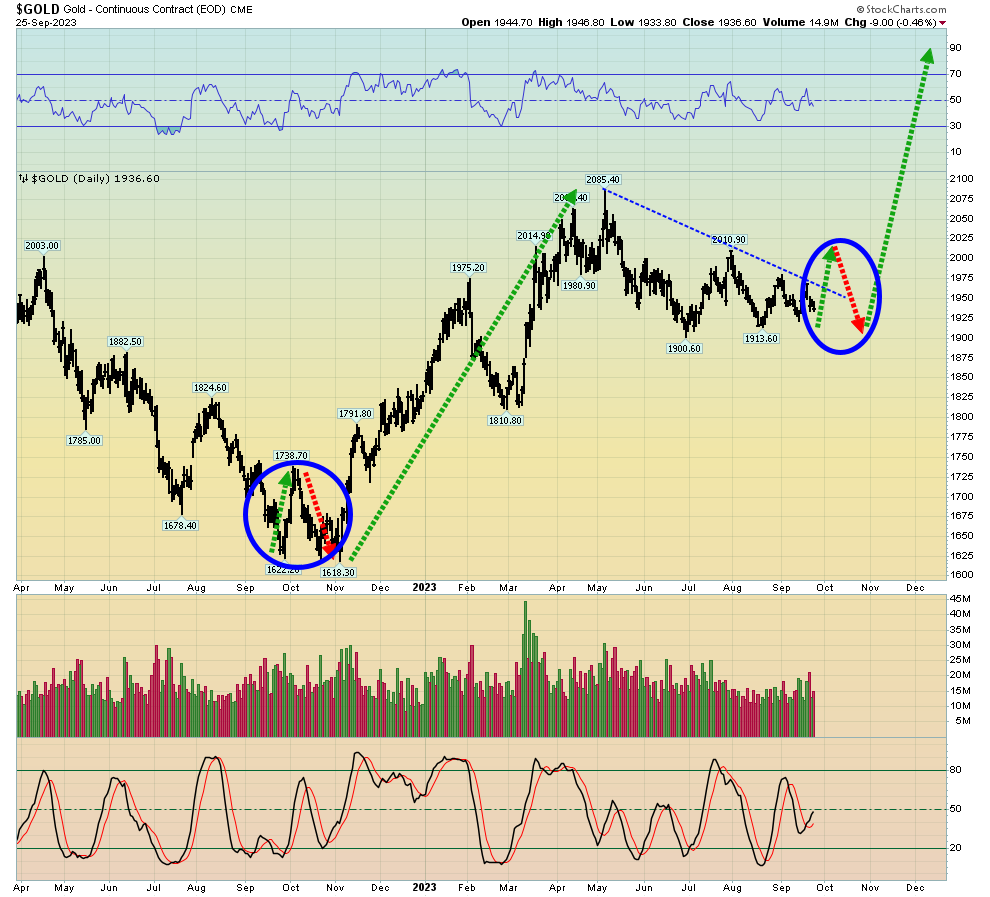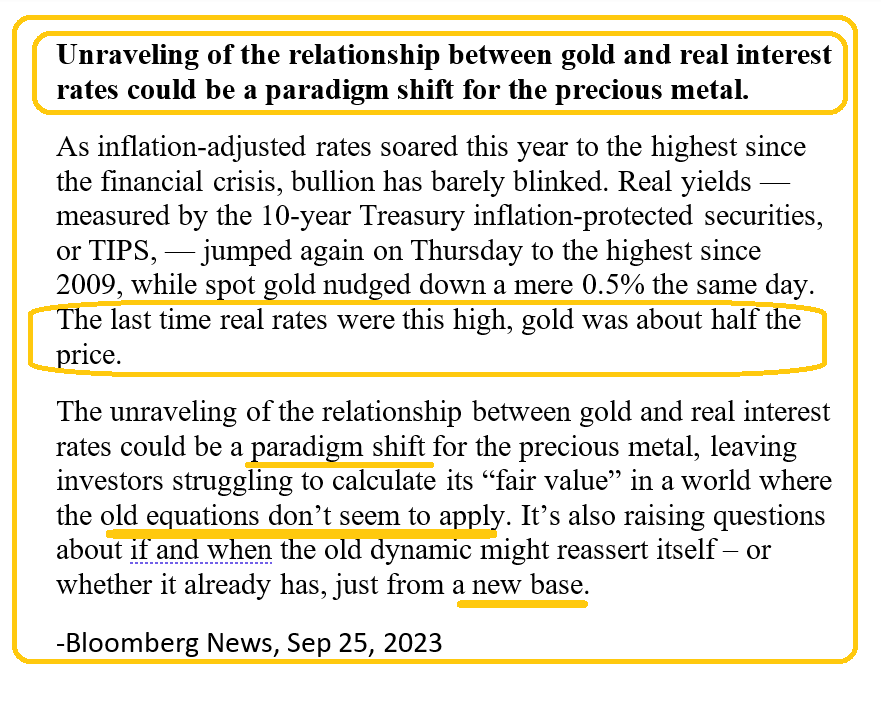 More analysts are beginning to note the immense relative strength of gold versus rising US rates.
Some believe a paradigm shift is in play for gold, and the inverse relationship between gold and rates has been broken.
Others believe the relationship is mostly intact, but gold is building a new base for the next rally and drop in rates.
The truth appears to be that both views are correct, and that's because gold is the ultimate asset and currency! 
The solid inverse relationship between rates and gold reached its zenith with QE, zero/negative interest rates, and the 2008-2020 period of aggressive deflation.
Now an inflationary era is upon the world, and empire transition is another major theme; in China, the rising empire, the gold-oriented citizens don't pay much attention to the "gold pays no interest" narrative that has dominated the mindset of analysts in the West.
Also, gold soared in the 1970s as rates soared, because inflation was the major theme… and it's becoming a major theme again today.
Oil is a major driver of inflation. JP Morgan analysts predict a global oil supply deficit will reach one million barrels per day by 2025…
And they believe that by 2030 that deficit will rise to a staggering seven million barrels per day!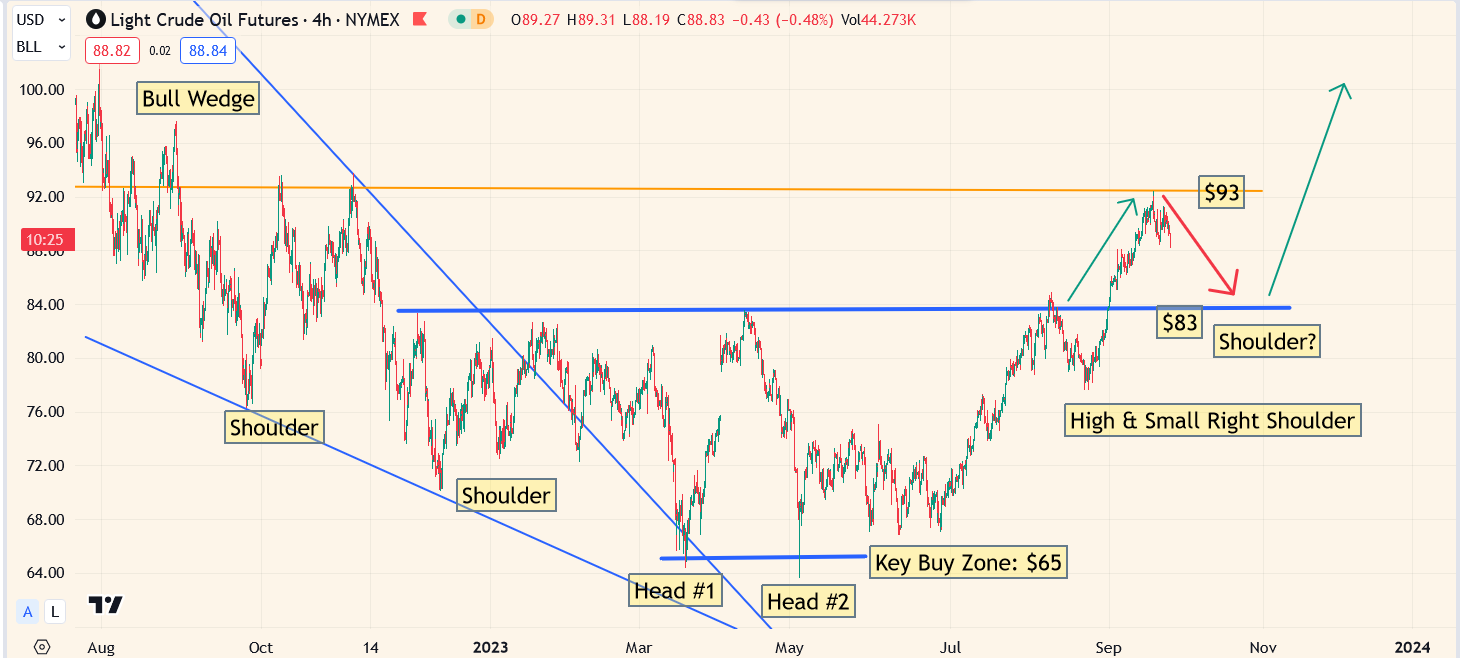 Double-click to enlarge this incredibly bullish oil price chart.
Note the high right shouldering. I urged buyers of my $65 key buy zone to book profits into the $93 zone, but only light ones… because oil could hit $200 in the coming years.
I've predicted that when the 2021-2025 war cycle ends, it won't be followed by "America is number one!" good times, even if the war and debt obsessed democrats lose the election and lead US presidential candidate "Super Trumpy Fiat Man" wins.  
Instead, a global stagflationary quagmire will likely emerge as the main feature of the bungled empire transition from fiat-oriented America to gold-oriented China. Incredibly, 1.4 billion "goldaholic" Indians are waiting in the wings to leapfrog right past China. 
The bottom line: Fiat is the American citizen and government disease, and it can't be cured with more schemes based on fiat. Gold is the only cure for this horrifying disease.
Double-click to enlarge this key US rates chart. Some "bear wedge action" is beginning to appear, and it's happening with gold trading around $1910.
The rates/gold relationship has clearly weakened: Last September rates were 4.33% and gold was $1620. Now rates are 4.56% and gold is $1910! 
A consistent focus on rates and other key big picture items is critical for investors. I cover the big picture 5-6 times a week in updates just like this one, in my flagship Galactic Updates newsletter. At $199/year, investors feel the price is too low, and I'm doing a $179/15mths special offer that investors can use to get in on the winning action. Click this link to get the offer or send me an email and I'll get you a payment link. Thanks!
Technically, US rates look like they are entering a blowoff phase with gold holding above the big support zones of $1883, $1850, and $1810.
The bottom line is that rates are likely to collapse when the blowoff phase ends, and if the collapse is accompanied by an oil price surge to $100+, US real interest rates could go quite negative, basis the nominal 10yr rate and the CPI.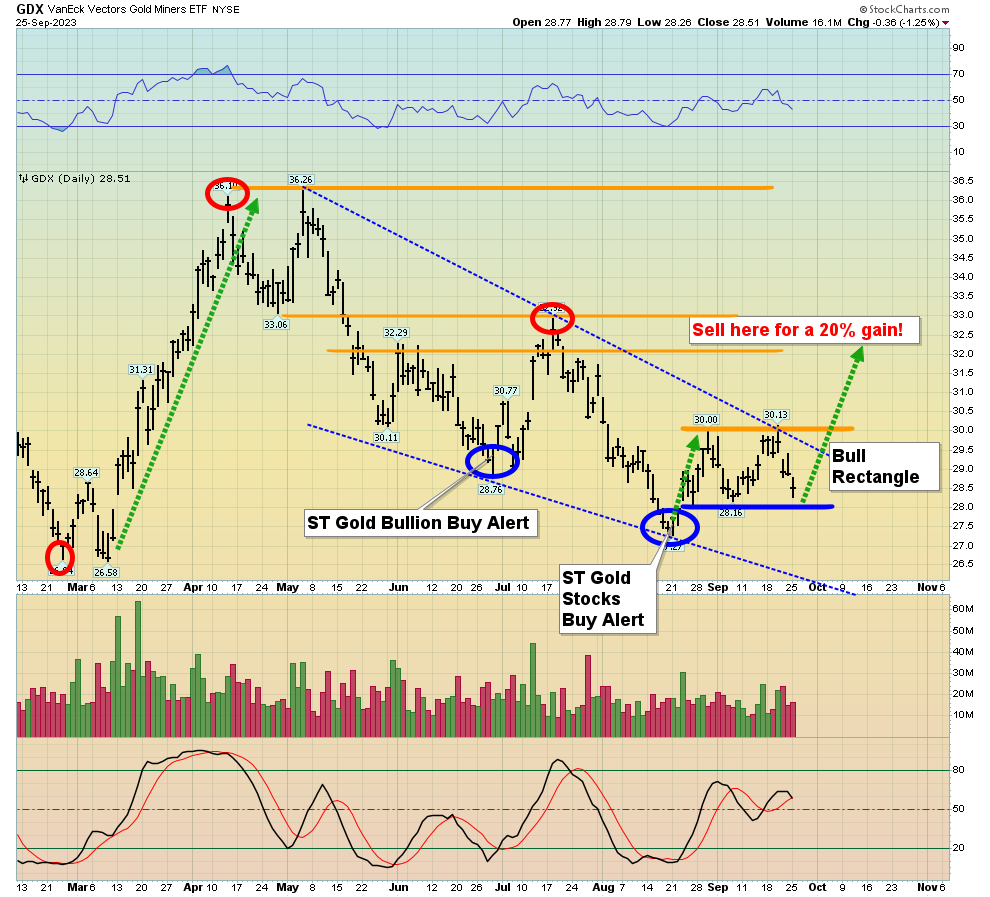 Double-click to enlarge what is really quite a positive GDX chart. Thre's a huge bull wedge pattern in play and the miners appear to be consolidating in a bull rectangle pattern.  
The miners are a Western gold bug "crowd favourite" but patience is required. Tuesdays are usually (but not always) a soft day for gold… and today is Tuesday.  
In the big picture, whether the lows of the bull rectangle hold or not is irrelevant.  
What matters is the incredible resiliency of gold in the face of this very aggressive rise in rate. It's a rise that is getting closer and closer to what should be an exciting and very bullish-for-gold finale!
Thanks!
Cheers
St
Special Offer For Gold-Eagle Readers: Please send me an Email to [email protected] and I'll send you my free "Get Jacked With J!" report. I highlight key GDXJ stocks that could surge after Fed man Jay's speech this week! Both core and trading position tactics are included in the report.
Stewart Thomson
Galactic Updates
Note: We are privacy oriented. We accept cheques, credit card, and if needed, PayPal.
Written between 4am-7am. 5-6 issues per week. Emailed at aprox 9am dailyhttps://www.gracelandupdates.com/
Email:
Rate Sheet (us funds):
Lifetime: $1299
2yr: $299 (over 500 issues)
1yr: $199 (over 250 issues)
6 mths: $129 (over 125 issues)
To pay by credit card/paypal, please click this link:
https://gracelandupdates.com/subscribe-pp/
To pay by cheque, make cheque payable to "Stewart Thomson"
Mail to:
Stewart Thomson / 1276 Lakeview Drive / Oakville, Ontario L6H 2M8 Canada
Stewart Thomson is a retired Merrill Lynch broker. Stewart writes the Graceland Updates daily between 4am-7am. They are sent out around 8am-9am. The newsletter is attractively priced and the format is a unique numbered point form. Giving clarity of each point and saving valuable reading time.
Risks, Disclaimers, Legal
Stewart Thomson is no longer an investment advisor. The information provided by Stewart and Graceland Updates is for general information purposes only. Before taking any action on any investment, it is imperative that you consult with multiple properly licensed, experienced and qualified investment advisors and get numerous opinions before taking any action. Your minimum risk on any investment in the world is: 100% loss of all your money. You may be taking or preparing to take leveraged positions in investments and not know it, exposing yourself to unlimited risks. This is highly concerning if you are an investor in any derivatives products. There is an approx $700 trillion OTC Derivatives Iceberg with a tiny portion written off officially. The bottom line:
Are You Prepared?
********