A Bullish Wind Blows For Gold
Is gold finally due to swoon or can it continue to rally?
The naysayers point to overbought conditions on the weekly charts, COT reports showing a mammoth short position held by the commercial traders, and the upcoming stock market "crash season".
The bulls point to a peaking US business cycle, inflationary and growth-destructive tariffs, a tight job market, an increasingly dovish Fed, strong central bank buying, de-dollarization, out of control government spending and debt, and Chinese investors buying more gold instead of investing in their weak stock market.
This is the awesome weekly gold chart. 
In the big picture, both fundamentally and technically, the bulls clearly have not just the edge, but a mighty wind at their backs. 
What about the short-term picture?  This is the daily gold chart.  Even in the short-term, I give the edge to the bulls! 
There's a rectangular drift in play, and per Edwards & Magee (writers of the technical analysis "bible"), rectangles have roughly a 67% chance of consolidating the existing trend, which is up.
Even if the price were to reverse on a disappointing Fed announcement, there's great intermediate time frame support at $1360-$1275.
Institutional money managers are only going to become more enthusiastic about gold, silver, and the miners as the business cycle matures and the Fed becomes more dovish.  Any pullback in the gold price now will be bought by their very strong hands.
What about the stock market?  If there's a crash in September or October, would gold stocks suffer?
Well, the CDNX index (where the "ultra-junior" miners trade) fell with the Dow during last year's crash season swoon, but gold and most senior miners blasted higher!
This is the spectacular GDX versus US stock market ratio chart.
From a performance perspective, gold stocks look poised to "destroy" the US stock market. 
A massive inverse H&S bottom breakout is in play.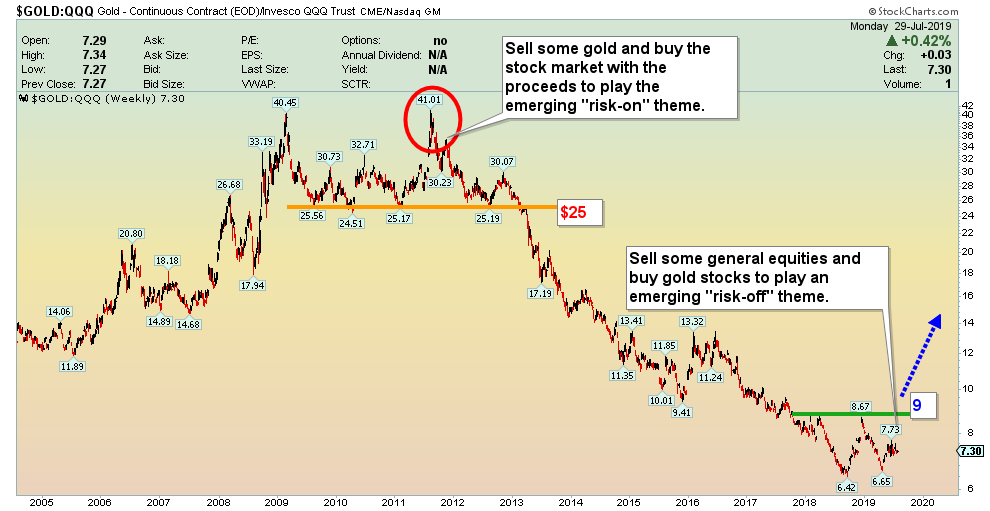 This is the gold versus Nasdaq ETF chart (QQQ).
In 2011 the dollar began breaking out from a huge base pattern against the yen.  Gold began to break down from a huge double top pattern against the Nasdaq.  This told me a general risk-on theme was emerging and I suggested investors sell some gold and put the proceeds into the stock market. 
Now, the opposite situation is beginning to take shape and investors should consider allocating some capital from the equity markets to gold, silver, and the miners now…
And with bigger size when there's a breakout over 9 on the weekly gold versus Nasdaq chart.
This is the GDX swing trade chart.  I don't see any reason for gold stock investors to be nervous, but for those who are, my swing trade service at https://guswinger.com/ is designed to wash those worries away. 
Investors get solid performance and low drawdowns trading NUGT/DUST and SQQQ/TQQQ.  I've introduced text alerts to investor cell phones as an optional means of sending the trade alerts to busy business people who like the swing trade action.
This is the GDXJ chart. 
The GDXJ ETF is called a "junior miners" ETF, but in my professional opinion, it's really more of an intermediate producer ETF now.
The current price action is truly exhilarating!  An inverse H&S bottom and a marvellous bull pennant pattern both target the $45 price area.  The $35-$36 zone is outstanding support. 
Aggressive gamblers can "step up to the JNUG plate" and buy the JNUG ETF.  It's a a triple-leveraged version of GDXJ.
Whether JNUG, GDXJ, or individual component stocks of the ETFs are used, buyers of size can place a stoploss order under the pennant low to mitigate "Fed Day" announcement risk.  Modest-size buyers don't need stoploss orders.  Just buy and prepare to watch GDXJ and its component stocks fly!  
Special Offer For Gold-Eagle Readers: Please send me an Email to [email protected] and I'll send you my free report.  "Wave My Golden Flags!" report.  I highlight ten of the sweetest gold stocks staging massive bull flag and pennant action on the daily charts.  I outline key tactics for investors who are ready to get richer! 
Note: We are privacy oriented.  We accept cheques, credit card, and if needed, PayPal.
Written between 4am-7am.  5-6 issues per week.  Emailed at aprox 9am daily.
Email:
Rate Sheet (us funds):
Lifetime: $999
2yr:  $299     (over 500 issues)
1yr:  $199     (over 250 issues)
6 mths: $129 (over 125 issues)
To pay by credit card/paypal, please click this link:
https://gracelandupdates.com/subscribe-pp/
To pay by cheque, make cheque payable to "Stewart Thomson"
Mail to:
Stewart Thomson / 1276 Lakeview Drive / Oakville, Ontario L6H 2M8 Canada
Stewart Thomson is a retired Merrill Lynch broker. Stewart writes the Graceland Updates daily between 4am-7am. They are sent out around 8am-9am. The newsletter is attractively priced and the format is a unique numbered point form.  Giving clarity of each point and saving valuable reading time.
Risks, Disclaimers, Legal
Stewart Thomson is no longer an investment advisor. The information provided by Stewart and Graceland Updates is for general information purposes only. Before taking any action on any investment, it is imperative that you consult with multiple properly licensed, experienced and qualified investment advisors and get numerous opinions before taking any action. Your minimum risk on any investment in the world is: 100% loss of all your money. You may be taking or preparing to take leveraged positions in investments and not know it, exposing yourself to unlimited risks. This is highly concerning if you are an investor in any derivatives products. There is an approx $700 trillion OTC Derivatives Iceberg with a tiny portion written off officially. The bottom line:  
Are You Prepared?
********