A Commodity Super Cycle Are Investors Prepared?
My main metals premise for 2021 is that gold looks good, silver looks better, and platinum looks best.
Goldman Sachs analyst Jeff Currie now refers to silver as "gold on steroids".
If that's correct, and I think it is, can platinum be viewed as "gold on growth hormone"? I think so.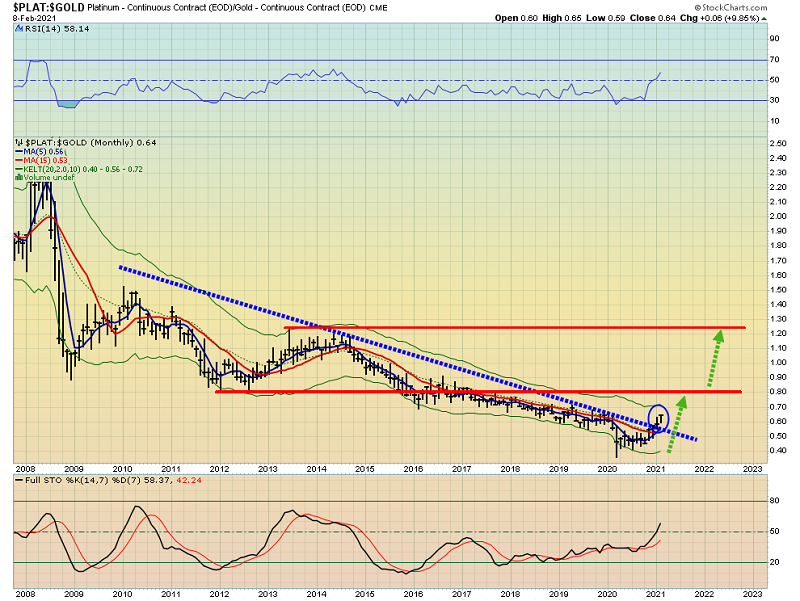 The monthly gold versus platinum chart.
My suggestion is to own some physical metal. Funds like PPLT-NYSE are another decent way for investors to get involved.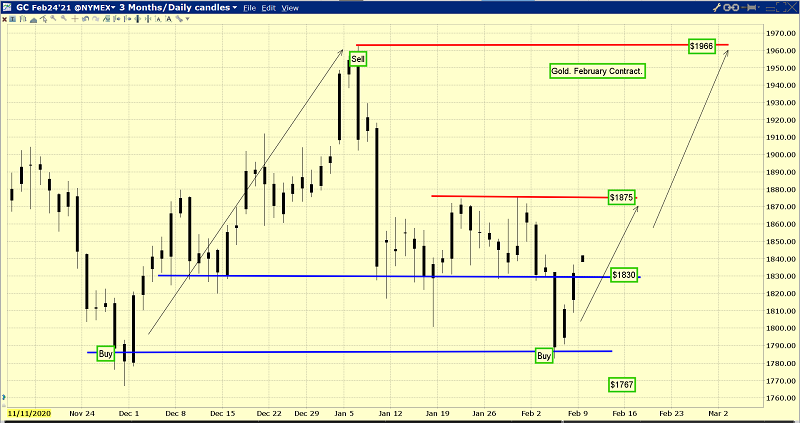 The daily gold chart. I've strongly advocated buying gold and related items around $1788, and then booking partial profits near $1966. That's been a great play.
It's positive to see gold now rise above resistance at $1830. The next positive event would be a push through the resistance at $1875.
The silver chart. Interestingly, the most recent arrival of gold at the $1788 buy zone happened with silver trading much higher than the first time.
That's a nice sign of strength in the market.
For almost 30 years, I've followed the superb work of economist Steve Hanke.
Investors should take note of his prediction of a super cycle in the "commods", and of his statement that 95% of what appears in mainstream media is false or irrelevant.
I've suggested that America (and the entire western world) is likely at a point in the commodity and inflation cycle much like the period of 1966-1970.
Steve watches the M4 money supply, which is a broader calculation than M1 or M2. It includes T-bills and commercial paper.
The bottom line is that there is an M4 bull in a global markets candy store, and the charge is beginning.
Rather than pinning childish hopes on politicians who are all obsessed with increasing debt and printing more fiat… investors need to allocate to commodities.
A tidal wave of inflation is likely coming, and it can build substantial wealth for the people who are correctly positioned.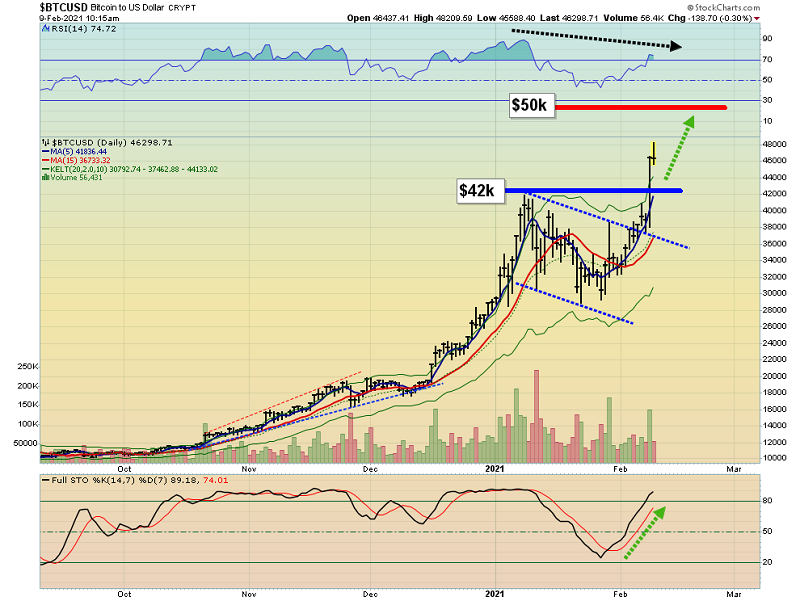 What about bitcoin? I've been a vociferous bitcoin proponent for years, but most of the "free money" is likely been had.
Now, I want investors to focus on the "DeFi" (decentralized finance) companies and crypto coins.
These maverick companies are creating automatic market making for investors. Some of them are functioning like tiny banks; customers can do "flash" (ultra short-term) deposits or loans.
The bottom line: small is better, and I highlight both the older "blue chip crypto coins" and the important DeFi action in my blockchain newsletter.
For the US stock market, growth stocks may soon run into trouble while the brick/mortar companies begin to shine. Even with the Corona vaccines that are questionable at best, institutional money managers will pour money into the market with a herd approach. My focus is short-term trading of TQQQ, which I cover in my swing trade newsletter. I also trade the leveraged NUGT and JNUG ETFs there.
The miners? It appears that the gold stocks reaction is nearly complete. Mining stock enthusiasts should note that the component stocks in the GOAU ETF tend to do better than the GDX stocks when an uptrend is in play.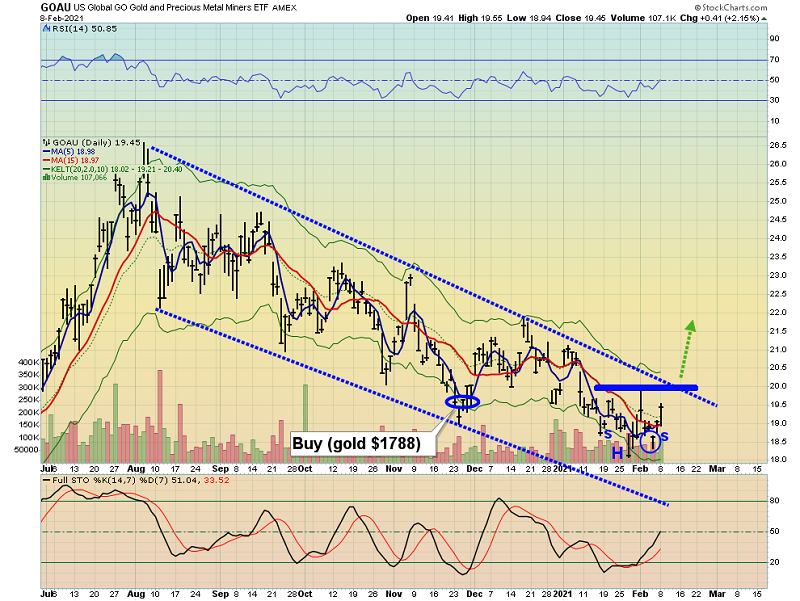 The daily GOAU chart. There's an inverse H&S bottom pattern in play.
A move above $20 could jumpstart the next major rally. It would create a breakout above the H&S neckline and would see GOAU and many component stocks surge out of their down channels. A two-day close above $20 is what I'm looking for… and it could happen this week!
Special Offer For Gold-Eagle Readers: Please send me an Email to [email protected] and I'll send you my free "Junior Triple Play" report. I highlight three gold juniors, three silver juniors, and three platinum juniors that look set for massive gains this year, with hardcore buy and sell tactics for each stock!
Note: We are privacy oriented. We accept cheques, credit card, and if needed, PayPal.
Written between 4am-7am. 5-6 issues per week. Emailed at aprox 9am daily.
Email:
Rate Sheet (us funds):
Lifetime: $1299
2yr: $299 (over 500 issues)
1yr: $199 (over 250 issues)
6 mths: $129 (over 125 issues)
To pay by credit card/paypal, please click this link:
https://gracelandupdates.com/subscribe-pp/
To pay by cheque, make cheque payable to "Stewart Thomson"
Mail to:
Stewart Thomson / 1276 Lakeview Drive / Oakville, Ontario L6H 2M8 Canada
Stewart Thomson is a retired Merrill Lynch broker. Stewart writes the Graceland Updates daily between 4am-7am. They are sent out around 8am-9am. The newsletter is attractively priced and the format is a unique numbered point form. Giving clarity of each point and saving valuable reading time.
Risks, Disclaimers, Legal
Stewart Thomson is no longer an investment advisor. The information provided by Stewart and Graceland Updates is for general information purposes only. Before taking any action on any investment, it is imperative that you consult with multiple properly licensed, experienced and qualified investment advisors and get numerous opinions before taking any action. Your minimum risk on any investment in the world is: 100% loss of all your money. You may be taking or preparing to take leveraged positions in investments and not know it, exposing yourself to unlimited risks. This is highly concerning if you are an investor in any derivatives products. There is an approx $700 trillion OTC Derivatives Iceberg with a tiny portion written off officially. The bottom line: Are You Prepared?
*********