A Global Money Printing Competition
With each passing day, both the technical price action and the news flow are getting more positive for gold.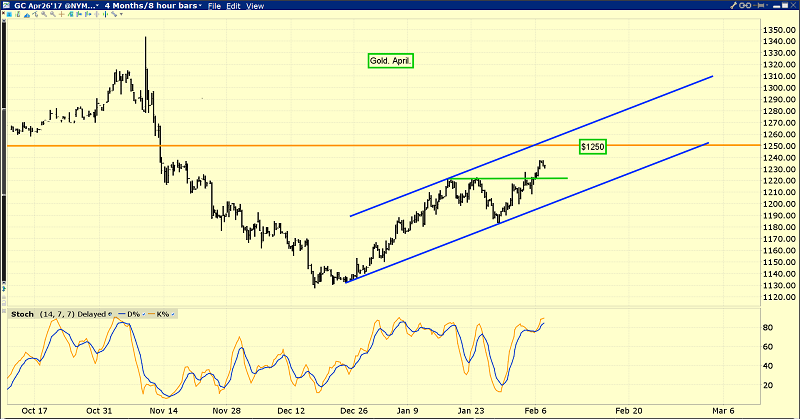 This is the daily bars gold chart.
Another great week for the world's ultimate asset is clearly underway.  A beautiful technical uptrend is now in play. 
Gold has also surged through resistance at $1220 and is making a beeline towards my $1250 target zone.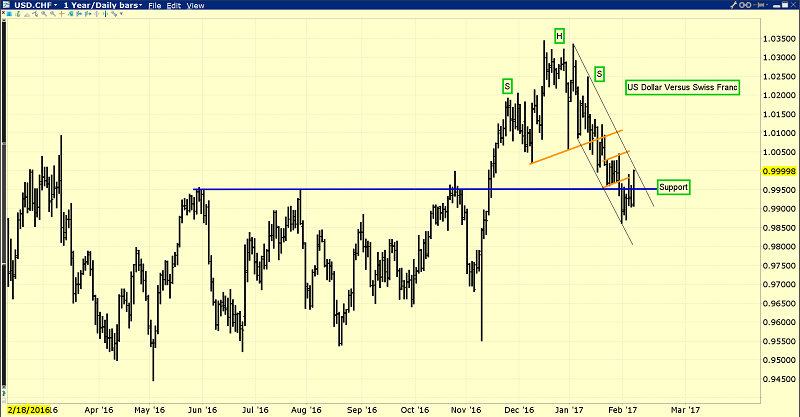 The US dollar has broken down from a substantial head and shoulders top formation against the Swiss franc.
A small rally back towards the neckline of the pattern is likely, but the overall technical picture for the dollar is very negative.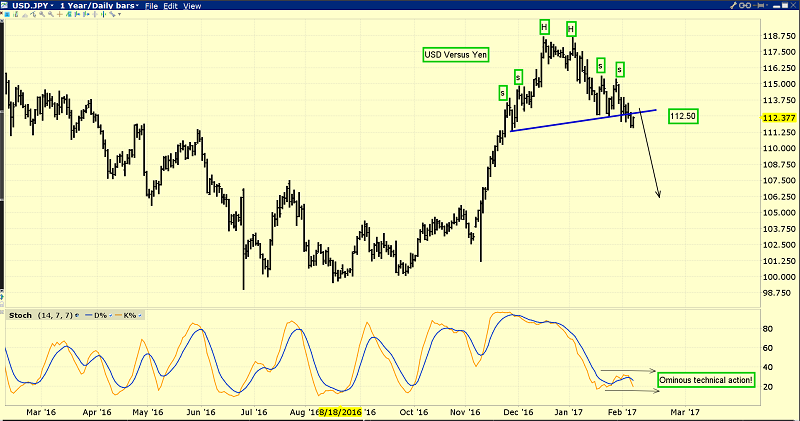 This is the key dollar versus yen chart.
Both the yen and the franc are safe haven fiat currencies, and the "risk-on" dollar's price action against both of them is truly horrific.  That's great news for gold, which is the ultimate safe haven.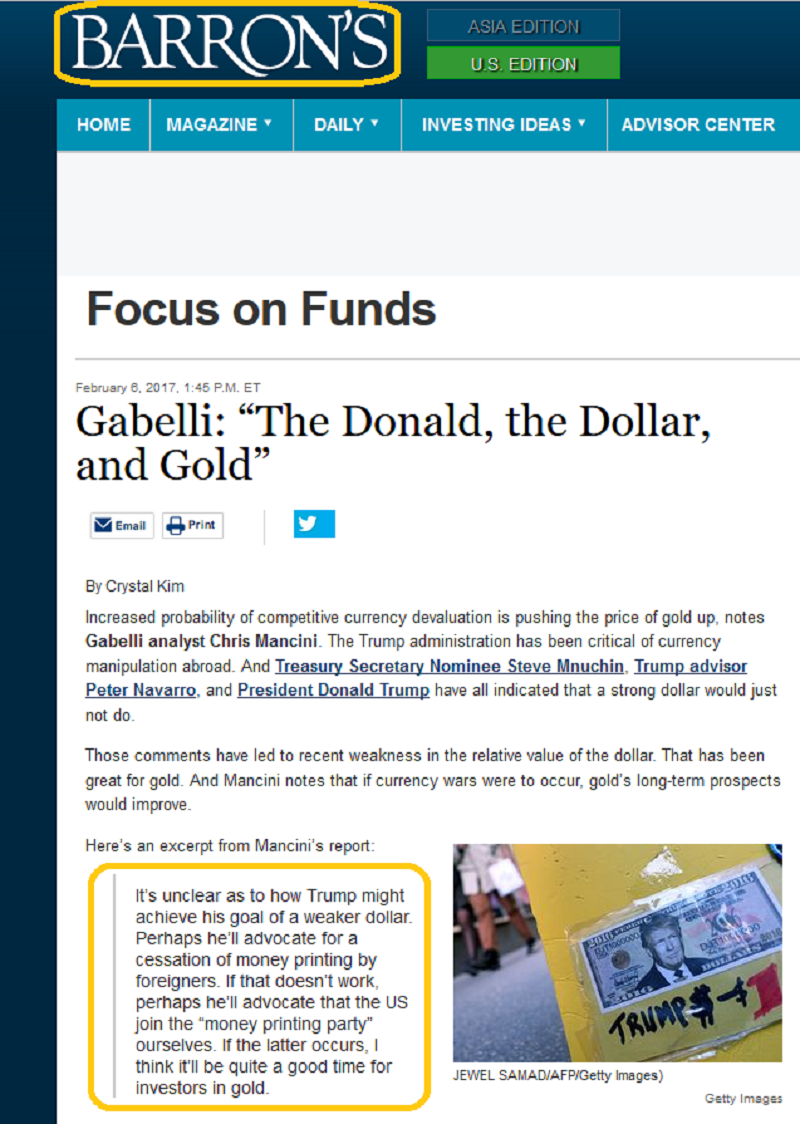 Will President Trump order Janet Yellen to engage in outright money printing to devalue the dollar?
I think he'll do it, and here's why: America's demographics are drastically different from the demographics that were in place when Ronald Reagan got elected with a similar "Make America Great" mantra.
America is now an ageing society, and both the citizens and the government are maniacally obsessed with debt. 
Also, the business up cycle is nearing an end, and while immigration changes make most citizens happy, that's not going to re-create a 1950's society with a 15% GDP growth rate. 
Sadly, Trump's only practical tools to reduce the huge debt burden on the backs of both citizens and government are money printing and gold revaluation.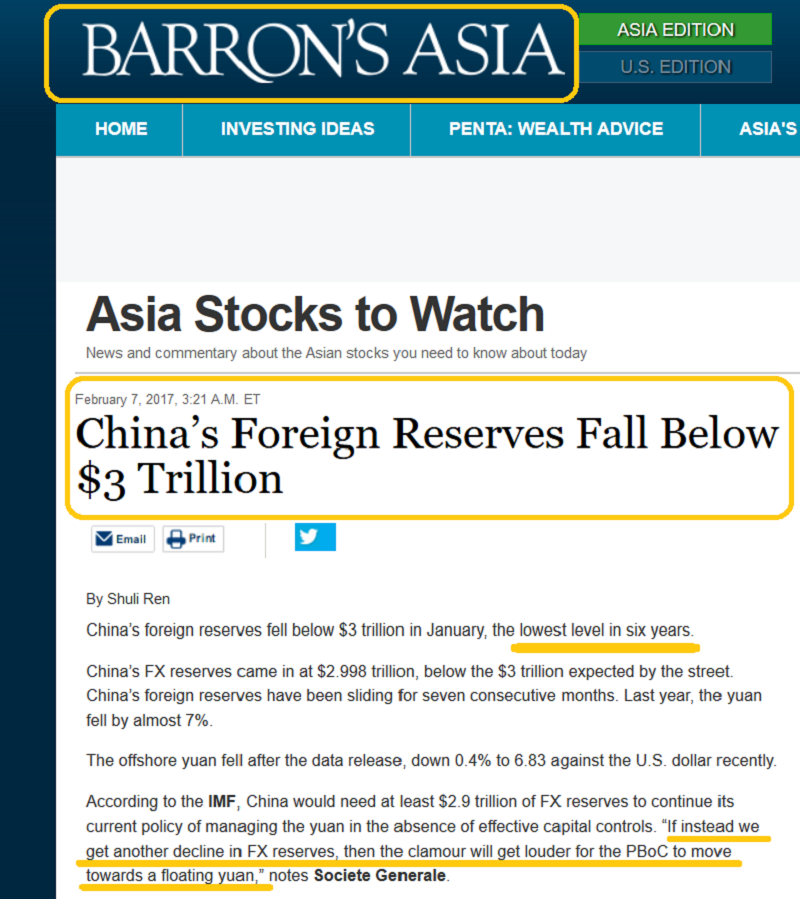 FOREX reserves in China may be about to become a very powerful gold price driver.
To combat the disintegration of its FOREX reserves, China may have to float the yuan, or engage in significant money printing.
This is the spectacular daily bars GDX chart.
Gold stocks are roaring higher because of Trump's dollar bashing and even more because of the end of global deflation. 
GDX itself is sporting a beautiful momentum-oriented crossover buy signal on my 14,7,7 Stochastics oscillator.
I suggested that gold stock enthusiasts should be on the lookout for that signal, and now it is in play. 
GDX should run to $26, and perhaps to $27.50, as gold marches from $1220 towards $1250.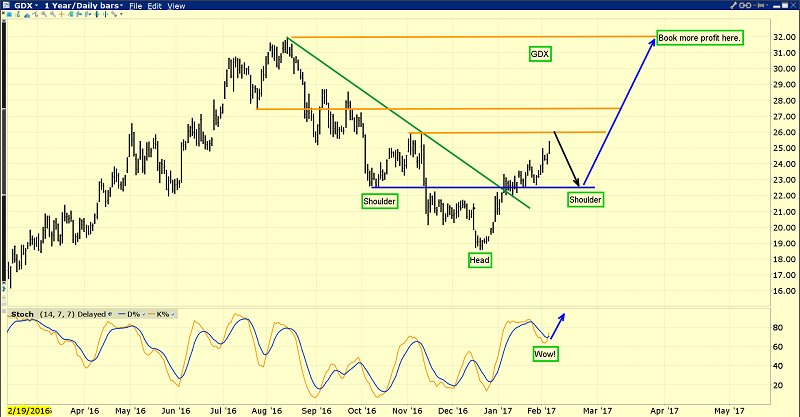 Regardless of whether GDX makes it to $27.50 or not on this rally, the coming pullback is simply going to create a beautiful right shoulder of a large inverse head and shoulders bottom pattern!
The target of the pattern is the $32 area, and I think GDX has a very good chance of surpassing that high.
I suggested that 2017 would be all that gold stock investors could ever ask for, and that is certainly playing out in textbook fashion.  Rallies are strong.  Pullbacks are orderly and modest. 
US dollar bulls will likely be hit hard by Donald Trump's dollar devaluation team.  Governments around the world may be poised to enter not just a fiat devaluation competition, but a money printing competition.  There are no winners in such a competition, except for gold, silver, and associated stocks!
********
Special Offer For Gold-Eagle Readers:  Please send me an Email to [email protected] and I'll send you my free "Gimme The Juiciest Juniors!" report.  I cover ten of the hottest junior gold and silver stocks, with key buy and sell points for both short and long term investors!
Note: We are privacy oriented.  We accept cheques, credit card, and if needed, PayPal.
https://www.gracelandupdates.com  
Email:
Rate Sheet (us funds):
Lifetime: $999
2yr:  $299     (over 500 issues)
1yr:  $199     (over 250 issues)
6 mths: $129 (over 125 issues)
To pay by credit card/paypal, please click this link:
https://gracelandupdates.com/subscribe-pp/
To pay by cheque, make cheque payable to "Stewart Thomson"
Mail to:
Stewart Thomson / 1276 Lakeview Drive / Oakville, Ontario L6H 2M8 Canada
Stewart Thomson is a retired Merrill Lynch broker. Stewart writes the Graceland Updates daily between 4am-7am. They are sent out around 8am-9am. The newsletter is attractively priced and the format is a unique numbered point form.  Giving clarity of each point and saving valuable reading time.
Risks, Disclaimers, Legal
Stewart Thomson is no longer an investment advisor. The information provided by Stewart and Graceland Updates is for general information purposes only. Before taking any action on any investment, it is imperative that you consult with multiple properly licensed, experienced and qualified investment advisors and get numerous opinions before taking any action. Your minimum risk on any investment in the world is: 100% loss of all your money. You may be taking or preparing to take leveraged positions in investments and not know it, exposing yourself to unlimited risks. This is highly concerning if you are an investor in any derivatives products. There is an approx $700 trillion OTC Derivatives Iceberg with a tiny portion written off officially. The bottom line:  
Are You Prepared?