Gold In 2022: The Asset Class Leader
"Stay away from fiat money…. It's fake money made of paper and lies." - Ricardo Salinas Pliego, Chairman of Grupo Salinas, Dec 24, 2021.
Ricardo is one of Mexico's most successful business owners, and a bitcoin enthusiast. I'm less sure than he is that bitcoin is money (yet), but buying and selling crypto for big profits is definitely a great way to get more of the world's ultimate money…
Which of course is gold.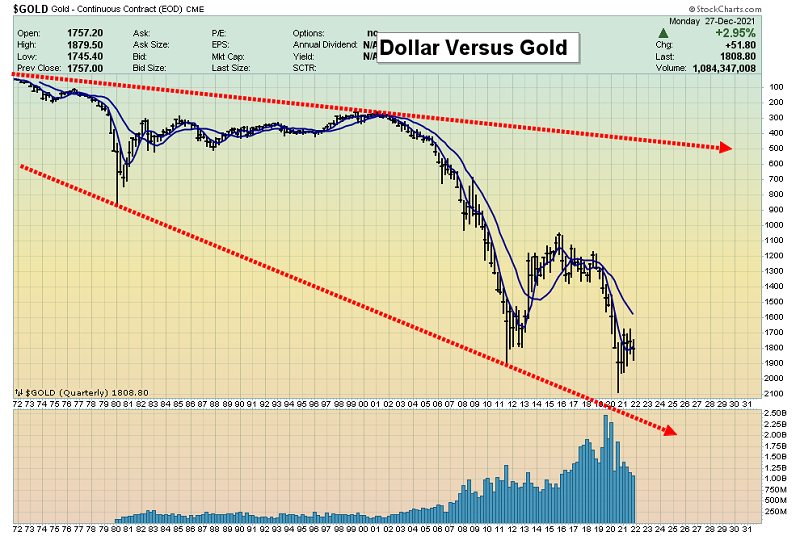 The "money of paper and lies" dollar versus gold chart.
Most governments have no savings and seem eager to take on more debt while their central banks print relentlessly. It's an ominous situation.
A short-term look at gold. A breakout from a nice inverse H&S pattern seems imminent.
Gold needs to trade at about $1830 to convince me that the breakout is solid.
There have been numerous false breakouts for gold in recent months and what may appear to be a breakout could be the end of a short-term rally.
Importantly, the short-term action is helping put "green shoots" on this weekly chart.
Note the upturn on the lead lines of the moving averages and Stochastics. A move above $1880 would likely be a signal that the long reaction from $2089 in the summer of 2020 is over, and a surge towards $3000 is probable.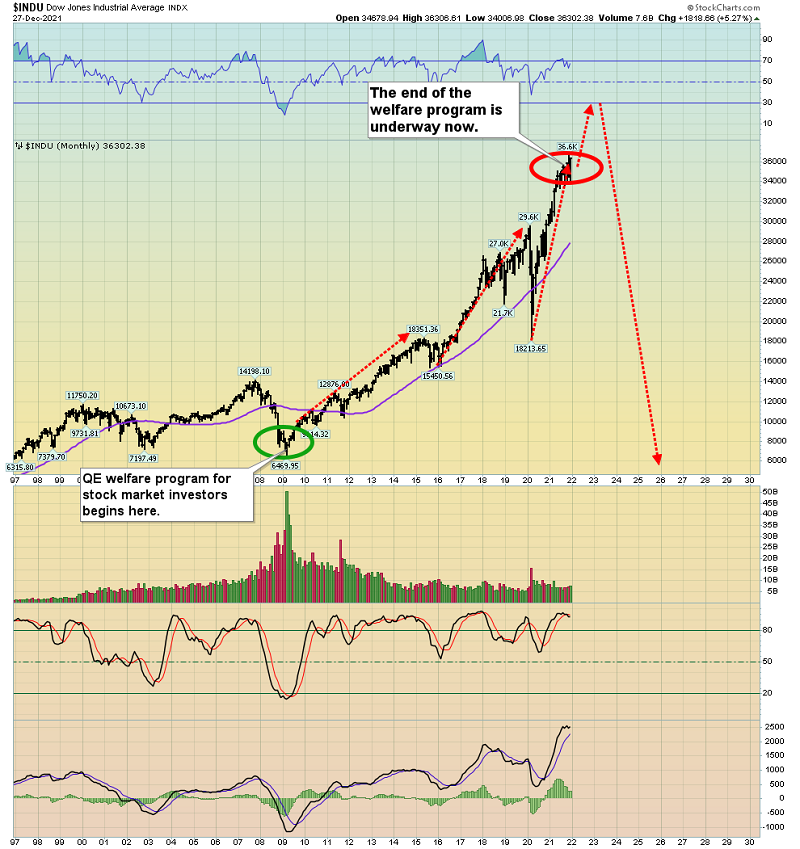 The disturbing US stock market chart. Stock market investors enjoy attacking US "illegals" coming to get free TV's, while they themselves have received more than a decade of "QE to infinity" welfare handouts from the nation's central bank.
The is no QE for student loans or credit card debt, let alone for overwhelmed hospital emergency wards. Interest rates for Main Street debt are sky high, while financial market debt rates for the richest citizens are near zero. The bottom line:
This situation is as evil as it is insane.
Horrifically, the nation's stock, bond, and real estate investors have become America's biggest class of welfare bums, grovelling in front of the central bank for more handouts.
A last gasp rally for stocks is likely, as the welfare addicts imagine they can get along without these handouts. They are buying now to try to live out that fantasy.
I've suggested that the "crash season" of Aug-Oct 2022 is when the gong really begins to sound, and their money printed fantasy becomes the nation's greatest nightmare since 1929.
It's all going to come tumbling down, and gold bugs should begin preparing cash piles now, to buy the ashes of the inferno in late 2022 and 2023.
The SIL ETF chart.
It's true that the dollar is little more than fake money made of paper and lies. Ominously, the boiler room operators that promote it lead both political parties of the nation.
Regardless, silver stock enthusiasts need to pick their entry and exit spots with care.
The great news is that the biggest silver sector rally in years may be starting now. The size of this rally is ultimately going to be determined by Chinese New Year demand and what happens in India's February budget with the import duty. So far, it looks very good.
The ebb and flow of physical gold and silver demand is ultimately what the COMEX commercial traders rely on to place their trades. That demand is mostly from the Main Street citizens of China and India… and 2022 could be a banner year.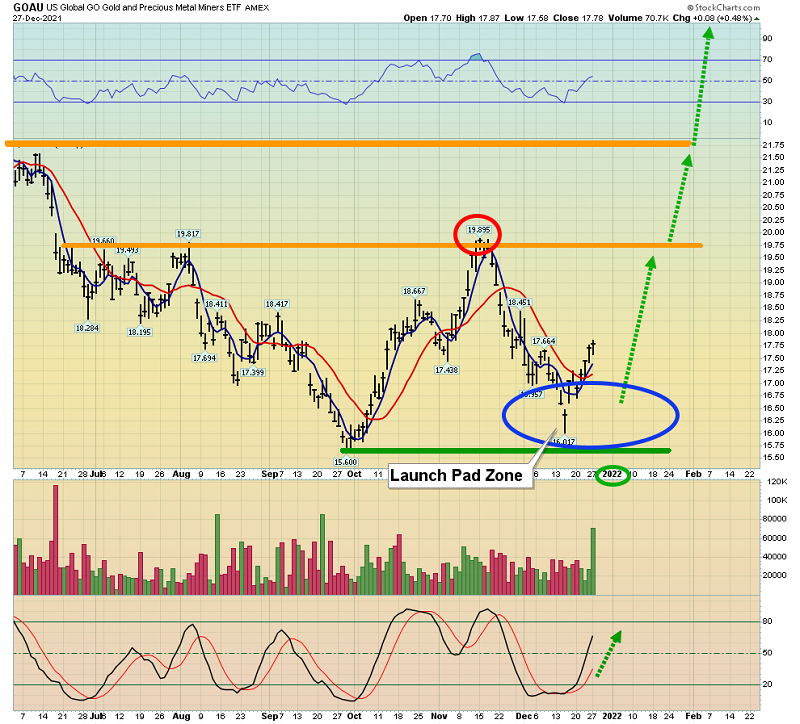 The GOAU chart. I'm making the bold prediction that in 2022 gold stocks (and especially the juniors) will be the world's top performing asset class.
From my launchpad zone, GOAU has already surged about 10% higher in just a few weeks. As January begins, with gold potentially breaking out above $1815, all investor eyes should be on the $20 price for GOAU. A weekly close above there would be strong confirmation that this rally is solid!
Special Offer For Gold-Eagle Readers: Please send me an Email to [email protected] and I'll send you my free "Golden Footballs In Play!" report. I highlight eight fabulous junior miners that are set to "run with the ball" in January, as gold bursts above $1815! Key risk and reward tactics are included for eager investors.
Thanks!
Cheers
St
Stewart Thomson
Graceland Updates
Note: We are privacy oriented. We accept cheques, credit card, and if needed, PayPal.
Written between 4am-7am. 5-6 issues per week. Emailed at aprox 9am daily
Email:
Rate Sheet (us funds):
Lifetime: $1299
2yr: $299 (over 500 issues)
1yr: $199 (over 250 issues)
6 mths: $129 (over 125 issues)
To pay by credit card/paypal, please click this link:
https://gracelandupdates.com/subscribe-pp/
To pay by cheque, make cheque payable to "Stewart Thomson"
Mail to:
Stewart Thomson / 1276 Lakeview Drive / Oakville, Ontario L6H 2M8 Canada
Stewart Thomson is a retired Merrill Lynch broker. Stewart writes the Graceland Updates daily between 4am-7am. They are sent out around 8am-9am. The newsletter is attractively priced and the format is a unique numbered point form. Giving clarity of each point and saving valuable reading time.
Risks, Disclaimers, Legal
Stewart Thomson is no longer an investment advisor. The information provided by Stewart and Graceland Updates is for general information purposes only. Before taking any action on any investment, it is imperative that you consult with multiple properly licensed, experienced and qualified investment advisors and get numerous opinions before taking any action. Your minimum risk on any investment in the world is: 100% loss of all your money. You may be taking or preparing to take leveraged positions in investments and not know it, exposing yourself to unlimited risks. This is highly concerning if you are an investor in any derivatives products. There is an approx $700 trillion OTC Derivatives Iceberg with a tiny portion written off officially. The bottom line:
Are You Prepared?
********