Gold And The Black Swan
Gold appears to be entering the "summer doldrums" season, but there are some black swan issues that could add a lot of volatility to the market.
Please click here now. You are looking at an article from The Economic Times of India, and it's pretty clear that demand for gold has slowed down, as it often does at this time of year.
When demand for physical gold slows down in India, the price often tends to meander aimlessly, frustrating both the bulls and the bears.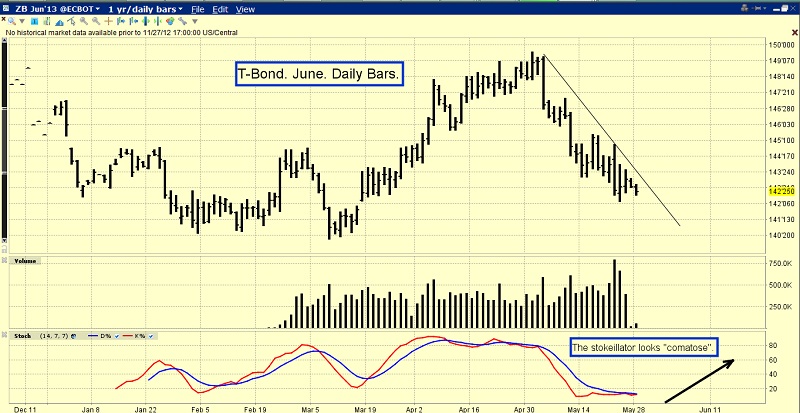 That's the daily T-Bond chart.  It's difficult for gold to rise if bonds can't move higher, and the bond chart seems to suggest that gold is heading for a period of lackluster price action.
You can see that my "stokeillator" (14,7,7 Stochastics series) looks terrible.
It's oversold, but it looks tired, like a burnt-out athlete.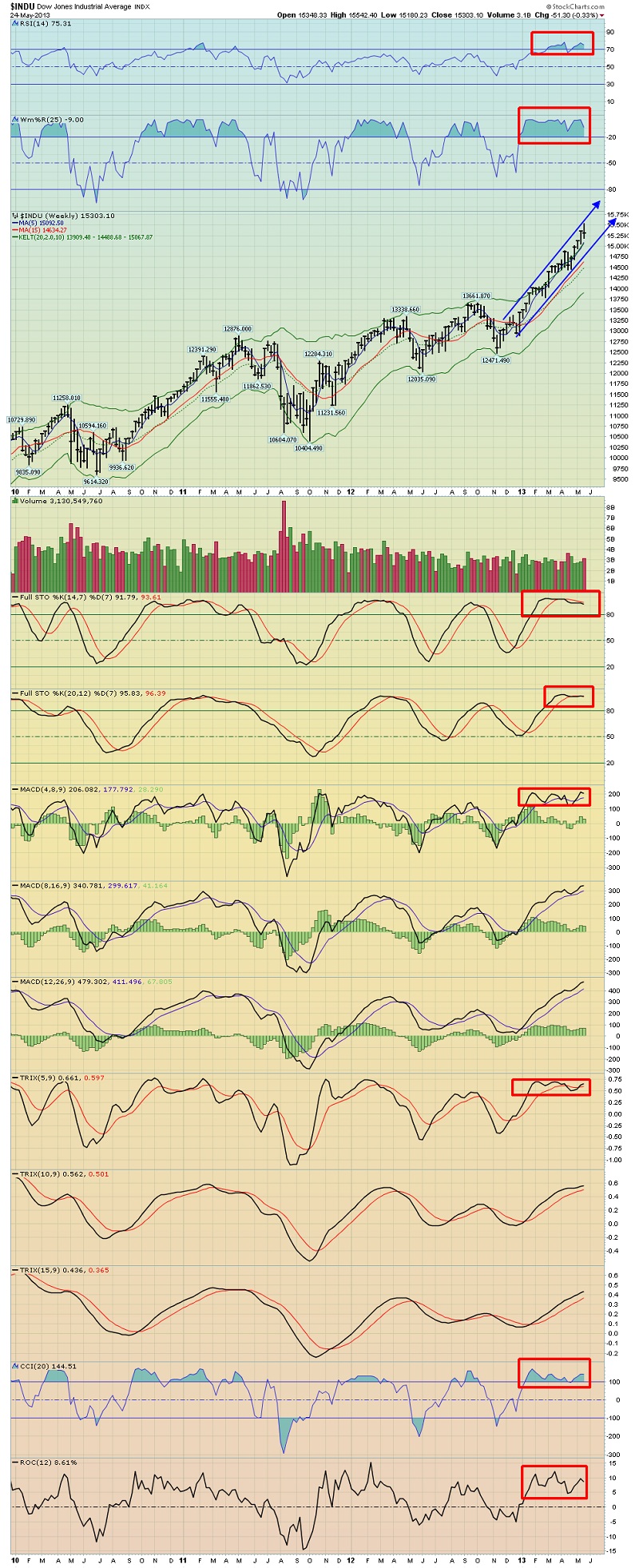 That's the weekly chart of the Dow, and followers of the "sell in May and go away" mantra are extremely frustrated.
Many gold market investors are momentum-oriented, and they want to be where the action is, even if there is value in owning gold at the current price.
The relentless rise of general equities continues to attract money from gold.   That's unlikely to change unless the Dow "finally" takes a real hit.  May has come, and it's almost gone, and still there is no sizable sell-off!
At the end of the 1970s bull market, the Russian invasion of Afghanistan caused investors to pour into the gold market.
A geopolitical event like that could be a game-changer for the stagnant condition that gold is experiencing now, but how likely is such an event?
Well, the situation in Syria seems to be worsening, and the action of my stokeillator on the daily gold chart does suggest that some sort of rally is imminent.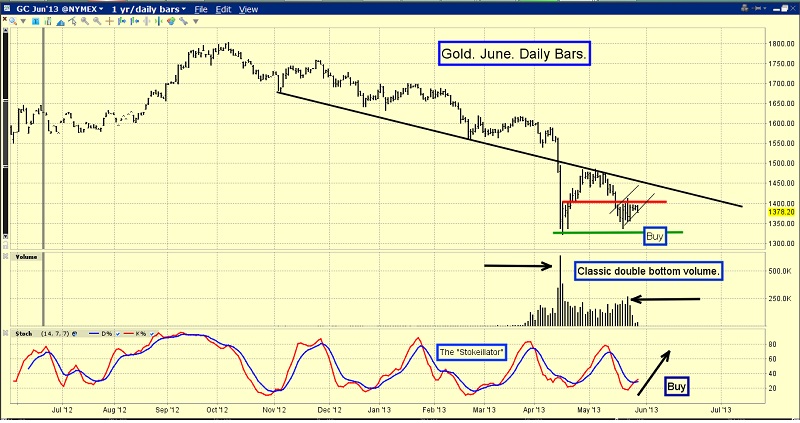 There's a double bottom pattern in play, and the stokeillator lines have just crossed this morning, producing a "buy" signal.
I like to buy in anticipation of these crossover signals, focusing my buying around major HSR (horizontal support & resistance).
The stokeillator buy signal should come after I've bought, so it is really a "potential profits are coming" signal.
One geopolitical event that could be a game-changer for the gold price is the civil war in Syria.  Syria and Israel both have enormous military forces, and President Assad seems to be having a hard time on the domestic front.
It's unknown who would take Assad's place if he were to lose the civil war.  Regardless of who took over, it's hard to see the Syria-Israel relationship getting better.
Other countries could also take sides in a Syria-Israel war, and many geopolitical analysts are concerned that a large conflict is imminent.
Perhaps the Syria-Israel situation explains why my bond market stokeillator is flat lining, while the gold one is hooking up into a crisp buy signal?
You are looking at the hourly bars chart for gold.  Note how close the gold price is now, to the rising blue trend line.
That line represents demand.  Aggressive swing traders should be heavy buyers now, with tight stop losses at about $1375.  I don't use stop losses, except in my day trading, which is a small part of my gold market activities.
Day trading does help eliminate boredom, but I'll dare to suggest that a Syria-Israel war will do a much better job at eliminating it.  Unfortunately, a war like that is likely to replace boredom with the blood of many innocent people.   Governments are the most violent serial killers in the world, in my opinion.
Remember that the target of the double bottom on the gold chart is $1680, but it only "activates" if gold trades over $1500.  The Syria-Israel conflict could be the geopolitical catalyst that makes it happen.  Short covering by funds would reach almost surreal levels, in such a situation.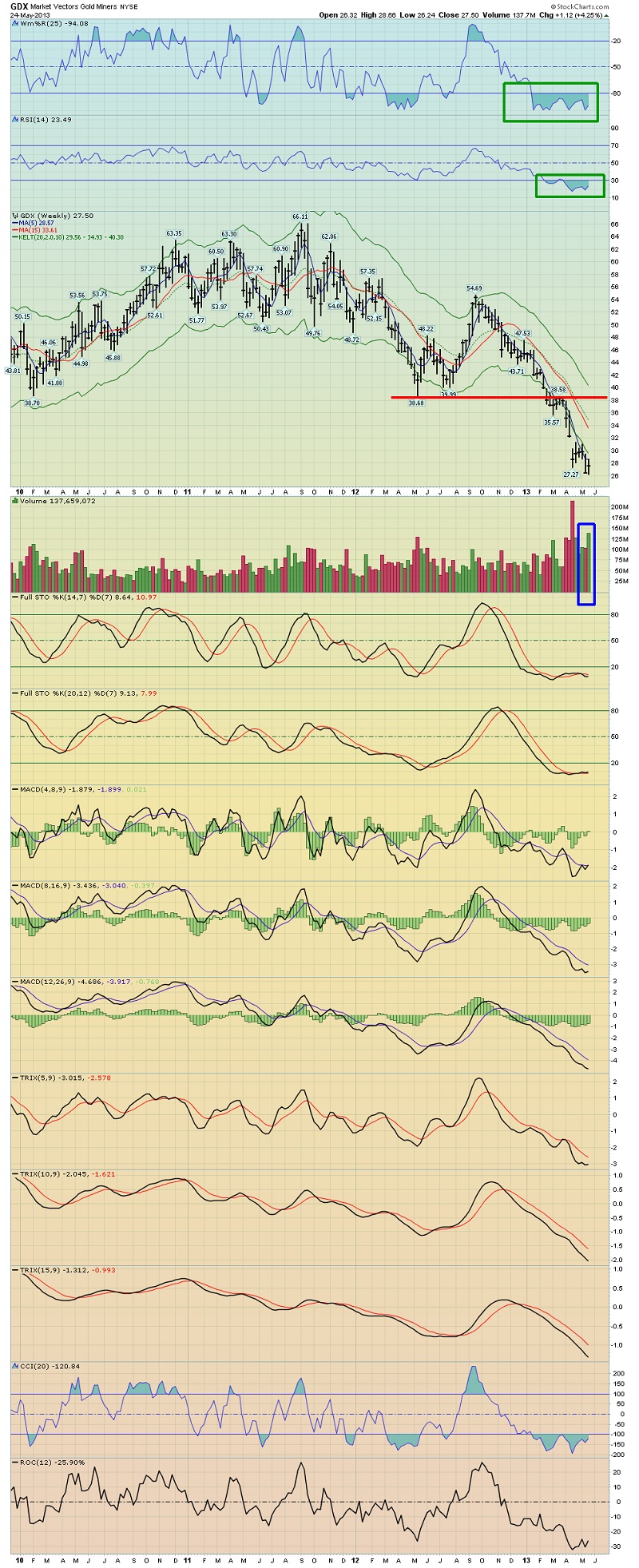 That's the weekly GDX chart, and it almost looks like the Dow chart turned upside down.  The RSI indicator is particularly oversold. Gold stocks offer value at this point, and they await a black swan event to catapult them higher.
Special Offer For Gold-Eagle readers:  Send me an Email to [email protected] and I'll send you my free SRT report.  Silver ratio traders need to be on the alert now.  I'll cover the basic rules of ratio trading for you!  Also, while gold has really gone nowhere over the past 6 weeks or so, my long-only GUTrader intraday gold trading service has booked about $165 an ounce in trading profits.  All trades are closed out by 5pm each day.  If you're a gambler that likes intraday action, send me an email to [email protected], and I'll send you the details of this email-based trading service.  Thanks.
Note: We are privacy oriented.  We accept cheques.  And credit cards thru PayPal only on our website.  For your protection.  We don't see your credit card information.  Only PayPal does.  They pay us.  Minus their fee.  PayPal is a highly reputable company.  Owned by Ebay.  With about 160 million accounts worldwide. 
Rate Sheet (us funds):
Lifetime: $799
2yr:  $269  (over 500 issues)
1yr:  $169    (over 250 issues)
6 mths: $99 (over 125 issues)

To pay by cheque, make cheque payable to "Stewart Thomson"   Mail to:
Stewart Thomson / 1276 Lakeview Drive / Oakville, Ontario L6H 2M8 Canada

Stewart Thomson is a retired Merrill Lynch broker. Stewart writes the Graceland Updates daily between 4am-7am. They are sent out around 8am-9am. The newsletter is attractively priced and the format is a unique numbered point form.  Giving clarity of each point and saving valuable reading time.

Risks, Disclaimers, Legal
Stewart Thomson is no longer an investment advisor. The information provided by Stewart and Graceland Updates is for general information purposes only. Before taking any action on any investment, it is imperative that you consult with multiple properly licensed, experienced and qualifed investment advisors and get numerous opinions before taking any action. Your minimum risk on any investment in the world is: 100% loss of all your money. You may be taking or preparing to take leveraged positions in investments and not know it, exposing yourself to unlimited risks. This is highly concerning if you are an investor in any derivatives products. There is an approx $700 trillion OTC Derivatives Iceberg with a tiny portion written off officially. The bottom line:  
Are You Prepared?