Gold: Big Picture Focus
As gold rises steadily higher, it "refuses to have a correction". That's making some investors nervous. Gold is the greatest investment asset in the world, so it's important to stay focused on the big picture.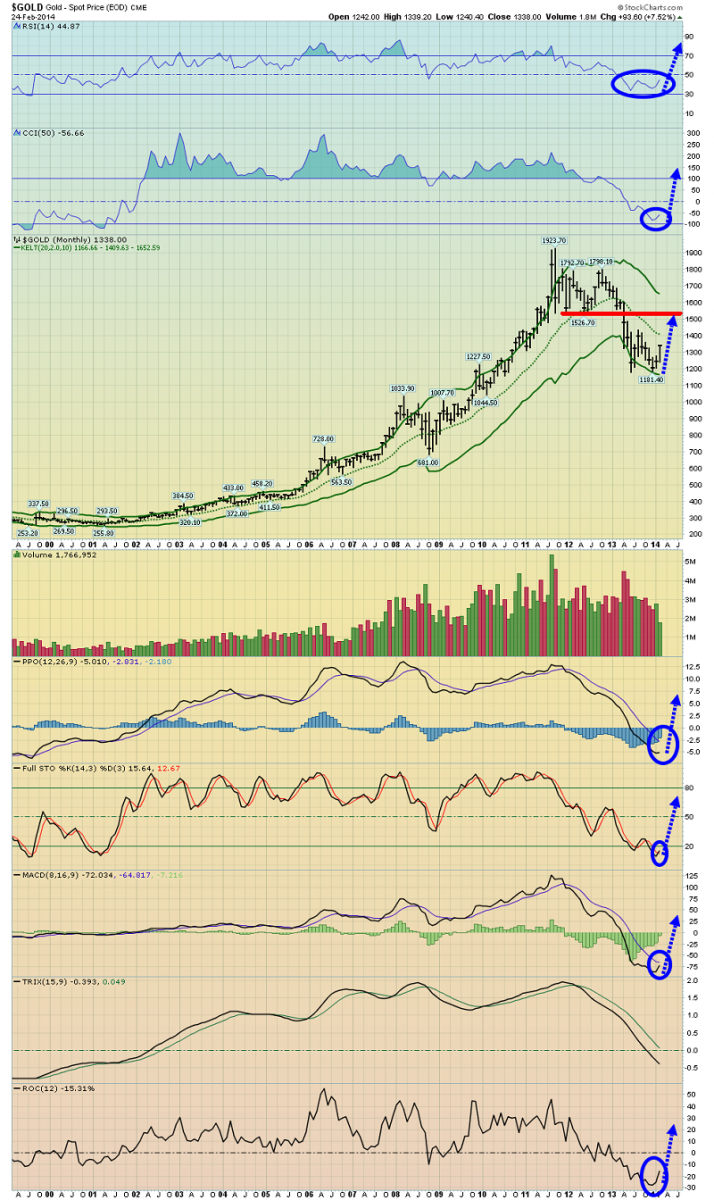 Note the green Keltner lines, which are like river banks around the price bars.
Gold hasn't even risen as high as the middle dotted Keltner line. Gold market technicians should be open to the possibility that in the bigger picture, this rally has only just started.
The 14,3,3 Stochastics series and the 8,16,9 MACD series are particularly impressive.
Note the red HSR (horizontal support and resistance) line that I've annotated, near $1526. The entire $1500 price area is important, because as the year 2013 began, many analysts and investors believed it was an "unbreakable floor for gold".
Fundamentally, they thought QE would continue to "infinity". When price went under the supposedly unbreakable floor, and the Fed actually tapered, they were stunned.
With their gold market world view now shattered, many of these investors are likely to sell on a rally back to the $1500 area, to cut the huge losses they sustained in 2013. They are highly confused, and suffering from immense drawdowns. This fact defines them as weak-handed investors. When weak hands book losses, whether it is on a rally or a decline, that's bullish.
The current sentiment in the gold market has significant similarities with the sentiment in global stock markets, after the Dow and Nasdaq crashed in the year 2000.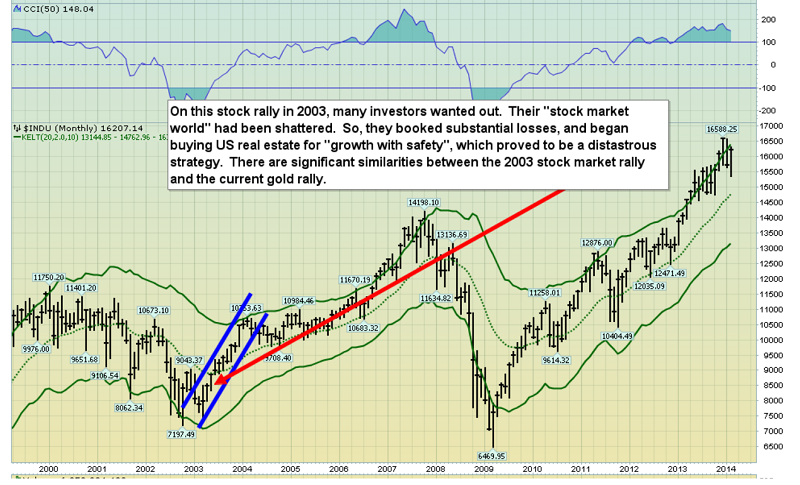 On this monthly chart of the Dow, I've highlighted the 2003 rally. Professional investors held their positions and made a lot of money, while amateurs booked stock market losses on the rally, and moved into real estate.
When weak-handed investors are looking to bail on a market, that market tends to move much higher, and the Dow moved relentlessly higher during the 2003 – 2007 period. I think a similar situation may be at hand now, in the gold market.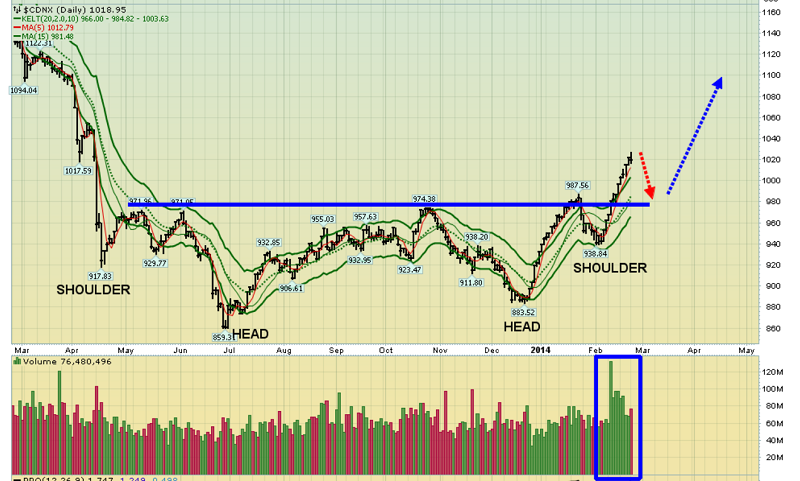 This daily CDNX chart mainly shows the action of Toronto stock exchange junior resource companies. It's arguably the most important junior resource stock index in the world.
There's a significant volume-based breakout in play on CDNX now, from a complex inverse head and shoulders bottom pattern. I've highlighted a possible pullback with a red dotted line, but volume-based breakouts often have no pullback.
Junior resource stocks are leading the precious metals sector now, and I expect that leadership to continue for several years.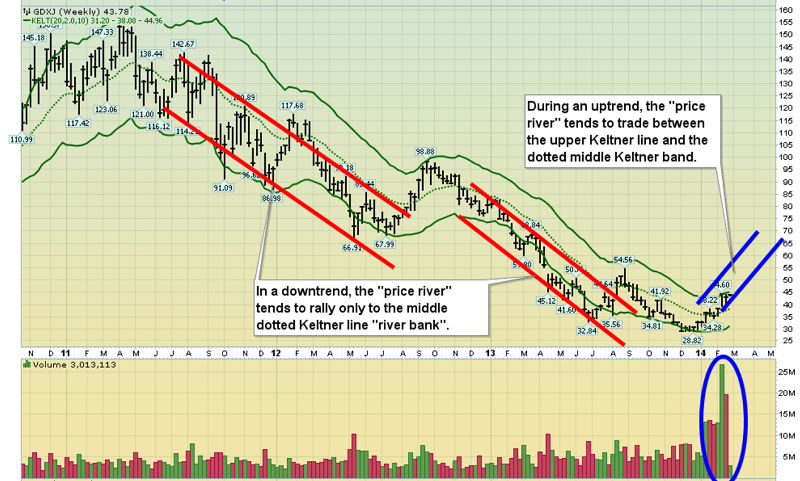 I've highlighted the price action around the Keltner lines, on this key weekly GDXJ chart.
Most technicians tend to view a rally to the upper Keltner line as a sell signal. In contrast, I'll dare to suggest that the current rally above the Keltner supply line is a new uptrend signal. In an uptrend, the "price river" tends to trade between the upper lines. It rarely touches the lower line.
The time for investors to "chase price" is when long term charts are technically oversold and volume is surging. That's the gold market's technical situation now.
Some analysts are claiming that if the current Indian government reduces import fees and restrictions, it won't have any effect on the price of gold. Unfortunately, I don't think they really understand the fundamentals of the largest gold market in the world. Significant duties and fees are being paid by Indian buyers to the government, and to the Indian mafia.
In a market free from restrictions, that money would be used to buy more gold. Also, jewellery companies can't attract investment money to expand, because they can't declare any of the black market gold they are processing. Institutional investors don't want to invest in a black market operation. Consequently, major Indian jewellery stock charts now look like the Dow did after 1929.
The idea that smuggled gold is as bullish for the gold price as a free Indian gold market is complete madness. It's akin to the idea that closing down the NYSE and replacing it with mafia-owned betting shops would be bullish for brokerage stocks. The simple truth is that the upcoming Indian election could be a bullish game changer for gold investors around the world.
On the American side, mainstream media is referring to the US Mint's lacklustre February gold coin sales as "bearish". In contrast, most top bank economists tend to view Western mint sales (whether good or bad) as largely irrelevant to the price of gold. Here's why: In January, which was a stellar monthly for sales, the US Mint sold only about three tons of gold coins, which mainstream media claimed was "bullish for gold".
In the overall picture of global demand and supply, three tons is not a big factor in determining the global price of gold. Some individual Chinese jewellery companies are buying more gold than that, on a consistent monthly basis. The bottom line is that there's no need to panic over the low February US Mint sales numbers, because whether they are big or small, US Mint numbers are essentially irrelevant to the price of gold.
In an era where gold stocks seem set to dominate bullion for a long period of time, GDX is arguably the most important ETF for gold investors to own.
That doesn't mean that investors should invest more money in gold stocks than in gold. A small investment in a gold stocks "thoroughbred horse" can add a lot of power to an investment portfolio, while the bullion Clydesdale plods steadily higher too.
Note the declining volume while the price has gyrated sideways, within the red box on the chart. That's bullish. I've extended the Keltner lines. Maybe there's a light pullback towards the middle or lower Keltner line. Maybe there's a deeper pullback towards the $22.81 - $24.19 support zone. While GDX may or may not have a minor pullback soon, I think investors need to stay on the bigger picture now, which is bullish!
********
Special Offer For Gold-Eagle Readers: Please send me an Email to [email protected] and I'll send you my free "Gold Stocks With Dividends!" report. I'll show you which gold stocks could announce significant dividend increases in 2014, and the tactics I'm using to buy them!
Stewart Thomson
Graceland Updates
Note: We are privacy oriented. We accept cheques. And credit cards thru PayPal only on our website. For your protection. We don't see your credit card information. Only PayPal does. They pay us. Minus their fee. PayPal is a highly reputable company. Owned by Ebay. With about 160 million accounts worldwide.
Email: [email protected]
Rate Sheet (us funds):
Lifetime: $799
2yr: $269 (over 500 issues)
1yr: $169 (over 250 issues)
6 mths: $99 (over 125 issues)
To pay by cheque, make cheque payable to "Stewart Thomson"
Mail to:
Stewart Thomson / 1276 Lakeview Drive / Oakville, Ontario L6H 2M8 Canada
Stewart Thomson is a retired Merrill Lynch broker. Stewart writes the Graceland Updates daily between 4am-7am. They are sent out around 8am-9am. The newsletter is attractively priced and the format is a unique numbered point form. Giving clarity of each point and saving valuable reading time.
Risks, Disclaimers, Legal
Stewart Thomson is no longer an investment advisor. The information provided by Stewart and Graceland Updates is for general information purposes only. Before taking any action on any investment, it is imperative that you consult with multiple properly licensed, experienced and qualifed investment advisors and get numerous opinions before taking any action. Your minimum risk on any investment in the world is: 100% loss of all your money. You may be taking or preparing to take leveraged positions in investments and not know it, exposing yourself to unlimited risks. This is highly concerning if you are an investor in any derivatives products. There is an approx $700 trillion OTC Derivatives Iceberg with a tiny portion written off officially. The bottom line:
Are You Prepared?