Gold-Eagle's Recommended Reading List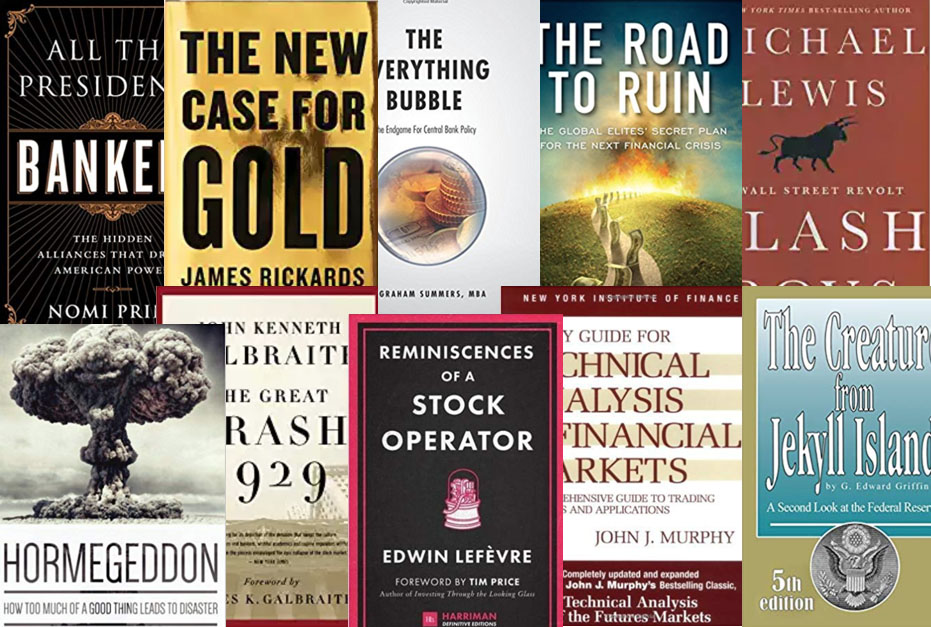 We asked our staff and authors for recommendations of books that Gold-Eagle readers may enjoy.  Below you will find a fine assortment of good reads on a variety of topics to fill your leisure time and feed your brain over the holidays.  If you have other books to recommend we would be happy to consider adding to the list. Spread the wealth of knowledge! 
by Edward G. Griffin

Where does money come from? Where does it go? Who makes it? The money magicians' secrets are unveiled. We get a close look at their mirrors and smoke machines, their pulleys, cogs, and wheels that create the grand illusion called money. A dry and boring subject? Just wait! You'll be hooked in five minutes. Reads like a detective story — which it really is. But it's all true. This book is about the most blatant scam of all history. It's all here: the cause of wars, boom-bust cycles, inflation, depression...

By Edwin Lefevre

"Although Reminiscences...was first published some seventyyears ago, its take on crowd psychology and market timing is a stimely as last summer's frenzy on the foreign exchangemarkets."
—Worth magazine

"The most entertaining book written on investing is Reminiscences of a Stock Operator, by Edwin Lefèvre,first published in 1923."

By Michael Lewis

From the number-one New York Times best-selling author of Liar's Poker and "one of the country's most popular business journalists" (The New York Times) Michael Lewis, comes an engaging new book about Wall Street. Michael Lewis, the best-selling author of Boomerang, The Big Short, The Blind Side, Moneyball, and many others, returns to the financial world to give listeners a ringside seat as the biggest news story in years…

By Nomi Prins

Culled from original presidential archival documents, All the Presidents' Bankers delivers an explosive account of the 100-year interdependence between the White House and Wall Street that transcends a simple analysis of money driving politics or greed driving bankers. Nomi Prins ushers us into the intimate world of exclusive clubs, vacation spots, and Ivy League universities that binds presidents and financiers. She unravels the multi-generational blood, intermarriage, and protégé relationships that have confined national influence to a privileged...

By John Kenneth Galbraith

Of Galbraith's classic examination of the 1929 financial collapse, the Atlantic Monthly said:"Economic writings are seldom notable for their entertainment value, but this book is. Galbraith's prose has grace and wit, and he distills a good deal of sardonic fun from the whopping errors of the nation's oracles and the wondrous antics of the financial community." 

 

By Mike Maloney

The highly anticipated 2nd edition of the best-selling gold and silver investing book of the century.  Completely revised, with over 100 entirely new pages of content. "Throughout the ages, many things have been used as currency: livestock, grains, spices, shells, beads, and now paper. But only two things have ever been money: gold and silver. When paper money...

 

By Saidfedean Ammous

When a pseudonymous programmer introduced "a new electronic cash system that's fully peer-to-peer, with no trusted third party" to a small online mailing list in 2008, very few paid attention. Ten years later, and against all odds, this upstart autonomous decentralized software offers an unstoppable and globally-accessible hard money alternative to modern central banks. The Bitcoin Standard analyzes the historical context to the rise of Bitcoin, the economic properties that have allowed it to grow quickly…

By James Rickards

The bestselling author of The Death of Money and Currency Wars reveals the global elites' dark effort to hide a coming catastrophe from investors in The Road to Ruin, now a National Bestseller. A drumbeat is sounding among the global elites. The signs of a worldwide financial meltdown are… 

 

By Jim Rogers

It's the ultimate road trip. Legendary investor Jim Rogers and his fiancee travel to 116 countries in a custom-built, four-wheel-drive, bright yellow Mercedes. Over three years, they make their way through war zones, are guarded by military convoys, observe a 50-million-person pilgrimage, eat disgusting food, put the car on barges for transport between countries, and have their lives threatened at every turn. As well as describing his adventures, Rogers has plenty to say about the economies and roads he encounters on his journey. (Naturally, he's driven on the best roads and the worst.) With his keen financial acumen… 

 

By James Rickards

They say John Maynard Keynes called gold a "barbarous relic." 
They say there isn't enough gold to support finance and commerce. 
They say the gold supply can't increase fast enough to support world growth. 

 

By James Rickards

The Big Drop: How to Grow Your Wealth During the Coming Collapse shows you how to protect and build your wealth ahead of and during the coming monetary collapse. The author Jim Richards, 35-year Wall Street veteran and financial warfare analyst for the Pentagon, gives you a complete blueprint on how to shelter your savings, safe-guard your wealth, and prepare yourself and your family for what could be the biggest financial crisis that America has ever faced.

 

By Peter Joseph

In our interconnected world, self-interest and social-interest are rapidly becoming indistinguishable. If current negative trajectories remain, including growing climate destabilization, biodiversity loss, and economic inequality, an impending future of ecological collapse and societal destabilization will make...

 

By Bill Bonner

"Hormegeddon" is the term coined by entrepreneur and New York Times Bestselling Author Bill Bonner to describe what happens when you get too much of a good thing in the sphere of public policy, economics and business. Simply put, it ends in disaster. Drawing on stories and examples from throughout modern political history-from Napoleon's invasion of Russia to the impending collapse of the American healthcare system, from the outbreak of WWII and…

 

By Benjamin Graham

The greatest investment advisor of the twentieth century, Benjamin Graham taught and inspired people worldwide. Graham's philosophy of "value investing"—which shields investors from substantial error and teaches them to develop long-term strategies—has made The Intelligent Investor the stock market bible ever since its original publication in 1949.

 

by Constantino Turroni

The depreciation of the mark of 1914?23, which is the subject of this work, is one of the outstanding episodes in the history of the twentieth century. Not only by reason of its magnitude but also by reason of its effects, it looms large on our horizon. It was the most colossal thing of its kind in history: and, next probably to the Great War itself, it must bear responsibility for many of the political and economic difficulties of our generation. It destroyed the wealth of the more solid elements in German society and…

by John Murphy

John J. Murphy has updated his landmark bestseller Technical Analysis of the Futures Markets, to include all of the financial markets. This outstanding reference has already taught thousands of traders the concepts of technical analysis and their application in the futures and stock markets. Covering the latest developments in computer technology, technical tools, and indicators, the second edition features new material on candlestick…

By Peter Schiff

You might be thinking everything's okay: The stock market is on the rise, jobs are growing, the worst of it is over. You'd be wrong. In The Real Crash, New York Times best-selling author Peter D. Schiff argues that America is enjoying a government-inflated bubble, one that reality will explode... with disastrous consequences for the economy and for each of us. Schiff demonstrates how the infusion of billions of dollars of stimulus money has only dug a deeper hole: The United States government simply spends too much and does not collect enough money to pay its…

by Nomi Prins

This mesmerizing historical novel captures the swirl of New York City's greed, power, romance and desperation on the cusp of the Great Stock Market Crash of 1929 and Great Depression, eerily mirroring the present. In this vivid tableau of New York with its colorful, diverse cast of characters, Black Tuesday evokes the passion and atmospheric tension of one of our most fascinating historical epochs. From the beleaguered...

By Graham Summers

The Everything Bubble chronicles the creation and evolution of the US financial system, starting with the founding of the US Federal Reserve in 1913 and leading up to the present era of serial bubbles: the Tech Bubble of the '90s, the Housing Bubble of the early '00s and the current bubble in US sovereign bonds, which are also called Treasuries. Because these bonds serve as the foundation of our current financial system, when they are in a bubble, it means that...

By Ray Dalio

#1 New York Times Bestseller

"Significant...The book is both instructive and surprisingly moving." —The New York Times

Ray Dalio, one of the world's most successful investors and entrepreneurs, shares the unconventional principles that he's developed, refined, and used over the past forty years to create unique results in both life and business—and which any person or organization can adopt to help achieve their goals.

By Scott Nations

In this absorbing, smart, and accessible blend of economic and cultural history, Scott Nations, a longtime trader, financial engineer, and CNBC contributor, takes us on a journey through the five significant stock market crashes in the past century to reveal how they defined the United States today.