Gold Forecast: The December Bottom Is Close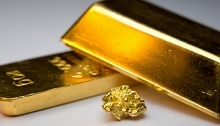 In my last gold update (11/19/2015) I called for gold prices to continue lower into a December 6-month cycle low and that prices would likely test the $1,040-$1,000 levels. The Fed made their announcement yesterday…and it often takes 1-2 days for the dust to settle afterwards. However, I think the 6-month cycle will bottom before year-end in our original target area.
Once the 6-month low arrives, we expect prices to enter a multi-week rally potentially lasting until February or March. I can't give accurate rally estimates until there is a confirmed biannual cycle low. However, the 50-week moving average has frequently been targeted over the last several years. If you're familiar with me you know that I'm not expecting the "real bottom" in gold and silver to arrive until next year so don't get too enthusiastic about the coming rally.
Below is a weekly gold chart, approximately every 20-weeks gold makes a tradable low (red boxes). These cycles are an ideal instrument when trading on an intermediate basis. The blue numbers between the cycles represent the number of weeks between lows. The current cycle is in its 21st week, and that is sufficiently mature to yield a tradeable low within the next of couple weeks.
Weekly Gold Chart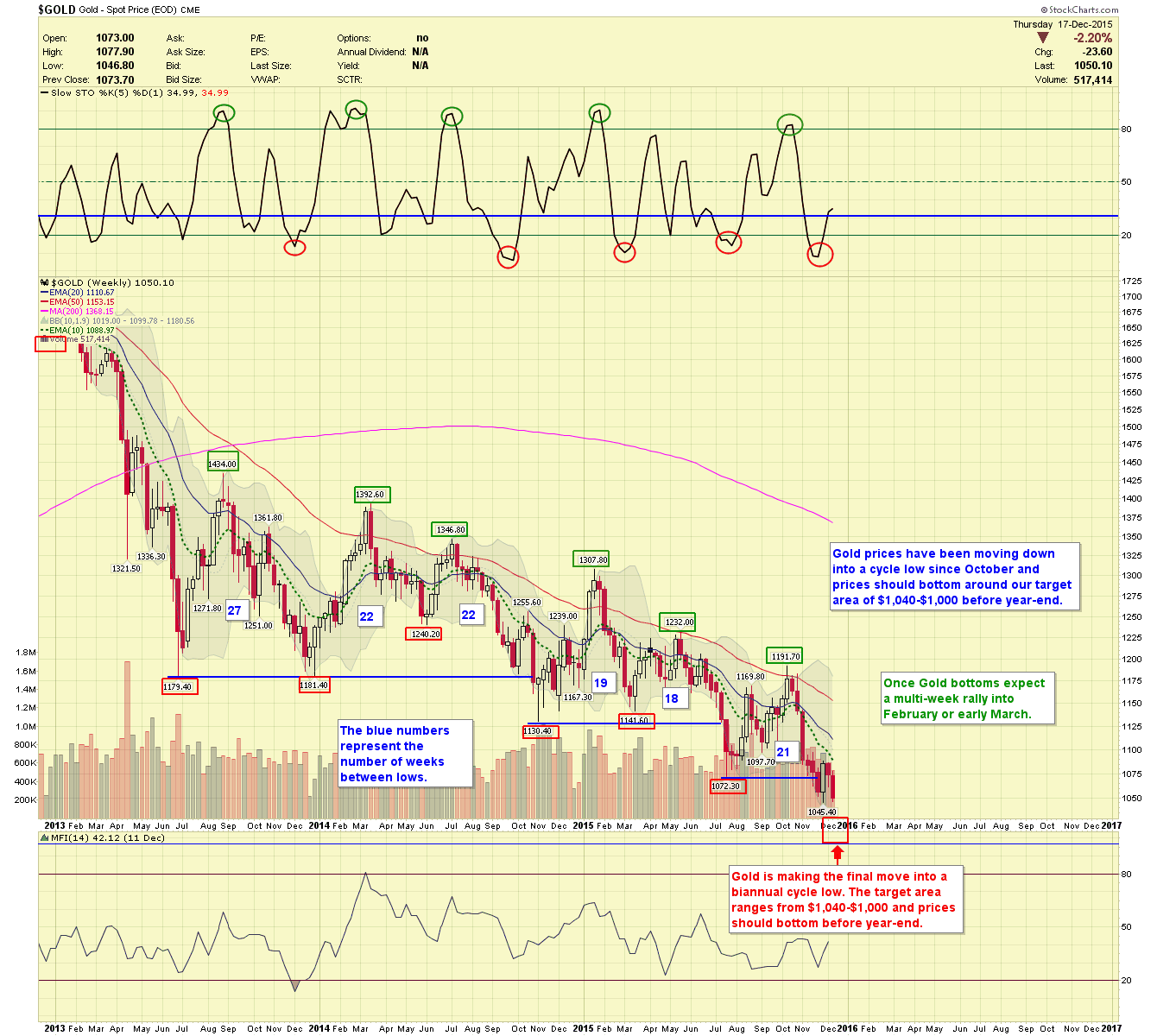 In the daily chart of gold, we zoom in to see better the estimated target area. There is a divergence building in the MFI at the top of the chart indicating that the price momentum is waning, and the price structure is suitable for a reversal. The downward sloping 200-day moving average is an initial rally target, but I will need to see bottom before drawing potential targets.
Daily Gold Chart
The coming multi-week rally will not be the beginning of a new bull market unfortunately, and prices will likely fall to new lows in 2016. The good news is however that a major cycle low should arrive sometime next year and then a multi-year gold rally should ensue.
Below is the quarterly chart that I keep posted on my site, it's meant to encourage and remind investors of the big picture. These major cycles arrive once a decade, and they are often excellent buying opportunities. So I encourage everyone that feels like they can no longer take it to hang in there a just little while longer. Once the bull market resumes, you'll forget all about how you're currently feeling.
Quarterly Gold Chart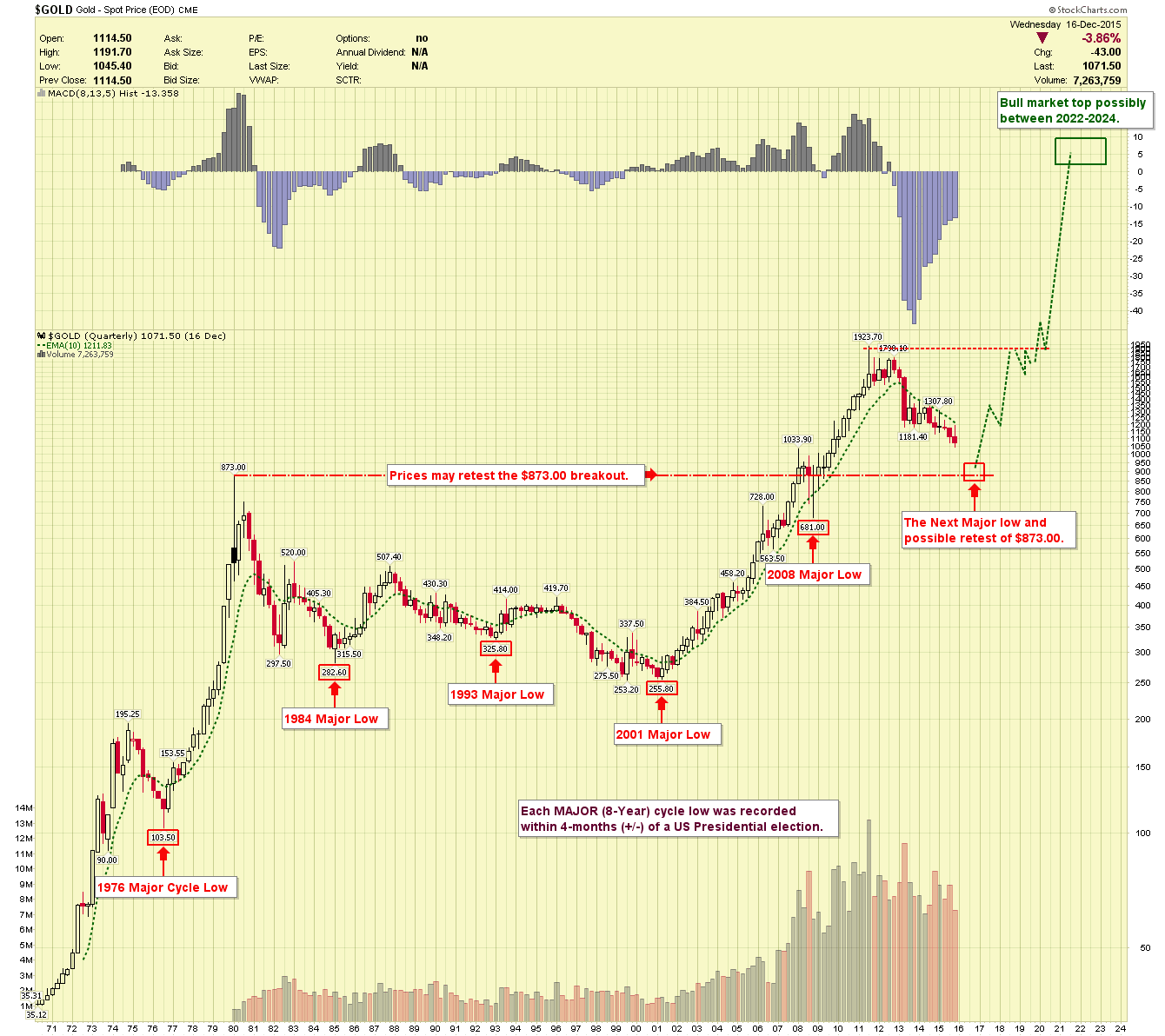 The global printing of money will eventually cause inflation that will strongly influence gold and silver prices. Truthfully, I'm impressed at how well governments temporarily the reckoning. However, the measures they've taken will likely only worsen the next crisis.
********
Our service uses a unique approach marrying technical analysis (TA) with cycle theory. The cycles give us our timing model for potential lows, and TA provides breadth, momentum, relative strength, moving averages and other analytical methods that identify potential turning points. We release reports three days a week and update between reports at critical times like now. Thank you for reading this gold update and feel free to visit us at www.buygoldprice.com