Gold Investing: Jobs Report Tactics
Gold tends to become a rather dull market as the summer approaches.  Will this year be different?
The summer doldrums are caused by seasonal softness in Eastern jewellery demand, but the next major Fed rate hike announcement and commentary is just two weeks away. 
This Fed meeting appears to be a win-win setup for gold.  The bottom line is this:
A decision not to raise rates based on the terrible action of the Fed's PCE (inflation indicator) could blast gold right through the $1300 resistance area.
On the other hand, the first three rate hikes have all been followed by substantial gold price rallies. 
The US debt ceiling (I call it a floor) mess is simmering and a rate hike could upset the US stock market apple cart. 
That could create a huge surge out of US risk markets and into the perceived safe havens of the yen and bonds, and into the real safe havens of gold and silver bullion.
India's GST rate announcement is another imminent factor.  That announcement could create very violent price action and do it very quickly.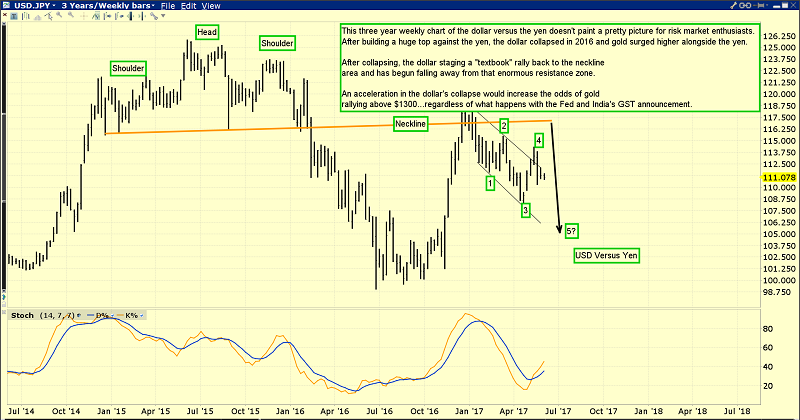 Dollar bugs may be on the verge of getting squashed if the implications of this H&S top formation play out in textbook fashion.
Technically, the dollar is clearly a weekly chart train wreck.  Is gold a mirror image of the dollar versus the yen? 
This is the daily gold chart, and the current technical situation for gold.
When key events like the Indian GST rate announcement and a Fed rate decision are imminent, it's critical for gold investors to prepare their buy and sell orders and get them into the market before the announcements occur.
Gold is currently trading above the $1260 support zone.  Gold is likely to swoon until the jobs report is released on Friday morning at about 8:30AM.
Buy orders for gold and associated assets need to be placed right now.  It's too late to place them after the report is released because retail investors don't have the sophisticated trade software used by powerful institutional players.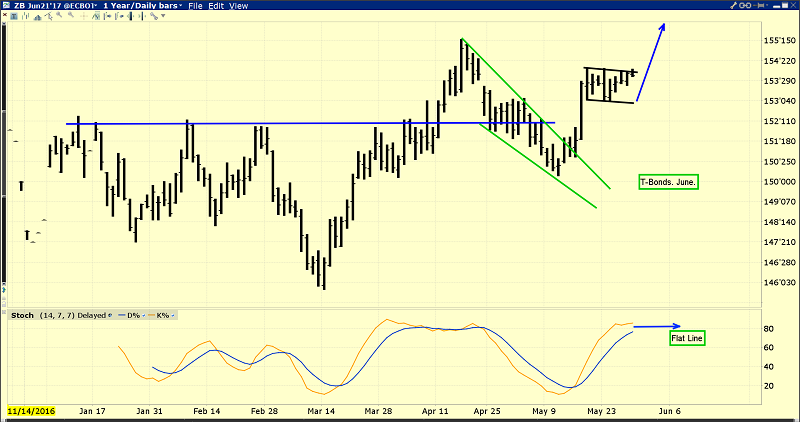 Ahead of the jobs report, I'm an eager buyer in the $1260 - $1245 price zone, with a big focus on GDX and individual gold stocks.
The T-Bond has a quasi flag pattern on it, which is quite positive news for gold.
I predicted several years ago that Janet Yellen would end QE and begin a rate hiking cycle, and that she would have initial success in her goal of raising short term rates while long term rates remained steady.
Clearly, she gets an A on her rate hike report card in that regard, at least for now.  Fed rate hikes are producing an ideal environment for gold market enthusiasts, because they are enticing banks to move money out of the Fed and into the fractional reserve banking system.
The rate hikes are happening at a modest pace and that keeps equity market players happy.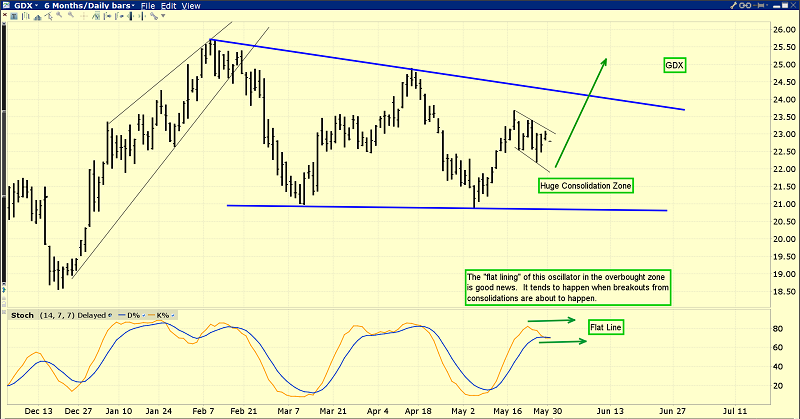 This is the GDX chart.  I'm a very aggressive GDX buyer in the $23 - $18 price zone, with orders in the market to buy every ten cent decline in the price.  There's nothing to fear ahead of the jobs report, Fed announcement, and GST decision except fear itself! 
GDX and associated gold stocks have a very solid feel right now, and I'm getting emails from investors who are new to the gold community.  They feel the time is right to fade their US stock market holdings, and accumulate quality gold stocks.  That's a very wise move.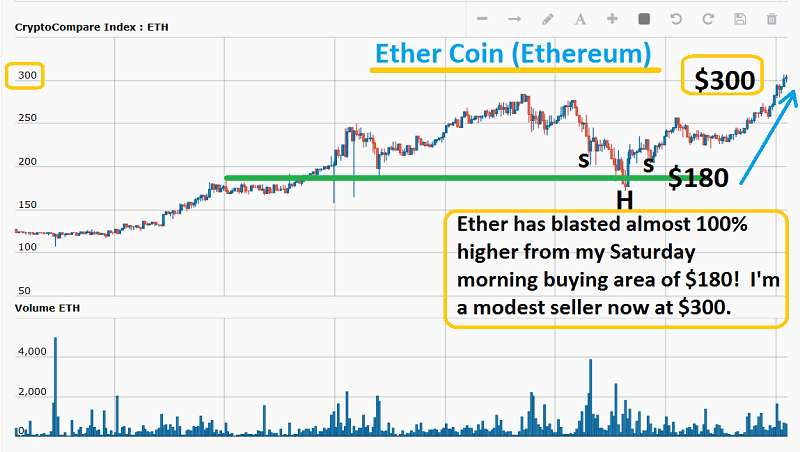 I'm a huge blockchain assets enthusiast, and I cover them on my junior site at www.gracelandjuniors.com. "Ether Coin" (Ethereum) is the latest addition to my roster of blockchain currency investments. 
Blockchain items are arguably the newest members of the precious metal sector "family of assets", because of the many fundamental similarities they share with precious metals.  Incredibly, Ether is up almost 100% from where I bought it on Saturday.  While my long term target is $2000, given the huge rally in just days, I have to be a partial seller now.  
Old timers in the gold community may want to take a closer look at blockchain technology.  My suggestion is not to view it as a gold market competitor.  Blockchain currencies are not a replacement for gold.  They are simply the newest members of the ultimate asset family!
********
Special Offer For Website Readers: Please send me an Email to [email protected] and I'll send you my free "Rock Around The Golden Block!" report.  I cover six of the hottest junior mining stocks, and two new blockchain players that are on the move, with precision buy/sell points for all of them!
Stewart Thomson 
Graceland Updates
Note: We are privacy oriented.  We accept cheques, credit card, and if needed, PayPal.
https://www.gracelandupdates.com  
Email:
Rate Sheet (us funds):
Lifetime: $999
2yr:  $299     (over 500 issues)
1yr:  $199     (over 250 issues)
6 mths: $129 (over 125 issues)
To pay by credit card/paypal, please click this link:
https://gracelandupdates.com/subscribe-pp/
To pay by cheque, make cheque payable to "Stewart Thomson"
Mail to:
Stewart Thomson / 1276 Lakeview Drive / Oakville, Ontario L6H 2M8 Canada
Stewart Thomson is a retired Merrill Lynch broker. Stewart writes the Graceland Updates daily between 4am-7am. They are sent out around 8am-9am. The newsletter is attractively priced and the format is a unique numbered point form.  Giving clarity of each point and saving valuable reading time.
Risks, Disclaimers, Legal
Stewart Thomson is no longer an investment advisor. The information provided by Stewart and Graceland Updates is for general information purposes only. Before taking any action on any investment, it is imperative that you consult with multiple properly licensed, experienced and qualified investment advisors and get numerous opinions before taking any action. Your minimum risk on any investment in the world is: 100% loss of all your money. You may be taking or preparing to take leveraged positions in investments and not know it, exposing yourself to unlimited risks. This is highly concerning if you are an investor in any derivatives products. There is an approx $700 trillion OTC Derivatives Iceberg with a tiny portion written off officially. The bottom line:  
Are You Prepared?