Gold Prices Are Going Higher No Matter What The FED Does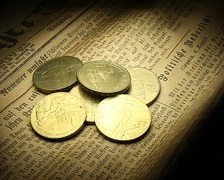 Gold and silver prices both rallied today after the FED decided to leave interest rates unchanged. The rally faded into the late afternoon, but gold still ended up $15 or 1.2% and silver climbed $0.25 or 1.6%. They ended the day at $1,130 and $15.11, respectively.
The FED is likely to remain highly accommodative for quite some time, with increased rates coming in baby steps, if at all. A large number of investors had incorrectly sold precious metals and mining shares fearing a rate hike that has yet to manifest.  I believe that gold and silver remain undervalued, even after the advance over the past few days.
In particular, mining stocks are absurdly undervalued and have huge upside potential should the underlying metals finally start moving higher. But even if gold and silver prices remain rangebound, a return towards the historical relationship between mining stocks and precious metals could produce solid returns for investors over the next 6-12 months. With a reading of 0.10, the HUI-to-gold ratio is the lowest it has ever been!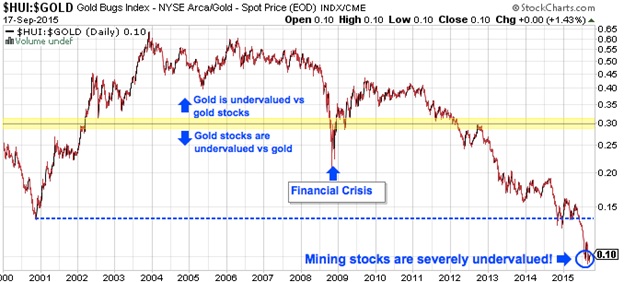 In the short term, I would not be surprised to see a pull back as big money moves against the herd that is expecting continued strength in gold after the FED's inaction. But I believe any decline at this juncture is likely to be short-lived. And even if the FED raises rates later in the year, the gold price has a strong history of rising along with interest rates. So, even though I doubt there will be any significant rise in rates this year, gold investors need not fear the potential of higher interest rates.
On the technical chart, I will be looking for a series of higher lows and higher highs over the next several weeks. We have already seen a higher low, but now need a move above $1,169 gold in order to establish a new higher high and confirm our bullish thesis. Gold has solid momentum and room to run with the RSI pointed higher.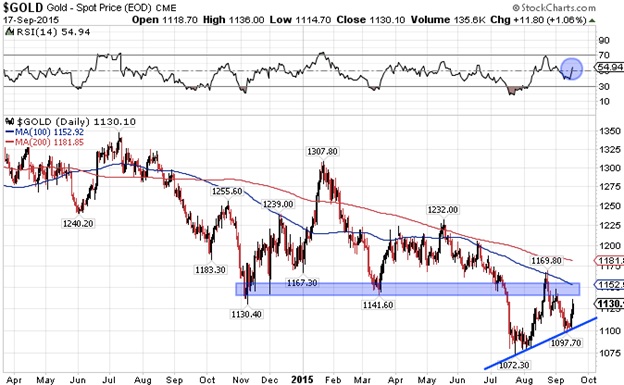 ********
We added two new positions to the Gold Stock Bull model portfolio today, in expectation of higher gold and energy prices between now and year end. If you would like to view the entire portfolio, get the monthly contrarian newsletter and receive our trade alerts whenever we are buying or selling, click here to sign up now. Gold Eagle readers can take 20% off their membership by using the coupon code GOLD20 during sign up.
********
Gold-Eagle provides regular commentary and analysis of gold, precious metals and the economy. Be the first to be informed by signing up for our free email newsletter.
Free Gold-Eagle Newsletter!
Fresh weekly insights on gold, precious metals, and the economy
Leading authors from around the world
Always free
Stay informed!