Gold Speculators Edged Bullish Bets Lower This Past Week
Gold Non-Commercial Speculator Positions:
Large precious metals speculators edged their bullish net positions lower in the Gold futures markets this week, according to the latest Commitment of Traders (COT) data released by the Commodity Futures Trading Commission (CFTC) on Friday.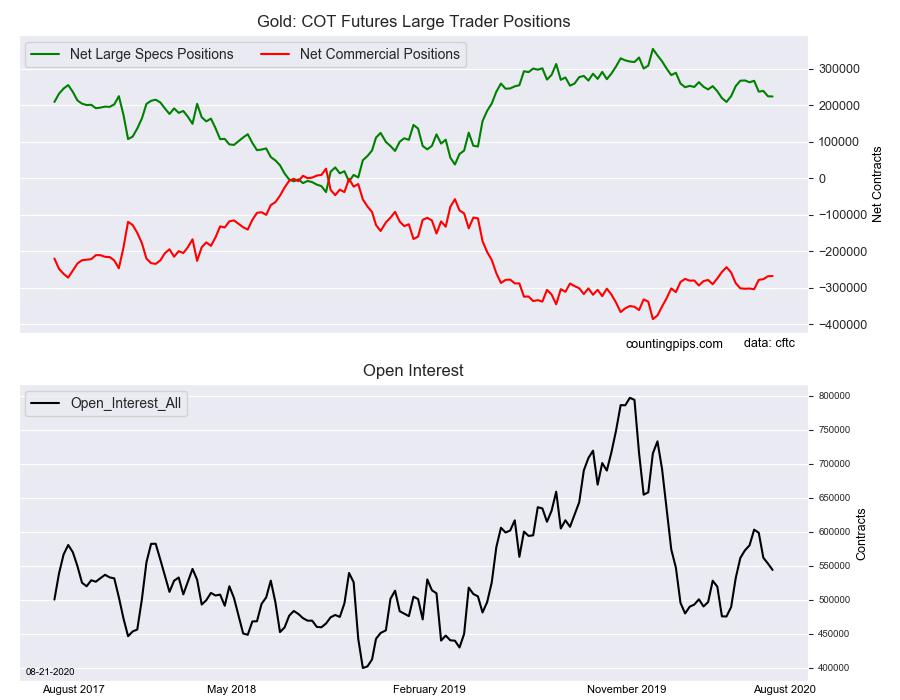 Gold COT Futures Large Trader Positions
The non-commercial futures contracts of Gold futures, traded by large speculators and hedge funds, totaled a net position of 223,518 contracts in the data reported through Tuesday, August 18th. This was a weekly dip of -535 net contracts from the previous week which had a total of 224,053 net contracts.
The week's net position was the result of the gross bullish position (longs) sliding by -4,498 contracts (to a weekly total of 302,369 contracts) while the gross bearish position (shorts) fell by -3,963 contracts for the week (to a total of 78,851 contracts).
Gold speculators reduced their bullish bets this past week for the second straight week and for the third time in the past five weeks. The bullish position of the speculator has been trending lower and this week's standing marks the lowest bullish level of the past ten weeks. Despite the recent decline in speculator sentiment, the gold price has been strong with a fluctuation between $1,900 and above the $2,000 level over the past four weeks. Overall, the gold speculative position has now been above the +200,000 net contract level for 62 consecutive weeks, dating back to June of 2019.
Gold Commercial Positions:
The commercial traders' position, hedgers or traders engaged in buying and selling for business purposes, totaled a net position of -267,771 contracts on the week. This was a weekly advance of 560 contracts from the total net of -268,331 contracts reported the previous week.
Gold COT Futures Large Trader Positions
Gold Futures:
Over the same weekly reporting time-frame, from Tuesday to Tuesday, the Gold Futures (Front Month) closed at approximately $1999.40 which was a boost of $66.80 from the previous close of $1932.60, according to unofficial market data.