Gold Speculators Lifted Bullish Bets To Highest In 10 Weeks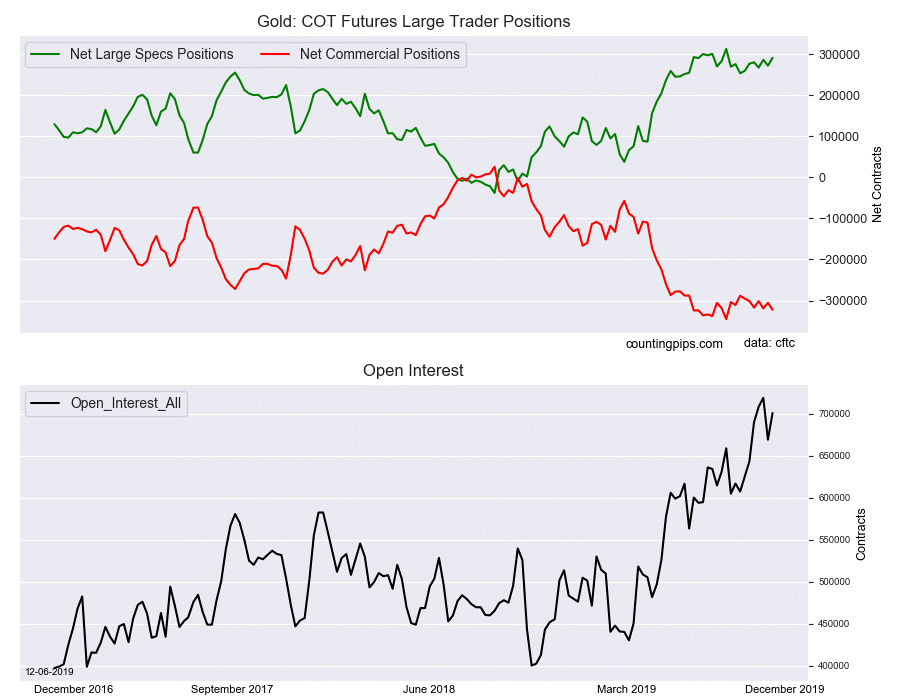 Gold COT Futures Large Traders Positions
Gold Non-Commercial Speculator Positions:
Large precious metals speculators increased their bullish net positions in the Gold Futures markets this week, according to the latest Commitment of Traders (COT) data released by the Commodity Futures Trading Commission (CFTC) on Friday.
The non-commercial futures contracts of Gold futures, traded by large speculators and hedge funds, totaled a net position of 290,705 contracts in the data reported through Tuesday, December 3rd. This was a weekly gain of 19,071 net contracts from the previous week which had a total of 271,634 net contracts.
The week's net position was the result of the gross bullish position (longs) increasing by 21,239 contracts (to a weekly total of 346,525 contracts) while the gross bearish position (shorts) rose by just 2,168 contracts for the week (to a total of 55,820 contracts).
Gold speculators boosted their bets to the highest level in ten weeks this week. The current bullish level is now at the highest standing since September 24th when the net position totaled +312,444 contracts. Overall, speculative positions have gained in six out of the past nine weeks to maintain an overall strong bullish level.
Gold Commercial Positions:
The commercial traders' position, hedgers or traders engaged in buying and selling for business purposes, totaled a net position of -322,787 contracts on the week. This was a weekly decrease of -17,320 contracts from the total net of -305,467 contracts reported the previous week.
Gold COT Futures Large Traders Positions
Gold Futures:
Over the same weekly reporting time-frame, from Tuesday to Tuesday, the Gold Futures (Front Month) closed at approximately $1484.40 which was an uptick of $17.00 from the previous close of $1467.40, according to unofficial market data.
*********