Gold Stock Diamonds: Everyone's Best Friend
Relentless rate hikes and QT mean that the destruction of the US stock, bond, and real estate markets is essentially assured.  Interestingly, the big question is not whether these markets will crash or not. 
The question is, where does all the fiat money go as it comes out of the crashing markets?
The answer is of course: gold, silver, crypto, and the miners!
I'm adamant that all central banks need to be shut down, but in lieu of that happening, I've called for an immediate full point hike (and more) from the US central bank, and more full point hikes at each meeting for the rest of the year.
It's good to see Fed man Jim Bullard get with the "sanity program".  He's wisely making the case for rate hike front loading.
Although he doesn't say it out loud, I believe Jim favours an interim full point hike now, rather than waiting for the March meeting. 
The tiny quarter point hikes bandied about by economists, investors, and many Fed governors are nothing more than a vile attempt to keep the ill-gotten gains of lazy stock, bond, and real estate investors from disappearing, while deliberately ruining the already-mangled purchasing power of Main Street.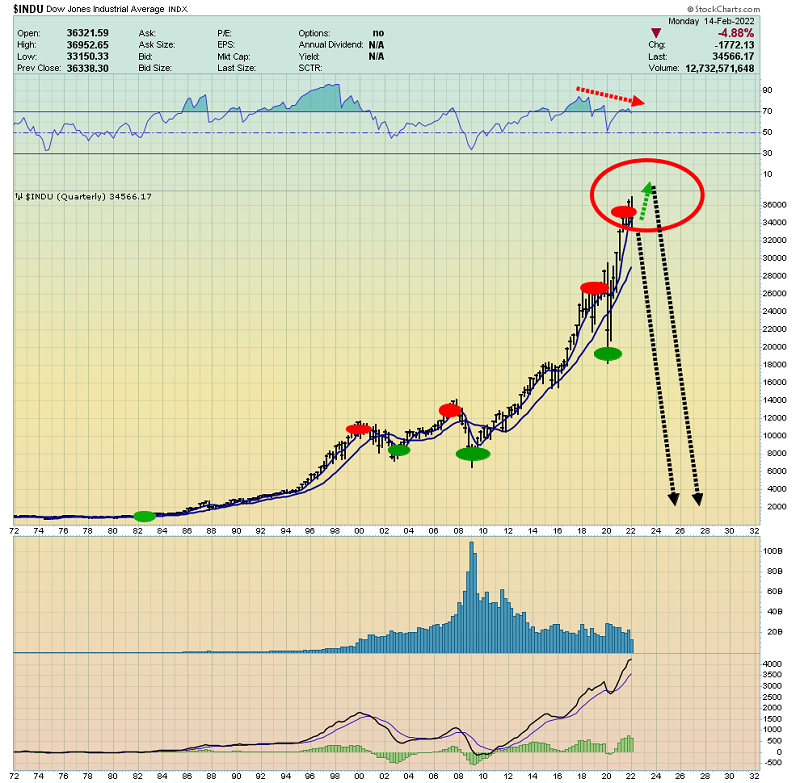 My long-term Dow buy and sell signals chart.  As the rate hikes begin, and continue relentlessly, stocks, bonds, and real estate will collapse and more smart money will bail.
They will allocate some funds to crypto, but more to gold, silver, and the miners.
Terrified amateur "price chasers" invested in stocks, bonds, and real estate will sell later, and at very large losses.  With what little capital they have left, they will try to get in on the gold and silver price action, likely at a gold price of about $2500-$3000.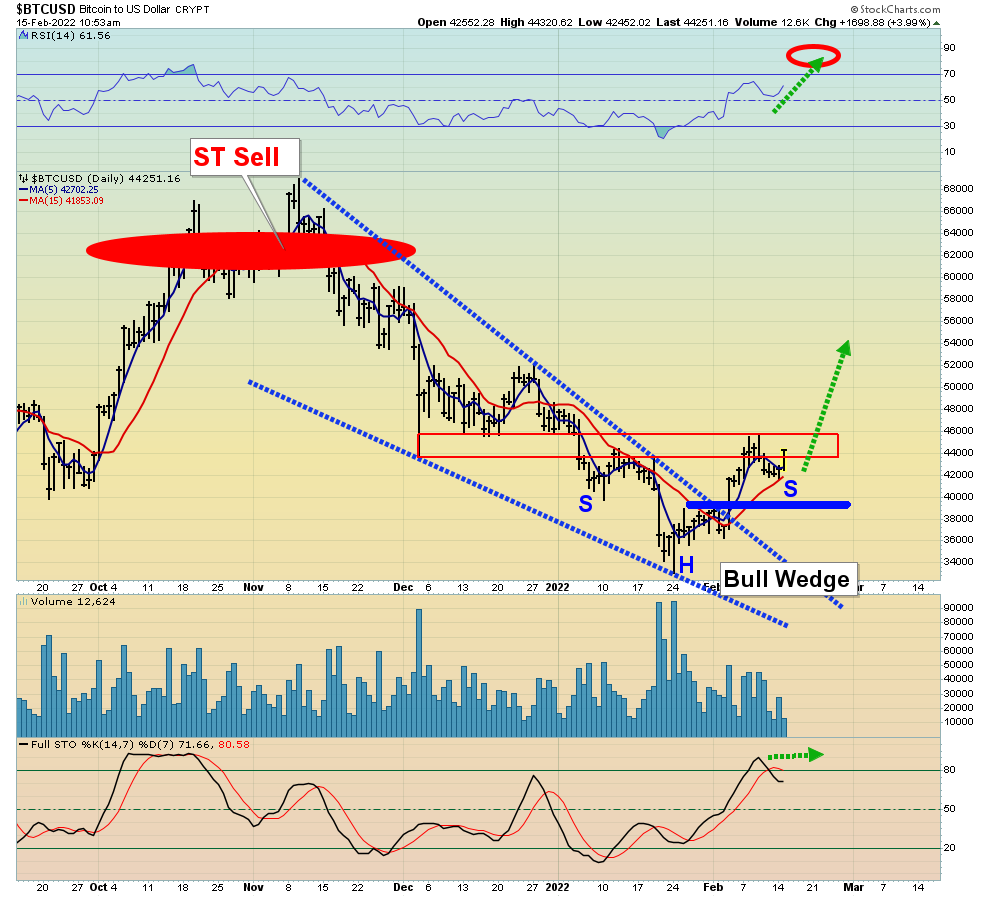 The enticing bitcoin versus US fiat chart.  Gold will always be the ultimate asset, but crypto is exciting. 
A surge to $52,000 for bitcoin looks imminent for bitcoin.
For gold bugs who are ready to add some crypto to their portfolios, I publish my Crypto Palace newsletter about four times a week.  At $499/year, it's great value and essential reading.  I have a special half-price offer of $249/year this week.  Send me an Email if you want to get a toe in the crypto waters, at half the regular subscription price.  Thanks!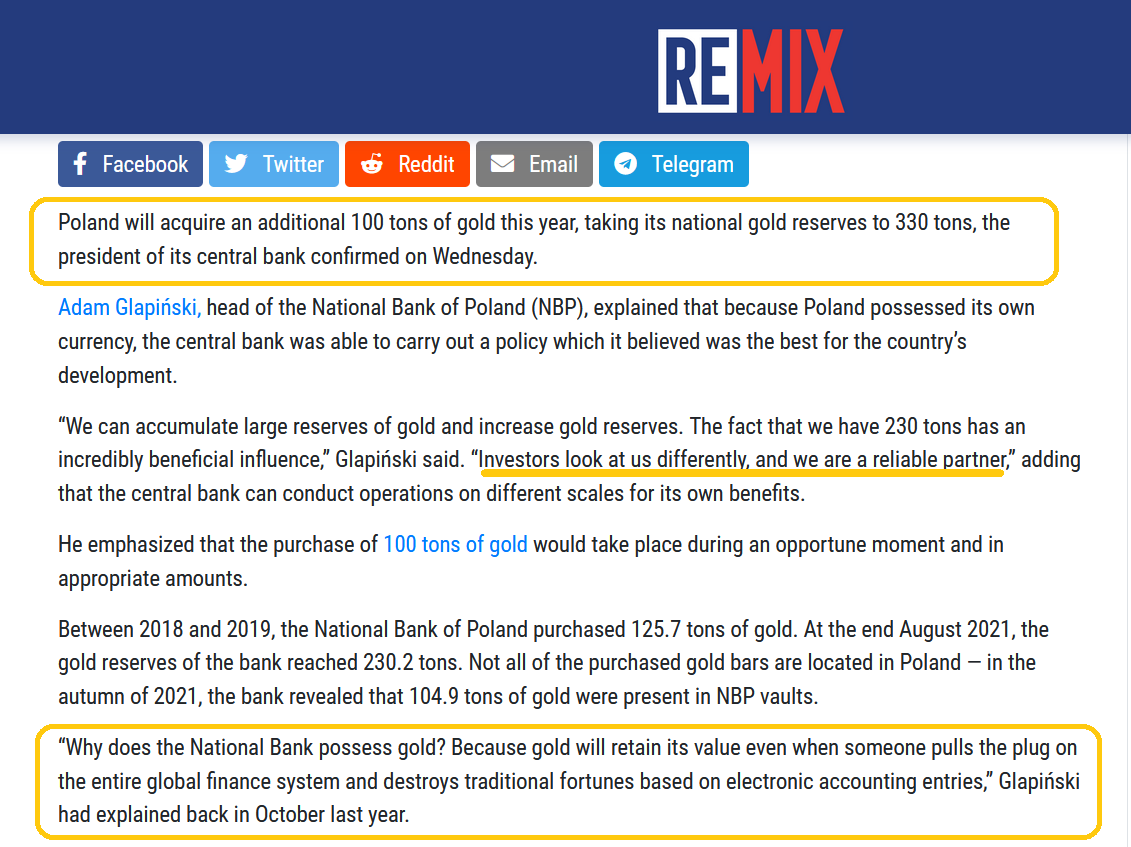 As noted, gold is the world's ultimate asset.  As America continues to look more like Sodom and the EU like Gomorrah, Eastern nations like Poland are embracing the greatness of gold.
It's obvious that US government war mongering has gone awry again, and citizens of the Ukraine will be wary of future statements and actions coming from the leaders of the failed American fiat empire.
Russian armed forces hold training drills on their own border with the Ukraine.  These are called normal by the president of the Ukraine, yet American and EU madmen shout hysterical nonsense about an "invasion". 
Horrifically, millions of US citizens believe 100% of the ridiculous propaganda coming from their supposed leaders.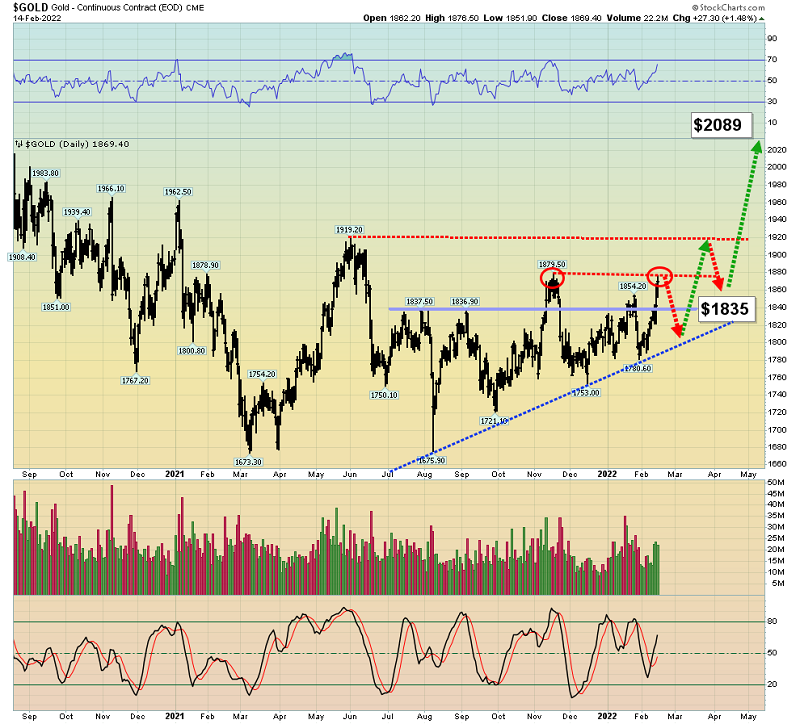 While the fade in war mongering from American and EU "Gmen" will likely see gold drift a bit lower now…
The big story is government debt and inflation in the West, and maniacal obsession with gold as the ultimate money and asset in the East.
Gold looks fabulous.  A "steady as she goes" move to $2089 is in play… but what about silver?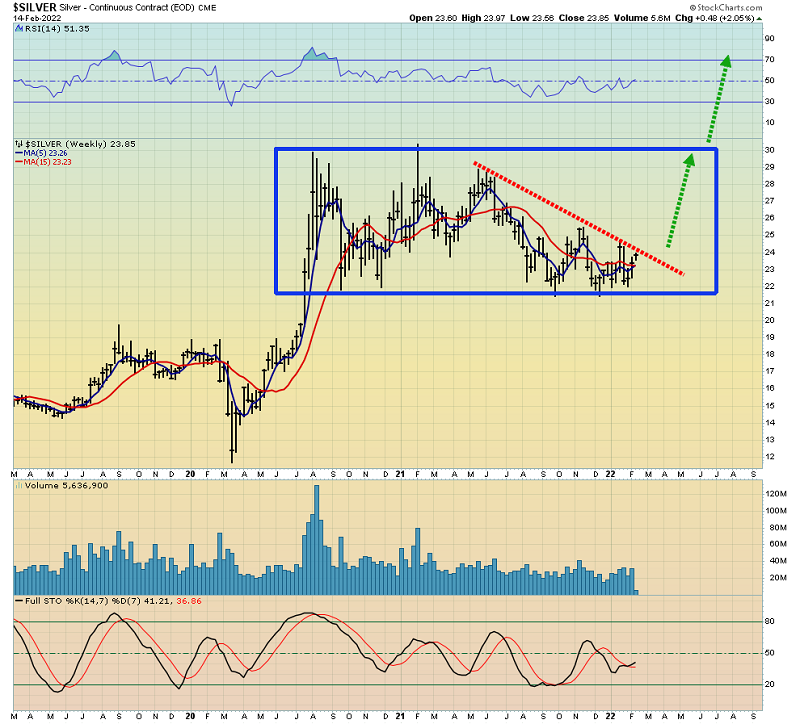 The weekly silver chart.  Silver has been in a long consolidation since the summer of 2020, and it likely gets its "upside mojo" when gold closes above $2089.
Stock market investors should stop buying dips in their ludicrously overvalued tech stocks.  They should sell those and start buying dips in silver bullion and the miners.
The GDX chart.  There's a rare but very solid diamond pattern in play, and the launchpad is a weekly close over $35.
It's said that diamonds are a girl's best friend, but perhaps in this era of political correctness (or is it the era for gold?) they are good for all the boys too!
Special Offer For Gold-Eagle Readers:  Please send me an Email to [email protected] and I'll send you my free "Rock 'Em Sock 'Em Gold Stock Robots!" report.  I highlight ten junior miners priced under a dollar that are poised to outperform on a GDX close over $35.  Key buy and sell tactics are included with each stock!  
Stewart Thomson 
Graceland Updates
Note: We are privacy oriented.  We accept cheques, credit card, and if needed, PayPal.
Written between 4am-7am.  5-6 issues per week.  Emailed at aprox 9am daily    
Email:
Rate Sheet (us funds):
Lifetime: $1299
2yr:  $299     (over 500 issues)
1yr:  $199     (over 250 issues)
6 mths: $129 (over 125 issues)
To pay by credit card/paypal, please click this link:
https://gracelandupdates.com/subscribe-pp/
To pay by cheque, make cheque payable to "Stewart Thomson"
Mail to:
Stewart Thomson / 1276 Lakeview Drive / Oakville, Ontario L6H 2M8 Canada
Stewart Thomson is a retired Merrill Lynch broker. Stewart writes the Graceland Updates daily between 4am-7am. They are sent out around 8am-9am. The newsletter is attractively priced and the format is a unique numbered point form.  Giving clarity of each point and saving valuable reading time.
Risks, Disclaimers, Legal
Stewart Thomson is no longer an investment advisor. The information provided by Stewart and Graceland Updates is for general information purposes only. Before taking any action on any investment, it is imperative that you consult with multiple properly licensed, experienced and qualified investment advisors and get numerous opinions before taking any action. Your minimum risk on any investment in the world is: 100% loss of all your money. You may be taking or preparing to take leveraged positions in investments and not know it, exposing yourself to unlimited risks. This is highly concerning if you are an investor in any derivatives products. There is an approximate $700 trillion OTC Derivatives Iceberg with a tiny portion written off officially. The bottom line:  
Are You Prepared?
********