Gold Stocks Meet The Beach Boys
This is the big picture chart for gold. 
From both a technical and fundamental perspective, gold looks solid. 
This chart suggests that whatever happens in the US election, it's going to be positive for gold.
One of my biggest predictions for the fall of 2018 was that a US stock market sell-off would see gold and gold stocks begin to function as the ultimate safe haven.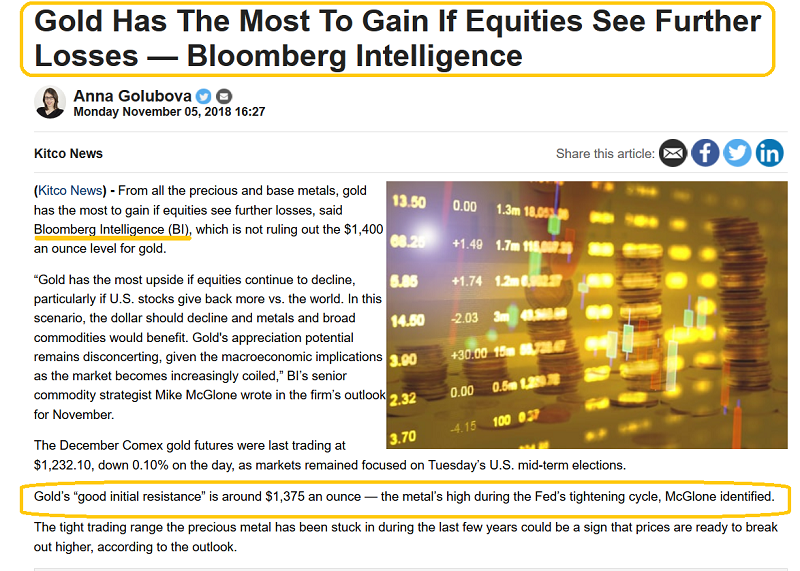 Bloomberg Intelligence is highly respected by the global institutional investor community.
It's really unknown whether the stock market will rally or decline from here, but the odds are now astronomically high that when the next decline does happen…
The world gold community will be smiling because their precious metal investments will perform admirably!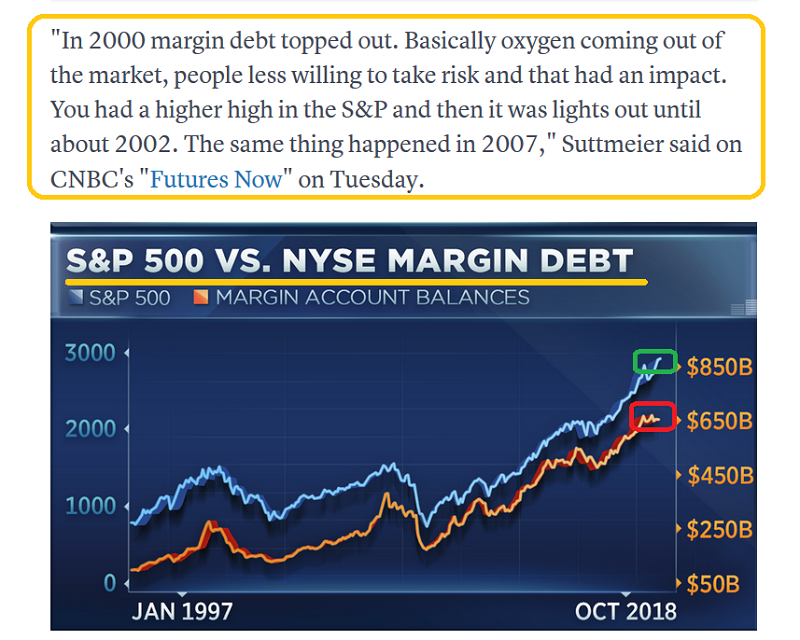 The Fed's QE and low rate programs incentivized corporations to launch enormous stock buyback programs and incentivized both retail and institutional investors to buy stock with borrowed money.
Merrill's chief equity market technician is very concerned about the current divergence between the price of the SP500 index and the total US market margin debt. 
I've predicted that as this business cycle ages, inflation would make a surprising appearance that would catch most analysts off guard.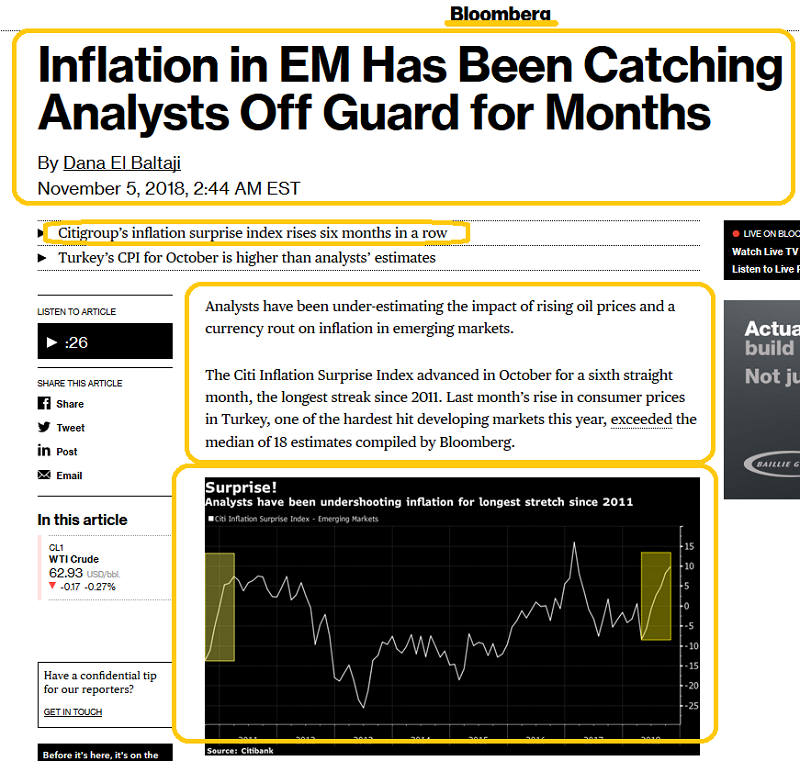 In America, inflation could stage a shocking move to the upside if the emerging divergence between the interest rate on commercial bank excess reserves and the Fed Funds rate grows.
Even if that doesn't happen, global inflation is clearly on the move, and the move is to the upside!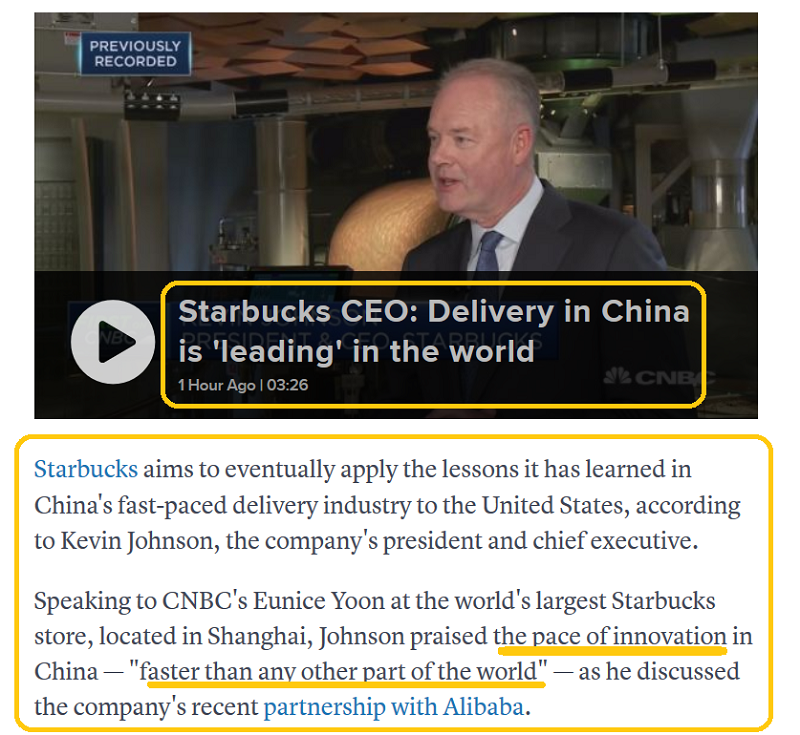 Western gold bugs may hate the Chinese government for good reasons, but that doesn't change the fact that it generally acts more like a lean and mean corporation than like a government, in terms of efficiency.
After accounting for inflation, Chinese real GDP growth is about 3%, and the same is true for India.  In the West, most countries have flat or negative real GDP growth. 
The same is true for wage growth.
The simple reality is that gold is becoming the world's most stable asset because three billion Chindian citizens are maniacal savers, obsessed with gold, and getting richer.
The standard of living of these citizens is increasing at a tremendous rate.  An immigrant caravan headed towards the US border gets American citizens wildly excited while they buy no gold and try in vain to fix a US stock market price chase that has gone badly wrong.
What's missed in all the caravan-oriented excitement is that the entire caravan is composed of perhaps 10,000 people…
While every single day there are about 50,000 babies born in India, and almost every one of them will become a maniacal gold buyer as they reach maturity. 
The bottom gold bull era line: Are babies golden?  Absolutely!  Gold-oriented Chindia is a titanic force that just keeps growing.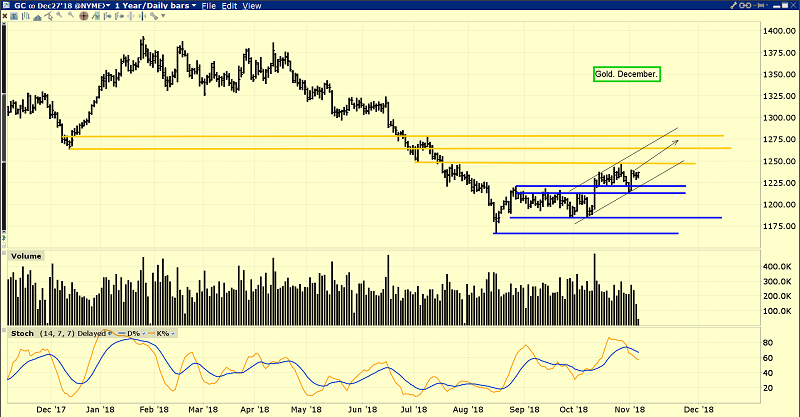 This is the short-term gold chart.  Keep my big picture gold chart in mind when viewing this chart.  A fabulous double-bottom pattern is in play.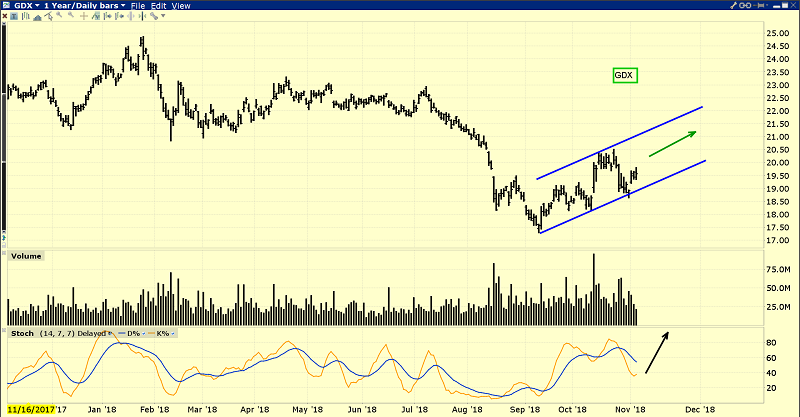 This is the key GDX chart.
There's solid technical action taking place around a decent inverse H&S bottom pattern.  It's a consolidation of the upside breakout.  Please click here now. Gold stock investors should prepare to surf a global inflationary wave, that is already shocking institutional analysts even though it is only in its infancy right now! 
Special Offer For Gold-Eagle Readers: Please send me an Email to [email protected] and I'll send you my free "Senior Gold Stock Surfers!" report.  I highlight ten key senior gold and silver stocks that are on the move, and poised to leap 50% higher in just the next six months.  Key buy and sell tactics are provided for each stock.  Email me today and I'll send it to you tomorrow!
Note: We are privacy oriented.  We accept cheques, credit card, and if needed, PayPal.
Written between 4am-7am.  5-6 issues per week.  Emailed at aprox 9am daily.    
Email:
Rate Sheet (us funds):
Lifetime: $999
2yr:  $299     (over 500 issues)
1yr:  $199     (over 250 issues)
6 mths: $129 (over 125 issues)
To pay by credit card/paypal, please click this link:
https://gracelandupdates.com/subscribe-pp/
To pay by cheque, make cheque payable to "Stewart Thomson"
Mail to:
Stewart Thomson / 1276 Lakeview Drive / Oakville, Ontario L6H 2M8 Canada
Stewart Thomson is a retired Merrill Lynch broker. Stewart writes the Graceland Updates daily between 4am-7am. They are sent out around 8am-9am. The newsletter is attractively priced and the format is a unique numbered point form.  Giving clarity of each point and saving valuable reading time.
Risks, Disclaimers, Legal
Stewart Thomson is no longer an investment advisor. The information provided by Stewart and Graceland Updates is for general information purposes only. Before taking any action on any investment, it is imperative that you consult with multiple properly licensed, experienced and qualified investment advisors and get numerous opinions before taking any action. Your minimum risk on any investment in the world is: 100% loss of all your money. You may be taking or preparing to take leveraged positions in investments and not know it, exposing yourself to unlimited risks. This is highly concerning if you are an investor in any derivatives products. There is an approx $700 trillion OTC Derivatives Iceberg with a tiny portion written off officially. The bottom line:  
Are You Prepared?