Golden Skin In The Game
For the past few weeks I've suggested that a modest US dollar rally against the yen (and thus gold) was due…and now it's here!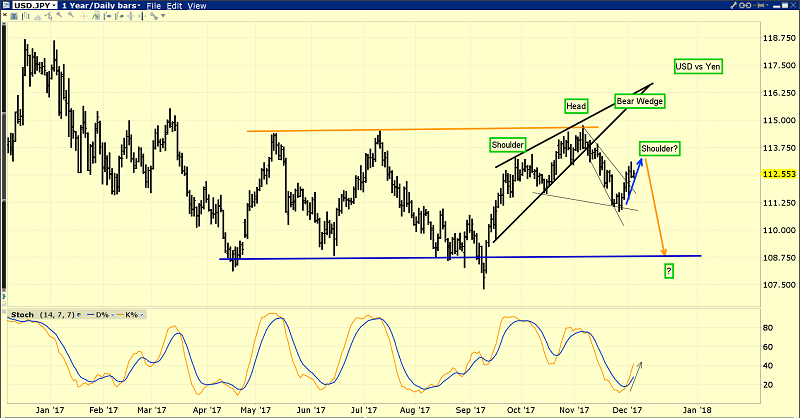 The dollar's right shoulder rally fits with the US senate's decision to finally pass some corporate tax cuts. That's modestly good news for "risk-on" investors.
It's modest because it comes at a late stage in the business cycle. Many institutional money managers are trimming US stock market holdings. They are investing the proceeds into key Asian markets where corporate profits are rising but P/E ratios are lower.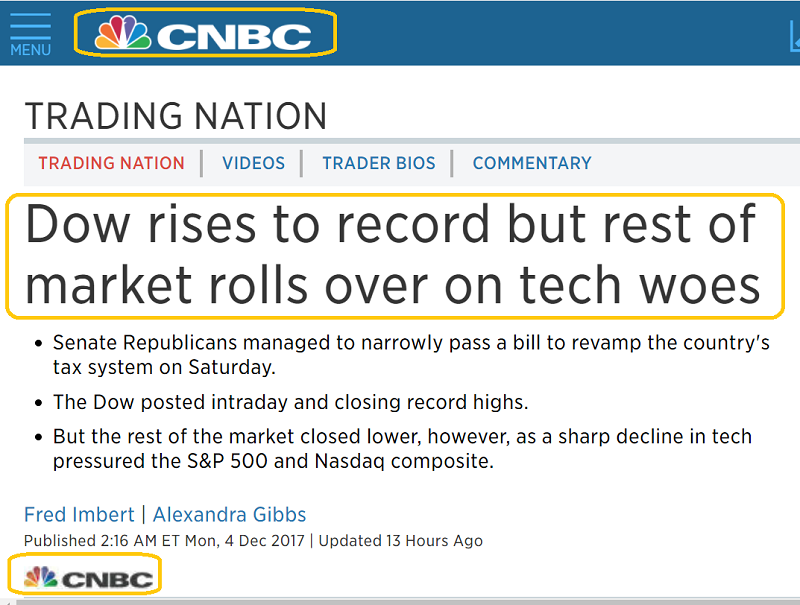 This is typical market action in the late stages of the US business cycle; the Dow Index stocks keep rallying, and the growth stocks stumble.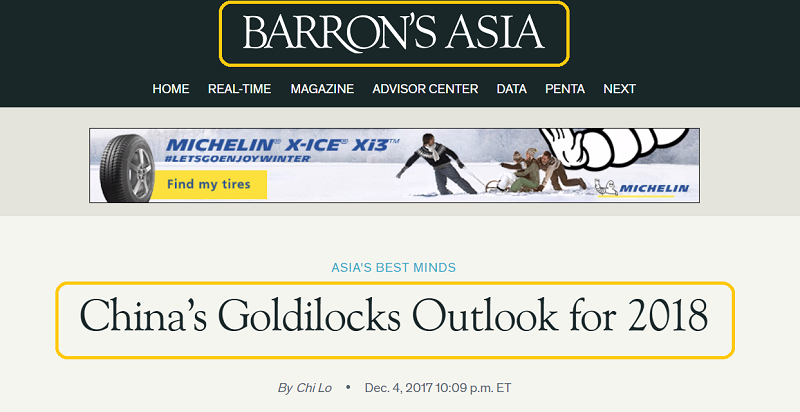 I'm pretty comfortable with my Chinese stock market holdings. If there is a crash, I'll simply buy more and urge savvy investors to do so too.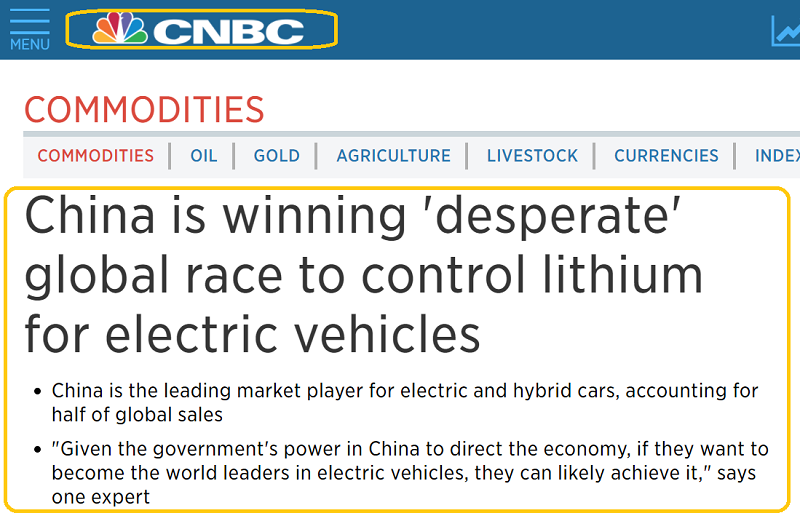 In the big picture, American citizens are outnumbered by Asians. There are about eight Chindians for every American.
Cars are turning into moving offices. Business owners will be happy to sit in rush hour in their electric self-driving cars, because they will be able to work.
Many workers will get paid the moment they leave their house and start their car engines. They will work in self-driving company cars on the way to their workplace.
Car accidents should decline by 95% or more.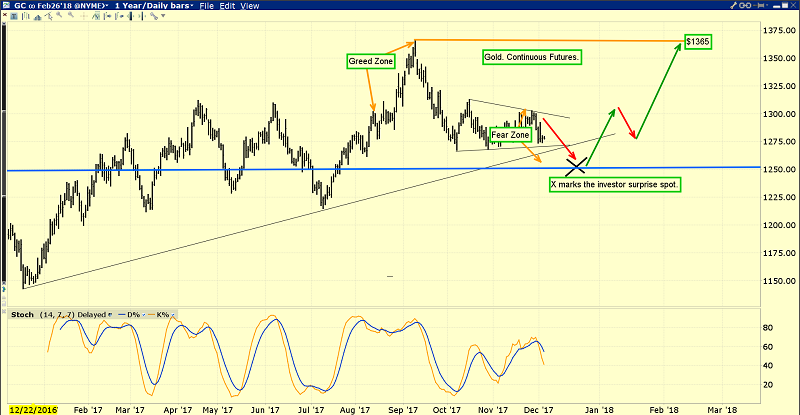 Gold is in "mellow" mode here, but some (Western) investors are disheartened.
New surveys show that institutional money managers now expect three rate hikes in 2018, yet gold barely swoons on the news. In India and China, investors buy gold in both good times and bad. Rate hikes are viewed as almost irrelevant to gold price discovery.
Price discovery continues to move from the West to the East, which means rate hikes will soon become even more irrelevant to gold than they are now.
I expect a surge in private equity deals as rate hikes cause institutional investors to look outside of the US stock market arena for capital gains.
Tax cuts are inflationary and good for small business. The new Fed chair stands ready to chop the red tape that has handcuffed small bank lending.
Regardless, just as wise equity market investors hold gold as a hedge, gold investors should hold some alternative assets as their hedge.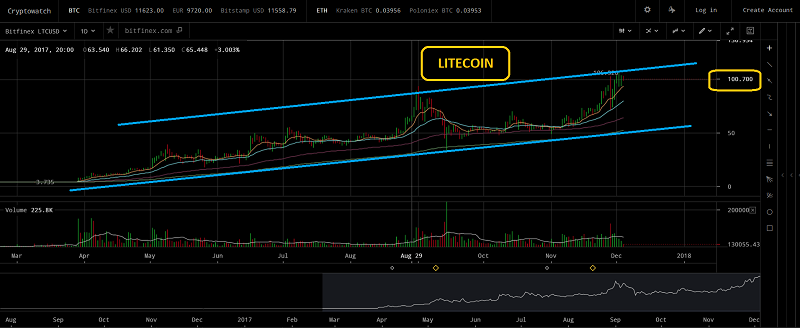 Litecoin is a great hedge, especially for gold stock investors who can handle some market volatility.
Litecoin is my third largest blockchain currency holding. It's soared from about $1 to $100 in a very short period of time. My long-term target is $1200 per coin.
If it hits the target, that would make it a "twelve hundred bagger". Gold stock investors who need some blockchain currency to diversify can use my wealth building www.gublockchain.com newsletter to get started.
GDX continues to consolidate in the $25 - $21 price zone.
The market feels solid, but gold stocks are well below their February high, while gold bullion sits near the levels it acquired then.
It's disappointing that the market has not rewarded shareholders for backing companies that have achieved significant cuts in AISC (all-in sustaining costs).
In a perfect world, GDX would be trading at about $30 (or higher) right now. Unfortunately, it's not a perfect world. The good news is that from a technical perspective, the odds of a move above $25 to $28 are about 67%, while the odds of a move under $21 to $18 are about 33%.
GDX and associated gold stocks are quite firm given that strong Chinese New Year buying has yet to commence. That buying should start soon after the Fed's next rate hike. In this hiking cycle, gold has staged fabulous rallies after almost all the hikes.
Will the next rally be the biggest of them all? Perhaps, but if it happens, only investors with substantial "skin in the gold stocks game" will get to smile!
*********
Special Offer For Gold-Eagle Readers: Please send me an Email to [email protected] and I'll send you my interesting "Golden Cakes & Steaks" report! Uranium & lithium stocks are must-own assets for gold stock enthusiasts who want to diversify while getting richer. I cover key uranium, lithium, and junior gold stocks in this report. 
Stewart Thomson
Graceland Updates
Note: We are privacy oriented. We accept cheques, credit card, and if needed, PayPal.
Written between 4am-7am. 5-6 issues per week. Emailed at aprox 9am daily.
https://www.gracelandupdates.com
Email:
Rate Sheet (us funds):
Lifetime: $999
2yr: $299 (over 500 issues)
1yr: $199 (over 250 issues)
6 mths: $129 (over 125 issues)
To pay by credit card/paypal, please click this link:
https://gracelandupdates.com/subscribe-pp/
To pay by cheque, make cheque payable to "Stewart Thomson"
Mail to:
Stewart Thomson / 1276 Lakeview Drive / Oakville, Ontario L6H 2M8 Canada
Stewart Thomson is a retired Merrill Lynch broker. Stewart writes the Graceland Updates daily between 4am-7am. They are sent out around 8am-9am. The newsletter is attractively priced and the format is a unique numbered point form. Giving clarity of each point and saving valuable reading time.
Risks, Disclaimers, Legal
Stewart Thomson is no longer an investment advisor. The information provided by Stewart and Graceland Updates is for general information purposes only. Before taking any action on any investment, it is imperative that you consult with multiple properly licensed, experienced and qualified investment advisors and get numerous opinions before taking any action. Your minimum risk on any investment in the world is: 100% loss of all your money. You may be taking or preparing to take leveraged positions in investments and not know it, exposing yourself to unlimited risks. This is highly concerning if you are an investor in any derivatives products. There is an approx $700 trillion OTC Derivatives Iceberg with a tiny portion written off officially. The bottom line:
Are You Prepared?