Inflation: Phase One Is Over
I've suggested that gold investors need to be prepared to watch gold dip below $1800 (and perhaps as low as $1566-$1450) before an enormous rally towards $3000 gets underway.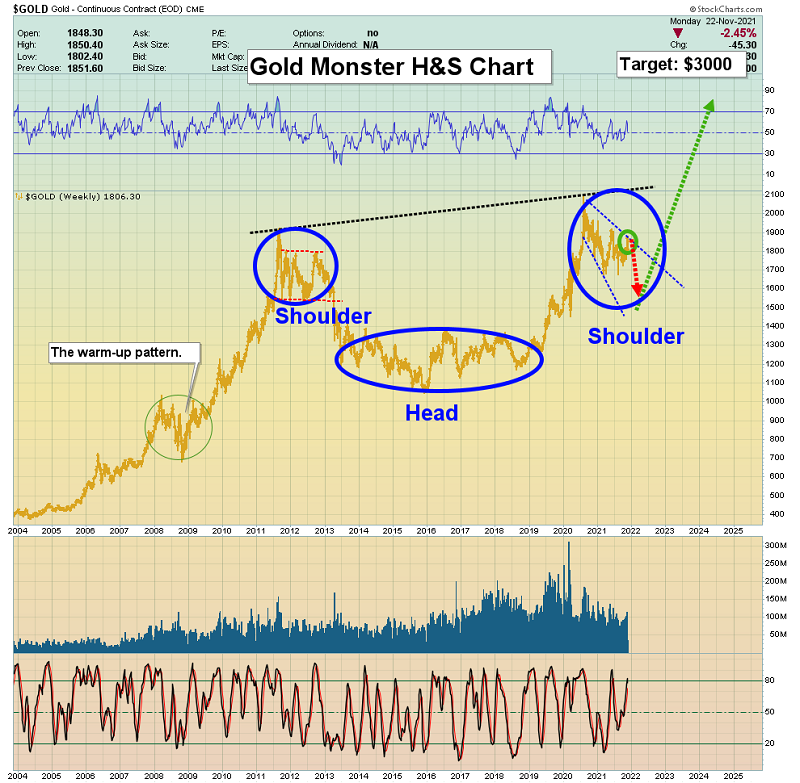 The dip is in play, and the big question is… what's the cause of this dip?
Well, Indian buying has faded, as it always does after a strong rally.  Also, some of the global supply chain issues have been solved, even if just temporarily.
The shipping cost chart.
Any rally needs a rest, and bigger rallies (500%-700% in this case!) need a bigger rest.
The Trump inspired "growflation" was created by the borrowed and printed fiat money his administration put into the hands of mainstream America.
Biden has chosen to focus on indirect stimulus. That doesn't have the same effect on GDP or inflation as direct handouts.
The Biden approach is arguably even more inflationary than the Trump approach… but over a much longer period of time.
For now, the growflation money has dried up, no more is coming, and so GDP and inflation are in a lull… as is the price of gold.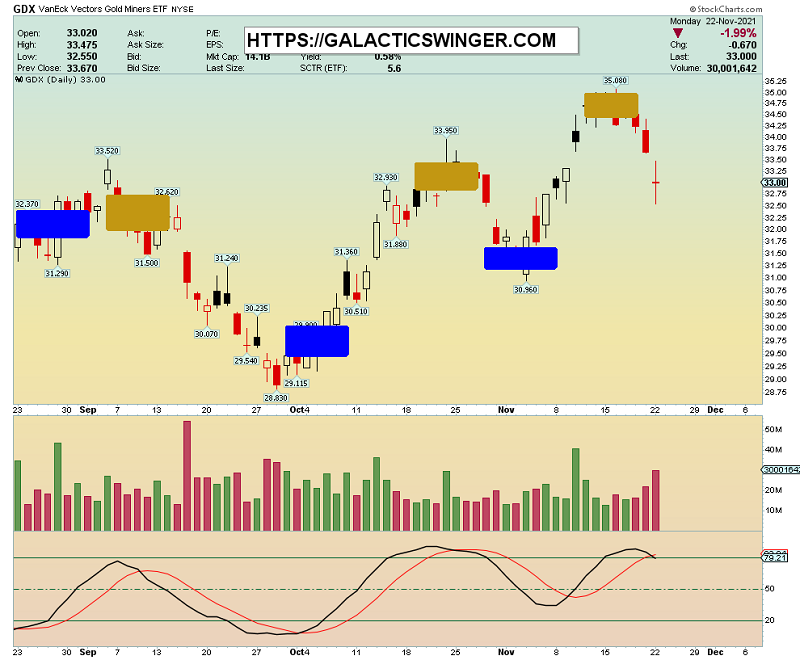 The GDX swing trade chart.
I highlight the Galactic Swinger newsletter swing trades with NUGT and DUST.  The latest gold price swoon shocked a lot of investors, but not our subscribers.
The complete gold investor wisely includes an array of investments (bullion, miners, ETFs, options, and futures) and…
Investors may also be wise to employ a diversified array of strategies for each investment.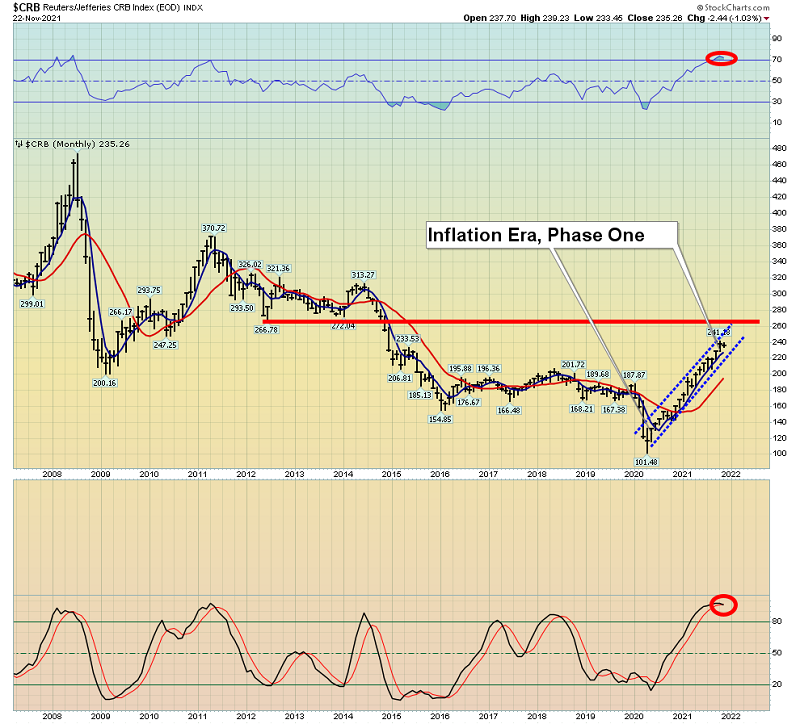 The CRB index appears to be completing the first phase of its long-term move higher.
Note the overbought positioning of the RSI and Stochastics oscillators. 
It's time to book profits as the CRB approaches significant overhead resistance.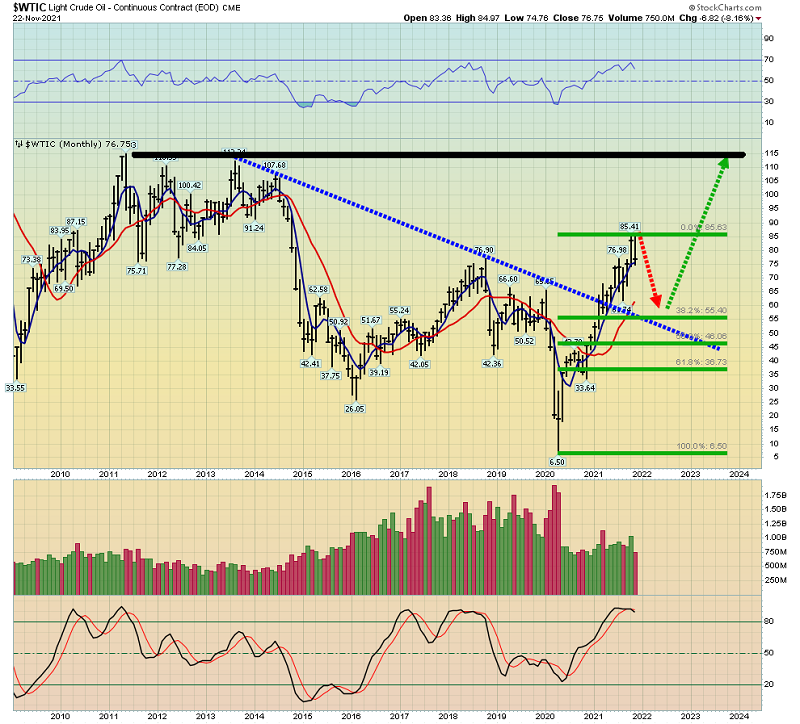 While oil is not as overbought as the CRB, Biden's decision to release strategic reserves may cap this rally too.
A pullback towards Fibonacci support at around $55 seems reasonable, especially given the price lulls appearing in other sectors of the inflation trade.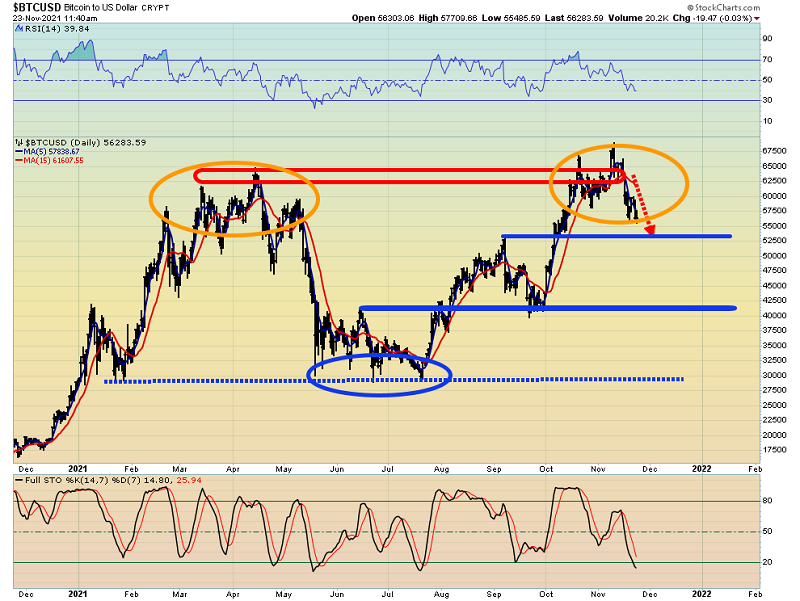 Bitcoin is a newcomer to the inflation trade, and it's also in a lull, as I predicted it would be from the $66,000 area.
I expect government CPI and PPI reports to follow these inflation trade assets into a lull.
What does this all mean for the gold and silver miners?
As the lull in inflation intensifies, GOAU could trade a bit lower and make a double bottom in the $16 zone.
Investors should use the right shoulder low of $17.74 as their beacon; if GOAU stays above that low, what's happening is likely just a simple expansion of the inverse H&S pattern.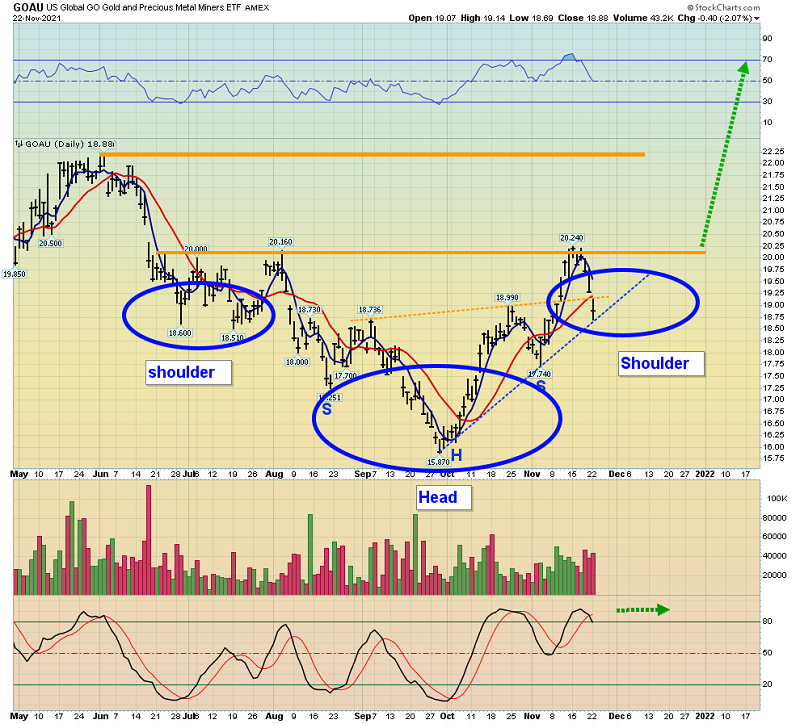 GOAU could be building the right shoulder of a bigger inverse H&S pattern, with a blast through the neckline on track to happen just in time to ring in a new golden year!
Special Offer For Gold-Eagle Readers: Please send me an Email to [email protected] and I'll send you my free "Book Miner Profits Or Buy More!" report.  I highlight key junior miners with tactics to help investors lock in juicy profits on some, and to buy more of others that are ready to soar!
Stewart Thomson 
Graceland Updates
Note: We are privacy oriented.  We accept cheques, credit card, and if needed, PayPal.
Written between 4am-7am.  5-6 issues per week.  Emailed at aprox 9am daily    
Email:
Rate Sheet (us funds):
Lifetime: $1299
2yr:  $299     (over 500 issues)
1yr:  $199     (over 250 issues)
6 mths: $129 (over 125 issues)
To pay by credit card/paypal, please click this link:
https://gracelandupdates.com/subscribe-pp/
To pay by cheque, make cheque payable to "Stewart Thomson"
Mail to:
Stewart Thomson / 1276 Lakeview Drive / Oakville, Ontario L6H 2M8 Canada
Stewart Thomson is a retired Merrill Lynch broker. Stewart writes the Graceland Updates daily between 4am-7am. They are sent out around 8am-9am. The newsletter is attractively priced and the format is a unique numbered point form.  Giving clarity of each point and saving valuable reading time.
Risks, Disclaimers, Legal
Stewart Thomson is no longer an investment advisor. The information provided by Stewart and Graceland Updates is for general information purposes only. Before taking any action on any investment, it is imperative that you consult with multiple properly licensed, experienced and qualified investment advisors and get numerous opinions before taking any action. Your minimum risk on any investment in the world is: 100% loss of all your money. You may be taking or preparing to take leveraged positions in investments and not know it, exposing yourself to unlimited risks. This is highly concerning if you are an investor in any derivatives products. There is an approx $700 trillion OTC Derivatives Iceberg with a tiny portion written off officially. The bottom line:  
Are You Prepared?
********