Kinross Announced An Agreement To Acquire Great Bear Resources
Strengths
The best performing precious metal for the week was platinum, up 1.01%, likely responding to substitution demand. The Perth Mint said gold coin and minted bar sales totaled 115,872 ounces last month, the highest since March, according to figures on its website. Sales surged 94% in November from 59,750 ounces in October, according to previously released data. Sales rose due to an increasing appetite for physical bullion and the release of the Perth Mint's 2022-dated Australian Kangaroo series, said Neil Vance, general manager of Minted Products.
Bloomberg reported Former Treasury Secretary Lawrence Summers said that U.S. policy makers, by allowing the economy to overheat, have likely cemented inflation rates of 4% or higher, way beyond their long-term target. Summers said on Bloomberg Television's "Wall Street Week" with David Westin. "We're going to entrench inflation way above 2% – perhaps in the 4% or even higher range."
Nomad has agreed to co-invest with Orion Mine Finance in a $200 million gold stream on the Platreef PGM project in South Africa. Nomad will pay $75 million for its portion of the gold stream. Platreef is a top tier asset with multi-decade mine-life and potential upside on exploration and future production expansion to become among the largest gold producers. Phased development is targeting initial production by 2024.
Weaknesses
The worst performing precious metal for the week was palladium, down 2.92%, still trading off on the switch to platinum for some of the loading of auto catalyst. Deaths in South African mines, which include the world's deepest gold and platinum operations, rose for a second consecutive year as worker safety deteriorated. The toll so far in 2021 was 69, up from 48 a year-earlier, the Department of Mineral Resources and Energy said in a statement Monday. In 2019, 51 people died over the whole year, the lowest number of fatalities on record, before climbing to 60 last year.
The head of the Ministry of the Environment (Semarnat), María Luisa Albores, affirmed that the illegal methods that mining companies have used to establish themselves, with the complicity of past governments, have generated socio-environmental conflicts in various regions in Mexico. She stressed that in the current administration no new mining concessions have been granted and that, as ratified by President Andrés Manuel López Obrador in his message on December 1, it is not planned to do so for the rest of the six-year term.
Ascot Resources announced the B.C. Ministry of Energy, Mines and Low Carbon Innovation has issued the Mines Act Permit for construction and operation of the Premier Gold Project. The long-awaited permit was originally expected in the summer and allows underground development. However, management is pushing back full-scale construction and underground development to April 2022 due to high snowfall levels. As well, the clarifier and thickener components were lost at sea enroute from China and additional time is required to fabricate and ship replacement components.
Opportunities
Dolly Varden Silver Corporation and Fury Gold Mines Ltd are pleased to announce that the companies have entered into a definitive agreement pursuant to which Dolly Varden will acquire from Fury, through the acquisition of Fury's wholly owned subsidiary, a 100% interest in the Homestake Ridge gold-silver project located adjacent to the Dolly Varden Project in the Golden Triangle. The Homestake Project hosts a resource estimated to contain 165,993 ounces of gold and 1.8 million ounces of silver.
The major miners have returned to the bidding table to acquire assets. Kinross announced it entered into a definitive agreement to acquire Great Bear Resources, which owns the Dixie project in the Red Lake district in Ontario, Canada. Kinross will pay $1.4 billion upfront, representing C$29.00 per Great Bear share, a 26% premium to the closing price. Great Bear shareholders will have the option to determine the cash/stock split of the $1.4 billion upfront payment (up to a maximum of 75% cash and 40% Kinross shares). The share price chart below shows the relative performance that investors experience leading up to the takeout announcement. Currently, there are no true junior mining ETFs available for investors but some mutual funds in the precious metals category do have significant exposure to their tier of the market.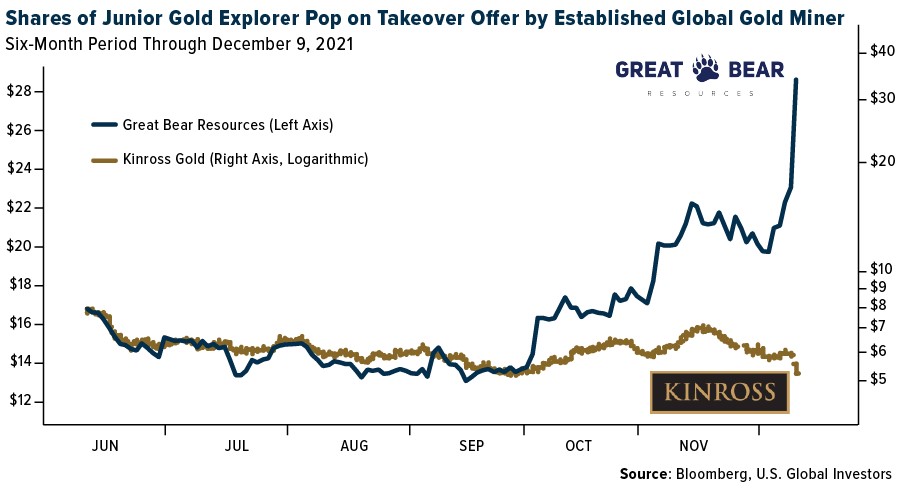 Nano One recently added Dr. Gao as a strategic advisor on the cathode business and supply chain. Dr. Gao is also an internationally recognized expert in lithium-ion battery materials with over a hundred patents issued around the world, dozens of journal publications and his innovations are at the core of today's lithium-ion batteries. "As the global production of lithium-ion battery materials grows to millions of tons," said Dr. Gao, "we will need technological innovation to eliminate environmental waste, economic inefficiencies, and complexity that persist in today's battery supply chain. For this reason, I am inspired by what I've seen at Nano One over the years, and I am pleased to be collaborating with them on their technology and commercialization efforts."
Threats
The Court in Turkey's Canakkale province canceled a positive environment impact assessment report given by government for the Karapinar gold and silver mine project, Koza Altin said in exchange filing.
Bitcoin remains a key competitor to gold. Like gold, Bitcoin functions as an absolute store of value. There is a finite amount of gold in the earth's crust, and it becomes progressively more difficult to mine over time, just like Bitcoin. Gold also serves as protection against the systematic abuse of fiat currencies by governments and central banks, which tend to create progressively more supply.
As posted to the Mining Journal this morning, miners' unions in South Africa have come out swinging against Sibanye-Stillwater, suggesting a business rescue plan and slamming its vaccination policy and increase in fatalities. The National Union of Mineworkers has joined Solidarity in suggesting the miner might need business assistance, as gold wage claims remain unresolved and headed for strike action.   Sibanye-Stillwater has said it would not be intimidated into acceding to above-inflation demands that would compromise the sustainability of its gold operations and stakeholders.
*********