The Looming Global Bear Market In Stocks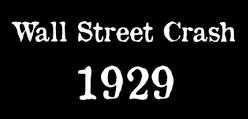 Buying on the Margin Was the Number One Cause of the 1929 Stock Crash!
Historical sources show that margin debt was about 8.1% of GDP in late 1929…just prior to the CRASH. Understandably, exuberant and irrational buying shares on the margin sparked and fueled the 1929 CRASH. This meant investors only had to pay 10 or 20% of the value of the shares; it meant innocent investors were borrowing 80-90% of the value of the shares. This enabled more money to be put into shares, increasing their value to levels of irrational exuberance never before seen. It is said there were many 'margin millionaire' investors. They had made huge profits by buying on the margin and watching share prices rise. But, it left imprudent investors very exposed when prices fell. Eventually and inevitably these margin millionaires got wiped out when the stock market fall came. It also affected those banks and investors who had lent money to those buying on the margin.
A High Margin Debt Is A Lethal Danger Laden Perilous Cross Stockholders Must Bear (pardon the pun).
Recent history is testament that whenever Margin Debt Goes Over 2.25% Of GDP, The Stock Market Always Crashes
http://theeconomiccollapseblog.com/archives/whenever-margin-debt-goes-over-2-25-of-gdp-the-stock-market-always-crashes
High Margin Debt to GDP at NYSE signaled the Bear Markets of 2000-2003 and 2007-2009.  AND TODAY, Margin Debt to GDP at NYSE is dangerously higher - Indeed, the Final Stock Market Crash Signal is HERE (see chart below showing the NYSE Margin Debt signal at 2.87%):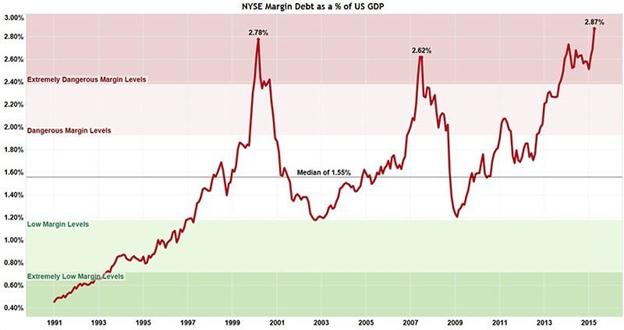 http://www.octafinance.com/margin-debt-to-gdp-at-nyse-more-than-the-dot-com-bubble-high-the-final-stock-market-crash-signal-is-here/
Another Irrefutable Bear Market Signal Is PRICE/BOOK
Dow Index Price To Book Value Is Historically High and Dangerous
In November 2015 the Dow Index Price to Book Value (Intrinsic Value) was a lofty 3.27…a mere tad below 1929's value of 3.41 just before the Stock Crash began in October 1929…which kicked off the 1930s Great Depression.  Moreover, the S&P500 Index to Book ratio is even more bearish at 3.76 !
(Source Barrons:  http://www.barrons.com/public/page/9_0210-indexespeyields.html)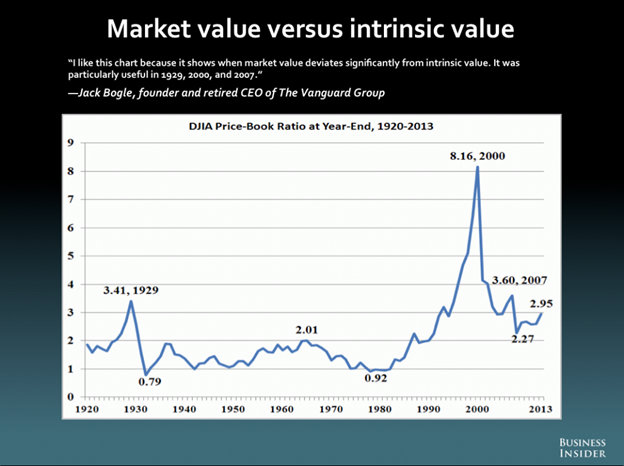 World's major stock markets rise and fall in concert...and so shall they crash together
 During the past two decades major world stock markets have moved in tandem…i.e. they have risen and fallen in concert.
The chart below clearly demonstrates that during the past two decades, six major world stock markets have risen and fallen in concert...and so shall they crash together in the not too distant future. The chart shows the following 6 global stock market indices:
DOW Index of the USA
FTSE Index of London
DAX Index of Germany
CAC Index of France
STOXX600 of Euro Union
NIKKEI of Japan
http://stockcharts.com/h-sc/ui?s=%24INDU&p=M&yr=20&mn=0&dy=0&id=p27599796926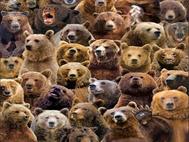 They rose together...
They peaked together…
They fell together…
They bottomed together…
And soon they will CRASH together…
Current market conditions suggest this may well be the Mother of All Stock Crashes…WORLDWIDE
Uber-Bearish Double Top on the NASDAQ: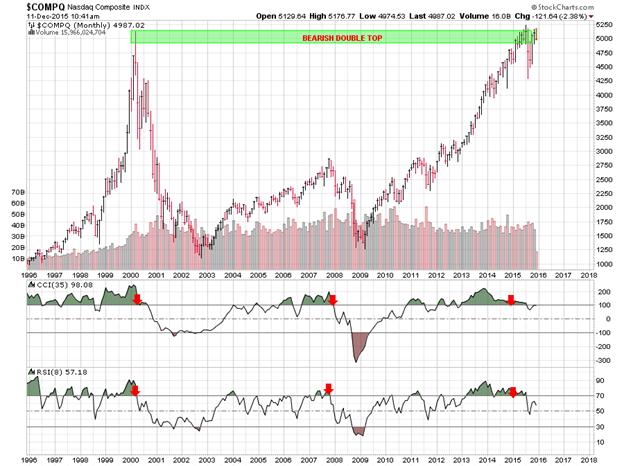 Uber-Bearish Triple Top on London's FTSE: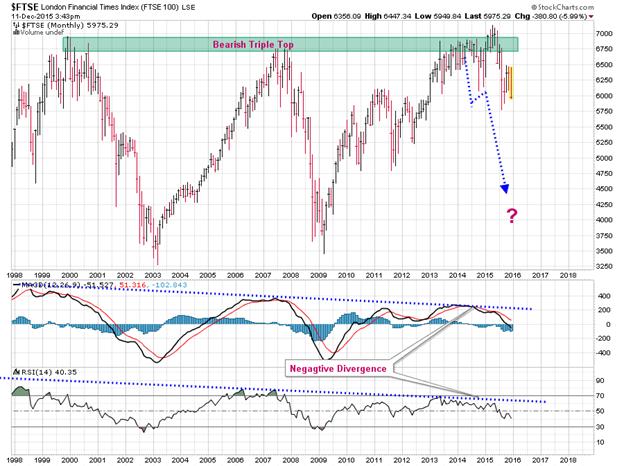 Uber-Bearish Triple Top on the Euro Union Stoxx600 Index: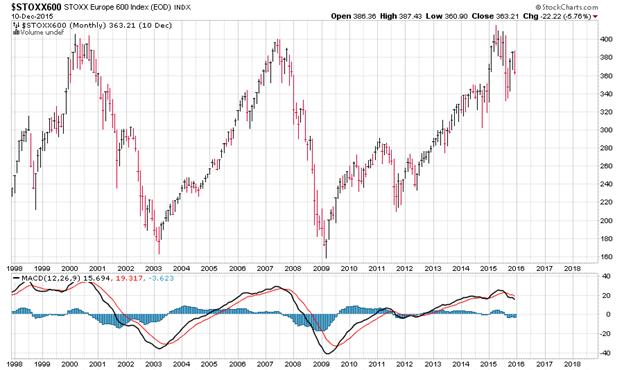 GREED AND COMPLACENCY rein in global stock markets today…just as they did in 1929, 2000 and 2007 immediately before horrific bear markets began.  It is imperative to remember the Dow Index fell -85% in the 1929-1932 Great Crash, -37% in the 2000-2002 bear market, while the stocks index plummeted -54% in the 2007-2008 debacle. Consequently,  the powerful arguments advanced above suggest that instead of a mere bull-market correction, US stocks may well suffer a new secular bear market…as GREED AND COMPLACENCY morph into FEAR AND ANGST.
Related Articles
The Least Surprising Stat Of The Week: Corporate Insiders Are Dumping Their Stock
A Major Long-Term Momentum Indicator Is Flashing, "SELL."
Are Stocks 80% Overvalued? New Evidence Shocks Wall Street
The Fed Has Set the Stage For the Next Stock Market Crash
US Stock Bubble Bursts As The US Fed Begins To Shrink Its Balance Sheet
This Economic Collapse Will Trigger A Stock Market Crash
The Mother Of All Bubbles Will Burst In Late 2015
Investors' Sentiment Worsens…New Downtrend Or More Fluctuations?