The Mother Of All Bubbles Will Burst In Late 2015
Mother of ALL STOCK BUBBLES…is fueled by unreasonable complacency and unfounded Irrational Exuberance (per Alan Greenspan)…and tempered with abominable ignorance of historical precedent. OH…yes and without any doubt unbridled greed blinds gullible investors to the imminent danger of a severe stock market correction in the US during 2015.
Tantamount to a Law In Physics: 
ALL BULL MARKETS EVENTUALLY AND INEVITABLY END…regardless of the asset class.  Indubitably, this current bull will also succumb to the lurking bears.
Sage advice from the world's most successful investor during the past 50 years:
"Be fearful when others are greedy, and greedy when others are fearful." ~ Warren Buffett
".... valuing the market has nothing to do with where it's going to go next week or next month or next year, a line of thought we never get into. The fact is that markets behave in ways, sometimes for a very long stretch, that are not linked to value. Sooner or later, though, value counts." ~ Warren Buffett
"The less prudence with which others conduct their affairs, the greater the prudence with which we should conduct our own affairs." ~ Warren Buffett
------------------------
Why Are Billionaires Currently Dumping Stocks?
In recent months the news media has reported a rash of stocks being dumped by well-known billionaire guru investors who are building cash.  Among these billionaire investors are Warren Buffett, John  Paulson and George Soros.
Warren Buffett is reportedly the second richest man in the world. And although he has been a cheerleader for U.S. stocks for quite some time, Buffett is dumping shares at an alarming rate. He recently complained of "disappointing performance" in dyed-in-the-wool American companies like Johnson & Johnson, Procter & Gamble, and Kraft Foods.
Fellow billionaire John Paulson, who made a fortune betting on the subprime mortgage meltdown, is clearing out of U.S. stocks too. Paulson's hedge fund, Paulson & Co., dumped 14 million shares of JPMorgan Chase according to a recent filing. The fund also dumped its entire position in discount retailer Family Dollar and consumer-goods maker Sara Lee.
Finally, billionaire George Soros has sold nearly all of his bank stocks, including shares of JPMorgan Chase, Citigroup, and Goldman Sachs. Between the three banks, Soros sold more than a million shares.
This begs the question:  Why are these billionaires dumping their shares of U.S. companies?
In this regard, esteemed economist Robert Wiedemer opines the following:

"…After all, the stock market is still in the midst of its historic rally. Real estate prices have finally leveled off, and for the first time in years are actually rising in many locations. And the unemployment rate seems to have stabilized."

"It's very likely that these professional (billionaire) investors are aware of specific research that points toward a massive market correction, as much as 90%."
__________________
Although the afore-named billionaire investors are probably dumping stocks based upon FUNDAMENTALS, there are some disturbing economic indicators that cause great alarm based upon history.  During the stocks' bear markets of 2001-2002 and 2007-2008, these economic indicators were precursors to plunging values in US equities. Here following are the charts of a few of these Indicators (that again TODAY are forecasting a stock market correction):  Crude Oil, Copper Price, Lumber Price, NATGAS Price, Aluminum Index, Steel Index and the CRB Index (i.e. Commodities).
Crude Oil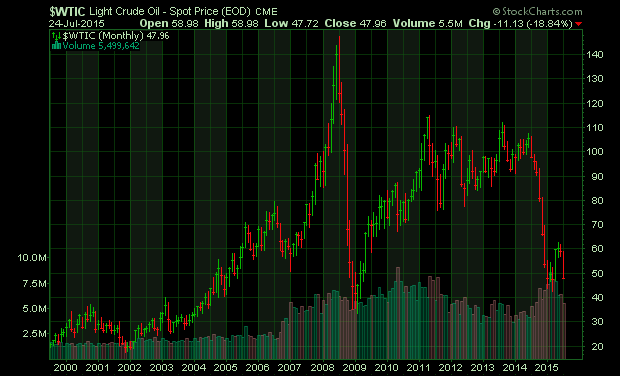 Copper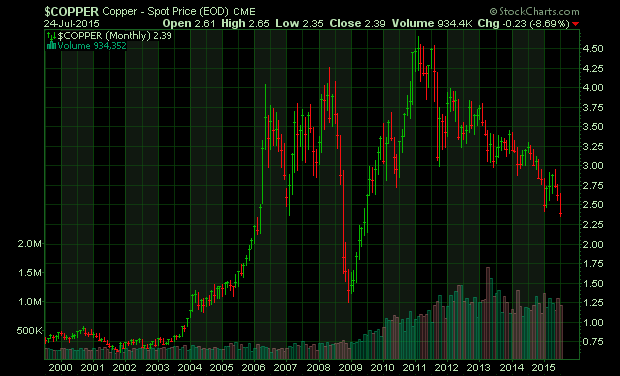 Lumber
NATGAS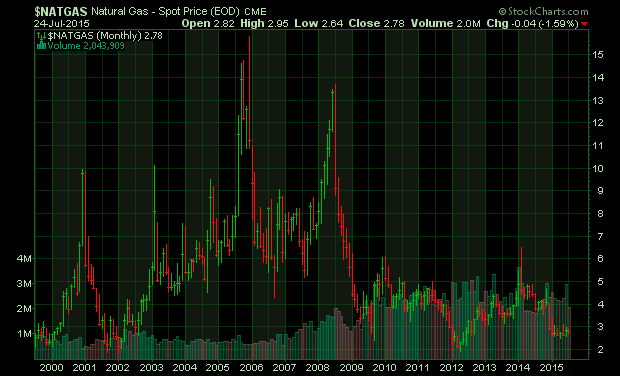 Aluminum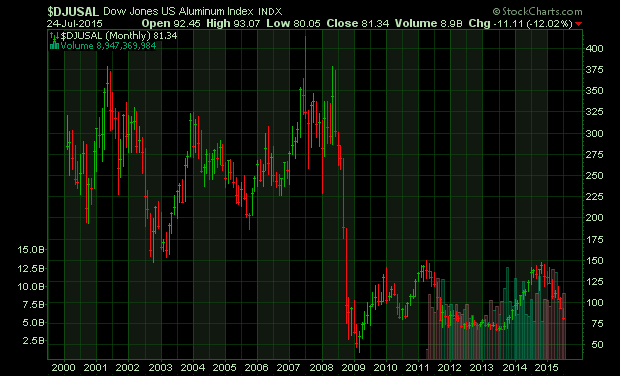 Steel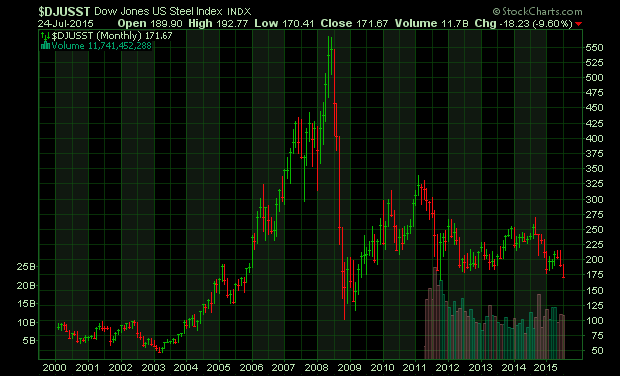 CRB Index
Assuming a Wall Street crash indeed materializes in the second half of 2015, where can investors go to hopefully preserve their capital and most importantly obtain a fair return on their money? 
ALL BULL MARKETS EVENTUALLY AND INEVITABLY END…regardless of the asset class. This is stock market gospel and history!  And rest assured the current Wall Street Stock Bubble will also burst. 
Since late October 2011 the gold price has run inverse to S&P500 Index. See chart:
All avid students of the market well know past results are no guarantee of future movements…However, history provides lines of probabilities.   Ergo and in the event the S&P500 Stock Index begins to tank in late 2015, it is highly probable gold will resume its secular bull market trend that began in 2001.  Moreover, the shiny yellow should forge new all-time highs during the next six years.
This is NOT Rocket Science…but merely common sense based upon recent historical trends…and current market conditions worldwide.   Moreover, as the S&P500 Stock Index is currently at unsustainable heights, the HUI Gold & Silver Stock Index is at its 2008 support level.
In deed and fact:  The Mother Of All Bubbles has already commenced.
Furthermore, I believe Billionaire Warren Buffett will soon recognize the benefits of today's gold and silver cheap prices….We must all recall that Buffett's Flagship (Berkshire Hathaway) has nearly $60 BILLION in cash…earning next to ZERO INTEREST.
It's your move, Mr. Buffett!!
********
Related Research
Prepare For The Coming Stock Market Crash
How Much Will The DOW Index Correct In The Developing 2015-2016 Bear Market?