So, Even Bigger Profits in Mining Stocks?
The precious metals sector was likely to decline, and that's exactly what it did yesterday. The USD Index soared once again, also as we expected.
Signs Pointing to Further Declines
Let's analyze what happened in gold price, silver price, and mining stocks.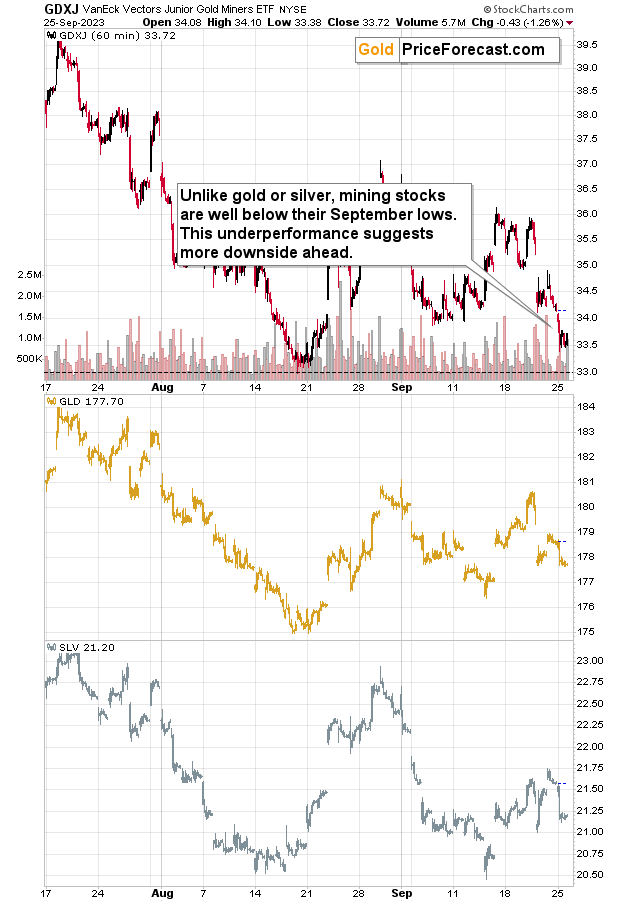 As I already wrote, they all declined, but the way in which they declined suggests that the move lower is just starting. You see, mining stocks underperformed gold once again. The GDXJ was down by 1.25%, while GLD was down by only 0.52%. The profits from our short position in the GDXJ have just increased.
Also, the GDXJ fell decisively below its previous September lows, while neither GLD nor SLV did something like that.
Again, miners' weakness is a sign pointing to further declines in the precious metals sector.
USDX Poised to Correct
Now, as I wrote in the opening paragraph, the USD Index soared too, and some might say that it soared too far too fast, and thus that it's poised to correct.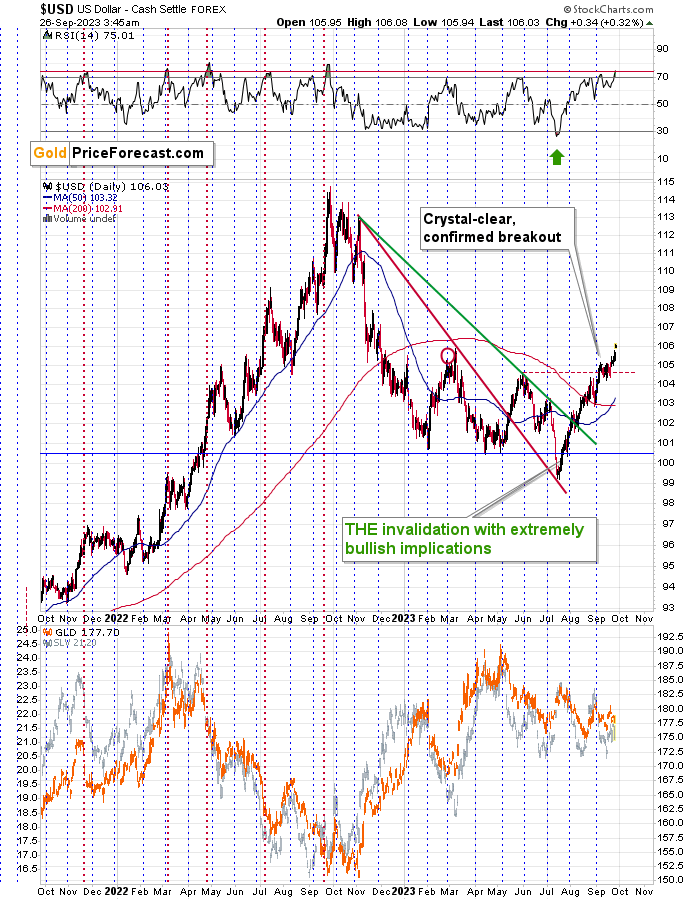 The RSI indicator (upper part of the above chart) is well above the 70 level, which indicates a very overbought situation. There were times when the indicator got even more overbought before correcting, though.
Interestingly, the times when the RSI for the USD Index got so extremely overbought were not necessarily times when gold bottomed. When you look at the vertical red lines, you'll see that once (March 2022), gold even topped at that time. There were times when gold bottomed (last September), and there were also times when gold declined a bit more and corrected only after that extra move lower.
Now, given that the USD Index just closed above its previous 2023 high, it could be the case that it has some more rallying to do before it corrects. After all, breakouts to new yearly highs are easily noticeable by everyone, and it's easy to see people getting excited (and bullish) by this development.
Remember when I told you that an invalidation of the breakdown below the yearly lows was a bullish development of significant importance? It then took only a few months for the USD Index to move from yearly lows to yearly highs.
Anyway, let's keep in mind that the USD Index has a tendency to reverse close to the turn of the month. The latter is just several days away, so it could be the case that the USDX keeps on rallying as the precious metals sector declines now, and they all correct close to the beginning of October.
Will this correction be tradeable? We'll see when we get closer to it. Of course, I'll keep my Gold Trading Alert subscribers informed.
********