Stocks Have Taken Out Critical Support…Prepare Now!
One of the most critical lines to watch is the 12-month moving average for stocks.
Historically this line has served well as a proxy for determining if stocks were in a bull or bear market. When stocks rallied above this line, they were in a bull market. When they fell below this line, they were in a bear market.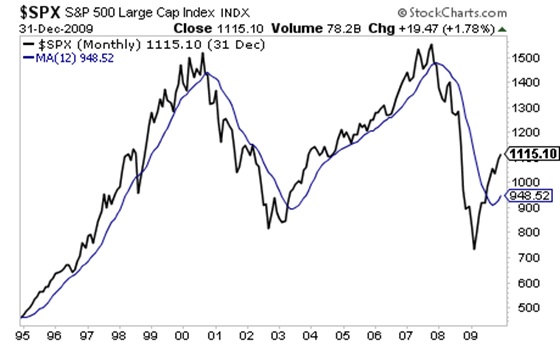 As you can see, this line was a great metric for targeting when to enter or exit the markets.
The significance of this line was somewhat obscured by Fed policy post-2009. Put simply, anytime stocks broke below the critical 12-month moving average, the Fed unveiled a new monetary program to reignite the bull market.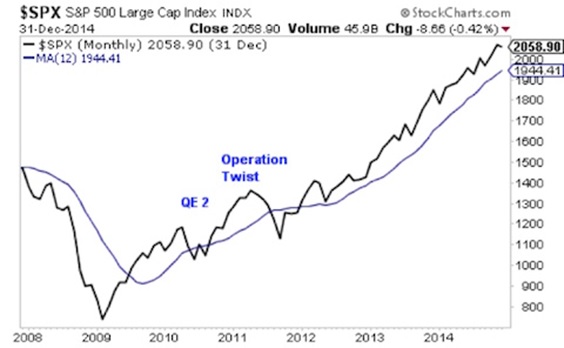 However, starting in 2011, the Fed got its wish (a long-term bull market) by convincing enough investors that whenever stocks collapsed into dangerous territory, the Fed would stop in. From that point onward, stocks stayed above the 12-month moving average.
Until today.
The China Yuan devaluation in August 2015 triggered a sharp sell-off for stocks that took us below the 12-month moving average. The bulls tried desperately to reclaim this line in October-December but have failed.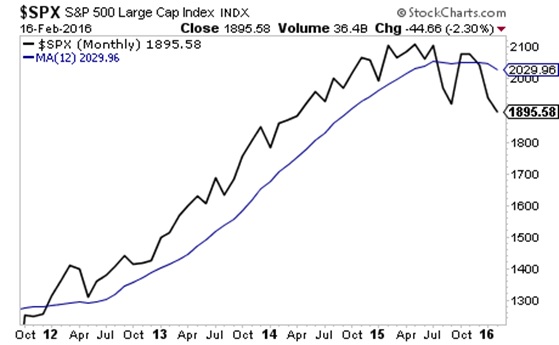 On top of this, the Fed is now tightening rates. And with a US Presidential election only nine months away, the Fed's hands are tied regarding another QE program (the fact the Fed's policies have increased wealth inequality has become a campaign issue).
Which means… stocks have very likely just entered a bear market. Few investors have caught on to this yet, but when they do, there will be a selling panic, possibly even a CRASH.
Chief Market Strategist