Is Trump Going To Tweet Gold Prices To Skyscraper Levels?
Trump is speaking… but the markets still don't hear him.
On January 17th 2017, the Wall Street Journal published an article in which Trump stated point-blank that the $USD is "too strong."
The US currency took note, falling over 1% that day bringing it to critical support.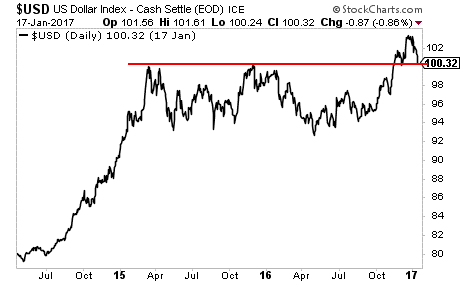 However, the Fed had different plans for the greenback, hiking rates in March…and then promising to hike them twice more in 2017. And the $USD reclaimed this line and since maintained it.
So ask, Trump struck again, this time tweeting "the US Dollar is too strong."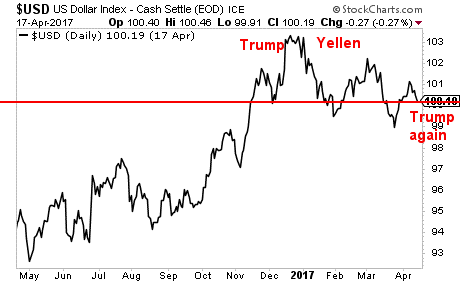 Look regardless of one's political views here, it's obvious Trump wants the $USD lower. And it's also obvious that he's trying to woo Janet Yellen to his side of this situation.
"I like her, I respect her," Trump said, according to a WSJ published Wednesday. "It's very early. [regarding renominating her in 2018]"
When asked about Yellen, according to the Journal, the president added: "I do like a low-interest rate policy, I must be honest with you."
Source: CNBC
You can easily read between the lines here. Trump would like Yellen a lot more if she stopped hiking rates and maintained a "low-interest rate policy."
In the simplest terms possible…Trump wants a lower $USD and low interest rates. Moreover, he's going to keep pushing for both until he gets them.
And gold knows it too.
The precious metal has been on an absolute tear so far in 2017, crushing stocks AND bonds.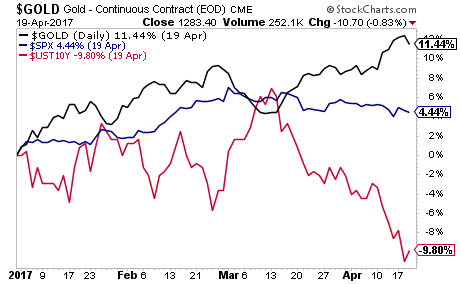 And as Trump continues to push the $USD lower, gold will only perform even better. Once the precious metal takes out the downward sloping trendline dating back to the 2011 top, the path is clear for an eventual more to $1600 per ounce.
Those looking to ride the Trump train from an investment performance would do well to heed the above charts.
If you're looking for a means to profit we offer a FREE Special Investment Report concerning a secret back-door play on gold that gives you access to 25 million ounces of gold that the market is currently valuing at just $273 per ounce.
The report is titled The Gold Mountain: How to Buy Gold At $273 Per Ounce
To pick up yours, swing by:
http://phoenixcapitalmarketing.com/GM1.html
Graham Summers
Chief Market Strategist
Phoenix Capital Research