Will BRICS Implement a Gold Backed Currency in August?
Aside from speculation there hasn't been official confirmation by any BRICS nations that they will either issue a new currency backed by gold or peg their currencies to gold anytime soon. Although it's likely discussions are going on among BRICS nations to create a new currency, no agreement has been reached and policy makers are denying the new currency is soon to be launched. Current talk about a new currency—suggesting a gold standard will be implemented in August at the next BRICS summit—should be treated with skepticism.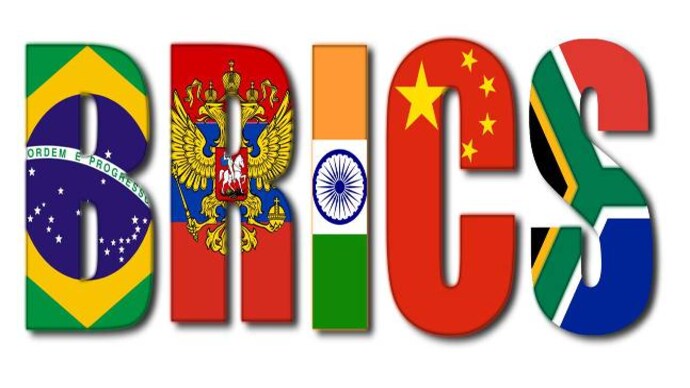 Image: Free SVG
Attention for alliances such as the BRICS (Brazil, Russia, India, China, and South Africa) has increased since February 2022, when Russia invaded Ukraine, the West seized Russia's dollar assets, and global tensions reached a crescendo. The BRICS, among other countries, have an interest in de-dollarization and have become more vocal about it, though easier said than done.
No Confirmation for New BRICS Currency
Based on an item by Russian news agency RT, broadcasted July 7, 2023, several gold commentators became confident that the BRICS will announce a gold standard this August at their next summit in South Africa. In my view, there is a lack of proof for this conclusion.
Let us examine on which grounds RT communicated a gold backed currency is to be introduced by the BRICS—widely interpreted as a new gold standard. Unfortunately, there is not one official BRICS website to verify what is being stated on Russian news outlets, financial blogs, and Twitter. For every summit a new website is launched. On the BRICS 2023 site I can't find confirmation of a new currency so we will have to evaluate the source provided by RT.
RT is banned in the West but has several accounts on Twitter. RT India shared a tweet on July 7 that reads: "BRICS Plans to Introduce New Gold-Backed Currency." Primarily this tweet is what caused a stir about a BRICS gold standard.
In the video that accompanies the tweet, the source of RT India appears to be a tweet from July 3 by the Russian Embassy in Kenya. From scrolling through all tweets by the Russian Embassy in Kenya one would think this is an account of an activist, not an embassy. Furthermore, the screenshot of the tweet from the Russian Embassy shown by RT India in their video is edited! The actual tweet, which can be seen below, includes a link to an opinion editorial by US economist Joseph Sullivan for the website Foreign Policy, titled: "A BRICS Currency Could Shake the Dollar's Dominance." This article in Foreign Policy is the source of the Russian Embassy's tweet; the source is not the Russian Embassy itself, which RT India wants you to believe.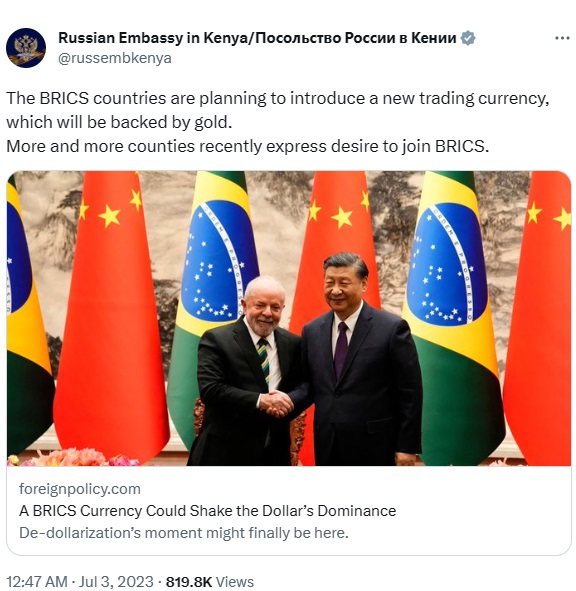 Tweet by Russian Embassy in Kenya
Sullivan provides two hyperlinks to sources regarding Alexander Babakov, deputy chairman of Russia's State Duma. According to Sullivan, Babakov has stated that Russia "is now spearheading the development of a new currency."
The first link from Sullivan brings us to an article on Coin Telegraph, which links to a piece on India TV, reporting on the Russia-India Business Forum 2023 that was held on March 29 and 30. From India TV (March 30):
Babakov stressed that both nations should work to obtain a new medium for payment and added digital payment could be the "most promising" and "most viable" option for both nations. "New Delhi, Moscow should institute a new economic association with a new shared currency, which could be a digital ruble or the Indian rupee," said Babakov.
"Our goal should be focused on writing new rules in the financial sphere in order to enable the use of an already common currency," he stressed.
"It doesn't matter whether it's a digital ruble, a digital rupee, a digital yuan, or some other currency. But this currency must follow the laws of our respective nations," added the top Russian official. 
There is not a word on gold in the article by India TV.
The second link from Sullivan brings us to the India Times that writes (April 4):
According to reports quoting Russian lawmaker Alexander Babakov, the BRICS nations are in the process of creating a new medium for payments—established on a strategy that "does not defend the dollar or euro." 
Babakov, who is the deputy Chairman of Russia's State Duma, reportedly indicated that the new currency would be secured by gold and other commodities such as rare-earth elements.
The India Times states that "reportedly" a new currency will be established secured by gold and other commodities, though there is no source provided. The RT trail ends there. Any news based on the tweet by RT India is overblown.
Other websites, such as Al Mayadeen and TeleSUR, offer more information about what Babakov has said on the Russia-India Business Forum. From Al Mayadeen (March 30):
"The transition to settlements in national currencies is the first step. The next one is to provide the circulation of digital or any other form of a fundamentally new currency in the nearest future. I think that at the BRICS [leaders' summit], the readiness to realize this project will be announced, such works are underway," Babakov said on the sidelines of the Russian-Indian … Forum.
Babakov further did not dismiss the possibility of the formation of a single BRICS currency. According to him, the currency would be secured not just by gold, but also by other groups of products, including rare-earth elements of the soil.
What Babakov said on the sidelines of the forum doesn't sound like the BRICS will implement a gold standard at the next summit in August. The first step is to trade in national currencies, then a new currency could be created, for which the "readiness to realize [it] … will be announced" at the next summit, Babakov thinks.
Implementing this currency could be years away. One, thinking of announcing to start cooperating doesn't mean much. Second, how Babakov describes the currency is vague and no other BRICS nation has supported his idea publicly. Babakov's currency backed by gold and other commodities is impractical and will need readjustments. Third, a BRICS initiative for "strengthening … economic partnership" "to reduce dependence on the US dollar" was already discussed in 2012 and developments take time.
Russian news agencies RIA Novosti and TASS also reported on Babakov's remarks at the forum on March 30, 2023. From Ria Novosti (Google Translate):
The BRICS countries are working on a new form of currency and can present ideas for its development at the summit of leaders of the association this year in South Africa, said Deputy Chairman of the State Duma Alexander Babakov.
Presenting ideas is not the same as implementing a gold standard. Besides, we don't know how much of this is propaganda. We need official sources from other BRICS members to jump conclusions.
Conclusion
Logically, the Russians advocate any alternative to the dollar as they are restricted from using the Western based international financial infrastructure. On the website of the Kremlin there is a statement from President Putin from June 22, 2022:
We are exploring the possibility of creating an international reserve currency based on the basket of BRICS currencies.
Russia's Finance Minister Anton Siluanov said in May 2023:
The idea of creating a common currency … is floating around and is being discussed. We also have proposals about using digital financial assets supported by real assets, for example gold – stablecoins.
But what's it going to be? A currency backed by commodities, a gold stable coin, or a reserve currency based on a basket of BRICS currencies? According to a video shared by the Hindustan Times, India's External Affairs Minister Subrahmanyam Jaishankar said, on July 3, 2023, none of the above:
There is no idea for a BRICS currency. … Currencies to my mind will remain very much a national issue for a long time to come.
Bloomberg reported on July 5:
The New Development Bank, a financial institution created by the BRICS bloc of emerging markets, doesn't have any immediate plans for the group to create a common currency, its vice president and chief financial officer said. 
"The development of anything alternative is more a medium to long term ambition," he said. "There is no suggestion right now to creates a BRICS currency."
I think it should be clear that neither the Russians nor the BRICS as a whole has a plan worked out for a new currency soon to be introduced, as opposed to what's hyped in the media. Mr. Market didn't believe the RT India item as the gold price didn't budge when it was broadcasted.
As per CFO of the New Development Bank, the BRICS are discussing a common currency for the long term, but I will believe it when its design is finished.
The central banks of Brazil, South Africa, Russia, and India declined to comment on a common BRICS currency over email.
*********