Cash Is King Stocks Forecast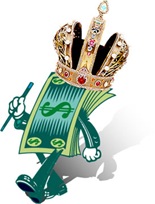 World's richest man (Warren Buffett) is building and hoarding cash.
Warren Buffett's Berkshire Hathaway's cash hoard has surged 30% to nearly  $50 billion since the end of 2011.  
One must ask WHY the World's richest man is piling up the cash hoard if all is hunky-dory in the stock market. Why is Multi-Billionaire Buffett dumping stocks from his investment portfolio to build a record cash level to nearly $50 billion?!
To try to clarify this Cash Conundrum, let's take another careful look at WHY the world's richest man is building cash to record levels.  Methinks that the sly Oracle of Omaha has been aggressively building a giant cash pile (by selling stocks) in anticipation of the forth-coming stock market decline of substantial magnitude. And that's just classic Buffett.
It's worth your financial while to read:
Stock Market Forecast By Market Cap/GNP Ratio

Buffett's sly facial expression is saying:
"I KNOW SOMETHING YOU DON'T KNOW!!
Ominous Signs For Stocks Forecast Lower Prices
Stock Market Forecast By Market Cap/GNP Ratio
Warren Buffett has accumulated $50 BILLION IN CASH…and here are the principal reasons why:
The GNP results for this year's 1st Qtr. were sadly disappointing.
The present Bull Market in stocks is very long in the tooth…with many stocks grossly over-valued.
Buffett's Berkshire Hathaway stock dropped -53% in the 2007-2008 correction, while the Dow Index fell -52%...and he fervently desires to avoid the same miscalculation this time around. See the 2007-2008 Stock Market Crash results: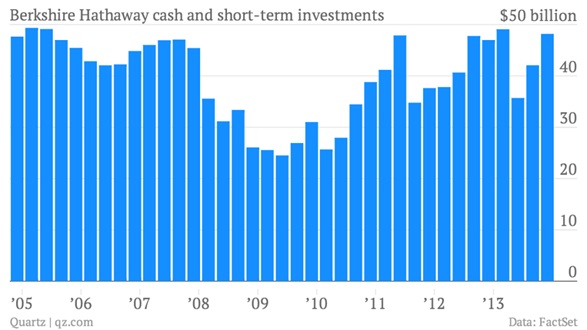 The writing is on the wall:  The 1st Qtr change in Real GDP was negative…down 2.9%.  In deed and fact it was a greater decline than the two drops in Real GDP in early 2008, which heralded horrific stock market crash when Billionaire Buffett's Berkshire Hathaway investment portfolio plunged -53%.  We can be sure gifted guru Buffett anticipates the emergence of another Bear Market in stocks. Evidence of this that he has accumulated $50 BILLION in cash by taking profits and  selling into the all-time records highs registered by the Dow and S&P500 indices. Obviously, the legendary investment genius plan is to Buy Low when stocks finally bottom in the forth-coming Stocks Bear Market.
Would that today's overtly greedy and naively complacent investors could recognize the artificial levitation of today's stock prices…created by Fed "magicians" to deceive naïve investors. Famed analyst Adam Hamilton expressed it well:  "With each passing day, the overvalued, overextended, and over-loved stock markets get closer to their inevitable reckoning. Today's market conditions are right up there with the riskiest ever seen at past major toppings! So don't be lulled into complacency by June's latest nominal records, most key indicators are still unanimously screaming "topping". Couple the extreme complacency with the dicey state of the economy, and it won't take much to spark a serious selloff."
One of history's greatest thinkers and philosophers was German Johann Wolfgang von Goethe, who said:  Genius is knowing when to stop!