Durban Deep the Perfect Hedge Against an October Smash
Traders looking to hedge their portfolios from an expected "October Massacre" should consider going long shares of the South African mining stock Durban Roodeport Deep.
The favored junior mining stock in our portfolio, Durban Deep (DROOY), should perform well over the next few days and will likely have a final upward leg in October before correcting in November. Durban's cycle channels support a move to as high as $1.50-$1.60 (from its current $1.12). This would represent quite a jump on a percentage basis.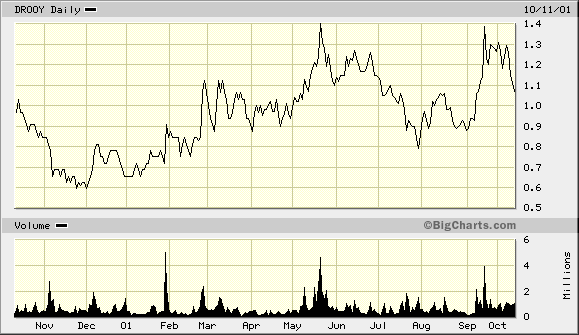 Presciently, the tape for Durban Deep saw extremely heavy buying volume come to the fore early during today's trading session (Oct. 11). This conspicuous volume marked the exact bottom of a short-term cycle channel, indicating that Durban's short-term trend is about to turn up, perhaps even by today. Durban can be expected to have a stellar performance for the remaining part of the month and will likely trade in inverse fashion to the broad stock market, which is expected to decline hard for the remaining 10-15 days of October.
The trading pattern on Durban's one-year chart is designed, in our opinion, to deceive traders into avoiding long commitments to DROOY so that insiders can accumulate as much of the float as possible in a short period of time. This pattern qualifies as a classic "head fake" due to the fact that a broadening-type pattern has formed between September and October. A conspicuous spike in trading volume back in mid-September is equally deceptive and is a way that insiders "paint the tape" to make it look like there is net selling when in reality accumulation is taking place. The volume was carefully placed by insiders and professionals and you have to look at the actual tape in order to see what is really taking place. It doesn't show up on the daily and weekly bar charts.
Also worthy of consideration are seasonal and cyclical factors. Durban is in the "sweet spot" of its dominant short-term cycle and should have one final rocket-like blow-off before correcting hard in November-December. The dominant interim cycle channel also gives support to this final rise in 2001.
Although we do expect a declining market for Durban shares for the last two months of this year, next year should see a continuation of the long-term bull market that began late last year in Durban Deep.
A word must be said to those fundamentally-oriented investors who think Durban Deep will perform poorly and perhaps even go under due to mining logistics, socio-political unrest in South Africa, etc. This is far from being the case and we can present no greater evidence in disproving this assertion than the chart and tape. All one has to do to is follow the proverbial money trail which exists through the trading patterns of DROOY as manifested in its tape and chart. Clearly, the smart money has been accumulating shares of DROOY for over a year now, and as the insiders are always the first to know when major problems are on the horizon, there actions clearly speak louder than words. They are stating with their money that they have full knowledge that Durban Deep will continue operations-and profitably-in the foreseeable future. For now, all is well with Durban Deep.
Turning our attention to the broader mining stock outlook, expect a nice upside pop from the XAU index next week and lasting perhaps until early November, based on the cyclical upstream that has developed on our cycle charts. Barrick is a blue chip gold that will likely experience the benefit of this autumnal action, based on chart considerations. Be prepared for a quick rise this month that will likely correspond to the expected October continuation decline in stocks once the current rally is exhausted.