A Few Questions To Those Who Slam Gold
Gold is perhaps the most maligned asset class in the world.
On an almost weekly basis the financial media mocks gold -- and publishes articles claiming it is a terrible investment.
It's rather odd, as less than 1% of investors actually owns gold. Why is it so important to trash an asset class that almost no one actually owns?
Actually, forget that question, I'd like to see answers to these questions instead…
If owning Gold is such a bad idea…
Why are Central Banks buying it?
Why do we rank countries based on the gold reserves they own?
And finally…
If the goal for Central Banks is to generate inflation…why is owning gold stupid?
Regarding that last point, global Central Banks have completely abandoned the façade that they are trying to generate growth.
The Bank of Japan's Kuroda even admitted indirectly that QE and ZIRP couldn't work. Mario Draghi never even uses the word "growth" anymore. And the Fed is concentrating on "inflation targets" because GDP growth is impossible.
Put simply: Central Banks care concentrating on inflation. The reason for this is because they've finally come clean that their primary concern is the bond bubble, NOT the real economy.
Gold is perhaps the best inflation hedge in the world. During the last inflationary binge in the '70s it staged on the biggest bull markets in history.
 So… with Central Banks pushing for inflation… and inflation turning up in the US… why is owning gold a mistake?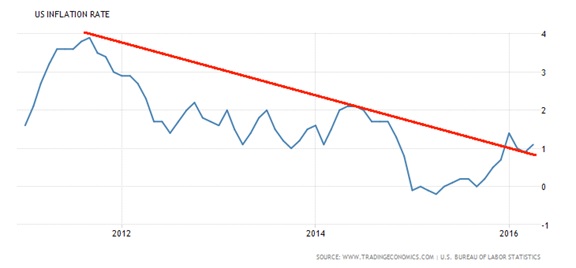 Inflation is back. And gold and gold-related investments will be exploding higher in the coming weeks.
********
We just published a Special Investment Report concerning a secret back-door play on Gold that gives you access to 25 million ounces of Gold that the market is currently valuing at just $273 per ounce.
The report is titled The Gold Mountain: How to Buy Gold at $273 Per Ounce
We are giving away just 100 copies for FREE to the public.
To pick up yours, swing by:
https://www.phoenixcapitalmarketing.com/goldmountain.html
Graham Summers
Chief Market Strategist
Phoenix Capital Research