Get Ready For A Weaker US Dollar…And Stronger Gold Price

Unemployment in the U.S. is at a half-century low and the S&P 500 is trading at near-record highs. Nevertheless, the Federal Reserve today trimmed interest rates for the first time since the financial crisis on stalled manufacturing growth and an anticipated world economic slowdown.
The easing cycle may be the catalyst gold needs to outperform the market and retrace its monster bull rally in the 2000s, according to Bloomberg Intelligence strategist Mike McGlone.
"Gold prices appear on a similar launchpad as 2001 when the Fed began an easing cycle," McGlone writes in a note dated July 29. "The greatest bull market of this millennium so far began about the time of that first rate cut, following an extended gold-price downdraft and rally in the dollar."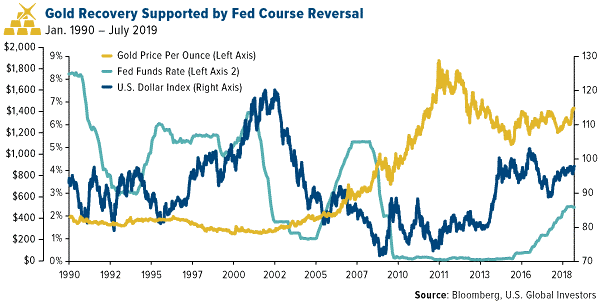 With the Fed having locked in a rate cut, the question now is: What happens in the months to come? Is this simply a one-off, or is it indeed the start of a new easing cycle?
Markets appear to have priced in three cuts by year-end. As a result, I would expect to see the dollar trade lower, which in turn should allow the price of gold—the classic anti-dollar—to soar.
As I shared with you earlier in the month, a weaker greenback is one of three "key ingredients" for a gold bull market, according to research firm Alpine Macro, the other two being a more accommodative Fed (check) and rising geopolitical risk (check again).
The Fed is just the latest central bank to lower rates. No bank, in fact, is pursuing higher rates right now, the first time in six years we've seen this.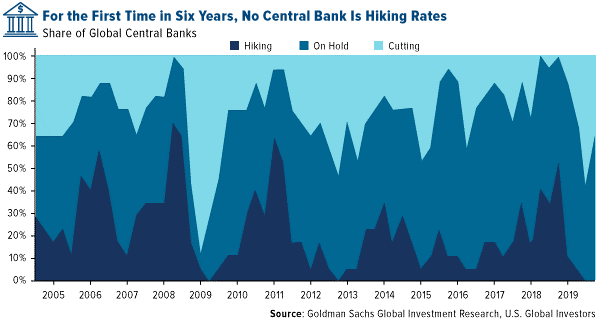 "New all-time highs for gold should be seen in the coming years," Alpine Macro says.
$13 Trillion of Negative-Yielding Debt. Are Treasuries Next?
Loyal Frank Talk readers should be aware there's currently as much as $13 trillion in negative-yielding debt around the world—another contributor to the recent gold rally this year. The yield on the 10-year German bund touched an all-time low today of minus 0.44 percent, while other European bond yields fell on Brexit and trade fears.
A majority of short-term, investment grade bonds in Europe carry a negative yield at the moment, meaning investors are guaranteed a loss if they buy and hold until maturity. The most common yield is somewhere between minus 20 and 10 basis points (bps). This is creating a scarcity of safe haven investments at a time when geopolitical risks are mounting.
So far, U.S. Treasury yields have stayed positive, but with the start of a new easing cycle and heightened demand for income, it may be only a matter of time before they fall to subzero levels. And I'm not just talking about inflation-adjusted yields, but nominal yields. 
"As Europe faces prospects that negative rates might become a long-term fixture in the euro region, concerns are mounting in the U.S. that a global slide toward negative yields could infect the market for Treasury securities, should the U.S. slip into a recession," writes Guggenheim Investments Chief Investment Officer Scott Minerd. "These concerns are well founded."
Minerd reminds readers that, during economic slowdowns in the past, the Fed reduced rates by an average of 5.5 percentage points. Today, as you well know, we don't have those 5.5 percentage points—unless rates were allowed to fall below zero.
Yields turning negative here in the U.S., as they have in Europe, Japan and elsewhere, would mark the start of a "paradigm shift" that billionaire hedge fund manager Ray Dalio alluded to in a recent LinkedIn post.
According to Dalio, lower-for-longer rates and other unorthodox monetary policies "will produce more negative real and nominal returns that will lead investors to increasingly prefer alternative forms of money (e.g., gold) or other storeholds of wealth."
All opinions expressed and data provided are subject to change without notice. Some of these opinions may not be appropriate to every investor. By clicking the link(s) above, you will be directed to a third-party website(s). U.S. Global Investors does not endorse all information supplied by this/these website(s) and is not responsible for its/their content.
The U.S. Dollar Index (USDX) is a measure of the value of the U.S. dollar relative to the value of a basket of currencies of the majority of the U.S.'s most significant trading partners. This index is similar to other trade-weighted indexes, which also use the exchange rates from the same major currencies.
A basis point, or bp, is a common unit of measure for interest rates and other percentages in finance. One basis point is equal to 1/100th of 1%, or 0.01% (0.0001).
U.S. Global Investors, Inc. is an investment adviser registered with the Securities and Exchange Commission ("SEC"). This does not mean that we are sponsored, recommended, or approved by the SEC, or that our abilities or qualifications in any respect have been passed upon by the SEC or any officer of the SEC. This commentary should not be considered a solicitation or offering of any investment product. Certain materials in this commentary may contain dated information. The information provided was current at the time of publication.
*********