Gold: A Super Surge To $2200 Is Next?
A week ago, Morgan Stanley analysts called gold stocks a buy… while I called for a week of pain.
Double-click to enlarge this GDX chart. Clearly, it was pain that prevailed… but could these analysts be correct going forwards from here?
The $30 neckline of the inverse H&S bottom is strong resistance. It coincides with gold $2000 and that's a big number. Significant news is clearly needed to get the price higher.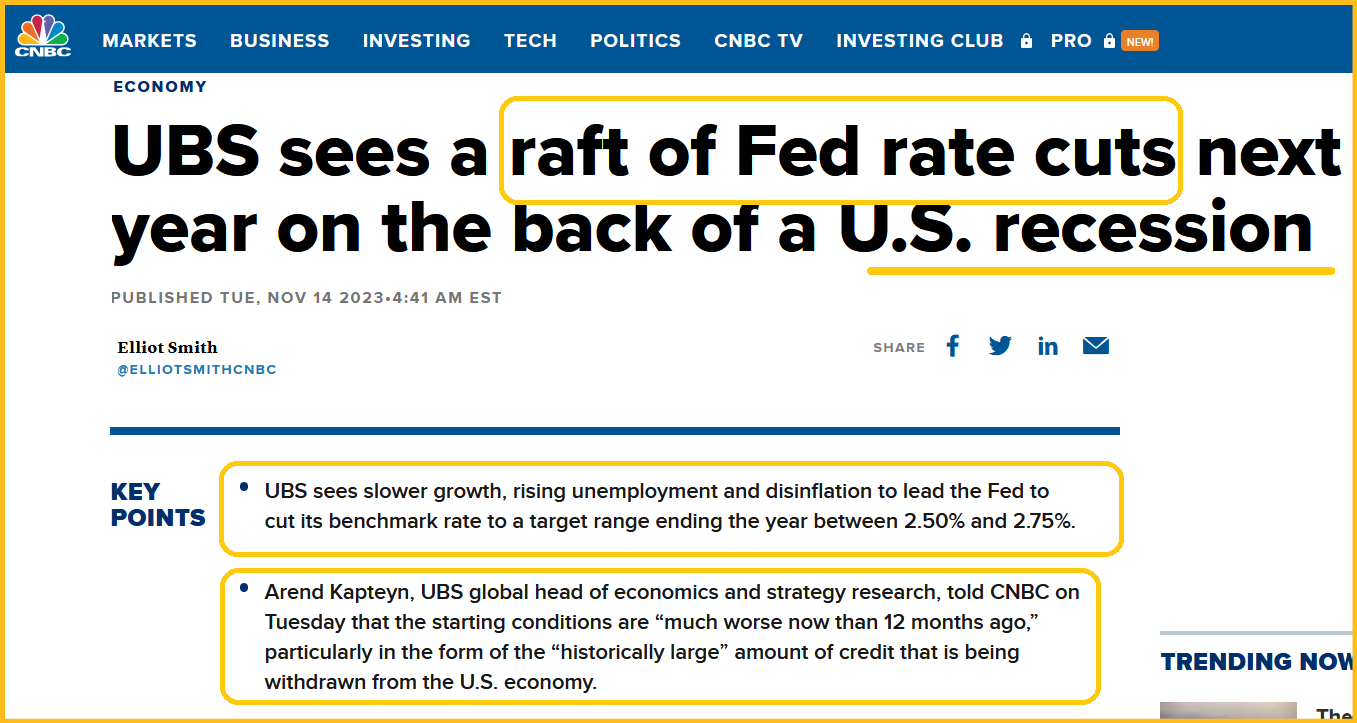 UBS analysts see much worse economic news in 2024, and a "raft" of rate cuts from the Fed to deal with it.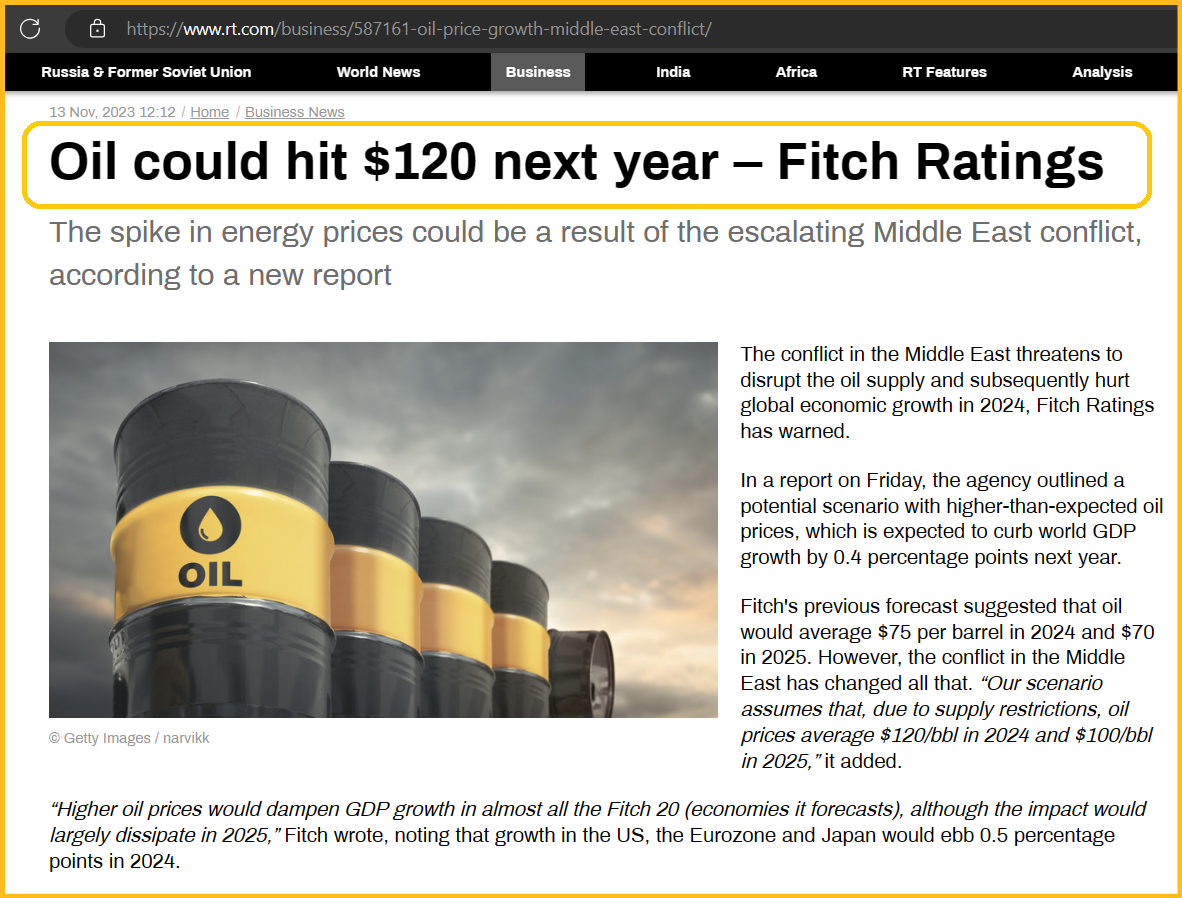 Would the Fed cut rates with oil at $120? If it did, that could create a tidal wave of institutional money into gold and silver stocks.
If oil goes to $120 and the Fed doesn't cut, or hikes to keep the inflation fight as priority number one, the stock market would incinerate…
And the bond market likely would too.
Clearly, India's 1.4billion "titans of ton" citizens have lots of gold… and are storming the stores for more!
Some heavyweight jewellers there are predicting that once this tiny pullback ends, there will a gold bullion "super surge" to $2200 by January or February 2024.
Gold bugs on the fear trade side of the pond are generally focused on miners, and the super surge would obviously be very good news. 
Double-click to enlarge. Last November saw the Chinese stock market begin a massive rally… along with gold.
Can the action repeat again this year? I'll dare to suggest that we're just days away from it happening, and today's US CPI (inflation) report could be the catalyst that launches the rally.
The dollar has a broadening top pattern in bearish play. The death knell likely comes on Dec 13. That's the final Fed meeting of the year.
The 5% zone is huge resistance for US interest rates.
Significant H&S top action is also in play. A right shoulder rally for rates and a final dip to my $1900 buy zone for gold would be just what the doctor ordered for gold bugs of the world…
Right before the super surge to $2200 begins. 
A consistent focus on the big picture is critical for gold and silver market investors. I cover that picture 5-6 times a week in updates just like this one, in my flagship Galactic Updates newsletter. At $199/year, investors feel the price is too low, and I'm doing a $179/15mths special offer that investors can use to get in on the winning action. Click this link to get the offer or send me an email and I'll get you a payment link. Thanks!
Double-click to enlarge this fabulous daily gold chart. In reference to the huge inverse H&S pattern in play: Whether the final right shoulder low is today or later this week really doesn't matter.
What matters is that a rally even more shocking than the Gaza war rally is likely the next big move for gold.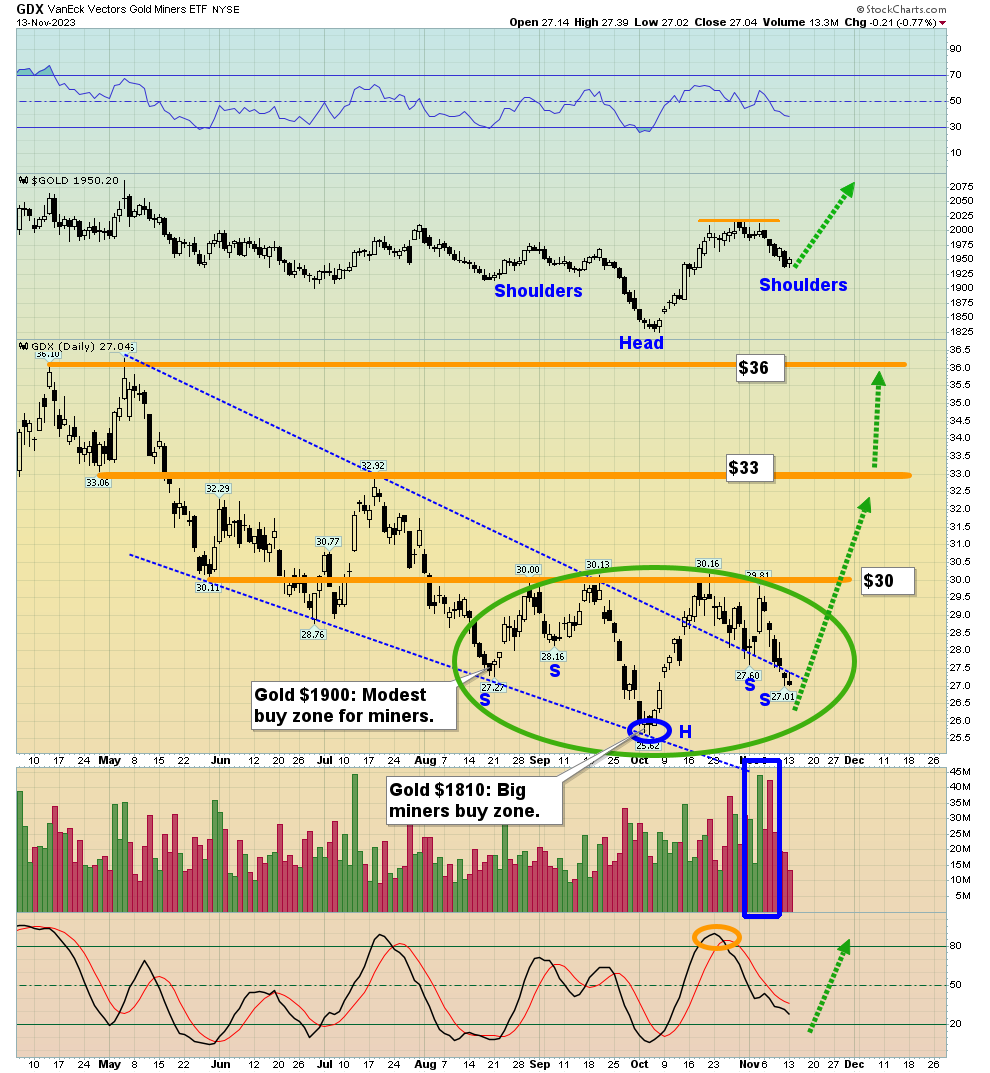 Double-click to enlarge this key daily GDX chart. While it can be argued that the H&S pattern is failing, it's still a very bullish technical "blob". The bottom line for charts:
Not all gold stock rallies begin from textbook chart patterns. Many are launched from zones that feature very rough but bullish technical action.

Investors need to prepare for surprise. Surprise has been the theme thus far for the 2021-2025 war cycle, like it was for the 1919-2021 virus cycle.
There's been a shocking war involving Ukraine and Russia (and US government debt-funded meddlers), and now there's an even more shocking one involving Israel and Gaza.
The 2021-2025 war cycle still has 25 months to go. Will the next phase of the cycle be as shocking as the first two? That's unknown, but the next few days likely represent the final chance to get gold in the $1900 zone and GDX sub $30. There's a buying mania occurring in India… dare I suggest there needs to be one for the gold bugs of the West too? I think I do!
Thanks!
Cheers
St
Special Offer For Gold-Eagle Readers: Please send me an Email to [email protected] and I'll send you my free "Get Jacked With J!" report. I highlight key GDXJ stocks that could surge after Fed man Jay's speech this week! Both core and trading position tactics are included in the report.
Stewart Thomson
Galactic Updates
Note: We are privacy oriented. We accept cheques, credit card, and if needed, PayPal.
Written between 4am-7am. 5-6 issues per week. Emailed at aprox 9am dailyhttps://www.gracelandupdates.com/
Email:
Rate Sheet (us funds):
Lifetime: $1299
2yr: $299 (over 500 issues)
1yr: $199 (over 250 issues)
6 mths: $129 (over 125 issues)
To pay by credit card/paypal, please click this link:
https://gracelandupdates.com/subscribe-pp/
To pay by cheque, make cheque payable to "Stewart Thomson"
Mail to:
Stewart Thomson / 1276 Lakeview Drive / Oakville, Ontario L6H 2M8 Canada
Stewart Thomson is a retired Merrill Lynch broker. Stewart writes the Graceland Updates daily between 4am-7am. They are sent out around 8am-9am. The newsletter is attractively priced and the format is a unique numbered point form. Giving clarity of each point and saving valuable reading time.
Risks, Disclaimers, Legal
Stewart Thomson is no longer an investment advisor. The information provided by Stewart and Graceland Updates is for general information purposes only. Before taking any action on any investment, it is imperative that you consult with multiple properly licensed, experienced and qualified investment advisors and get numerous opinions before taking any action. Your minimum risk on any investment in the world is: 100% loss of all your money. You may be taking or preparing to take leveraged positions in investments and not know it, exposing yourself to unlimited risks. This is highly concerning if you are an investor in any derivatives products. There is an approx $700 trillion OTC Derivatives Iceberg with a tiny portion written off officially. The bottom line:
Are You Prepared?
********