Stronger US$, Surging Yields Drive Down EM Stocks And Gold Price
While the list of US money managers pivoting bullish last week on the US economy and equity markets reads like a who's who list of hedge fund titans, the broader reflationary trend that had displayed cracks in its foundation last month, once again began to quake and break down.
The main forces at work cleaving performance within the markets were longer-term Treasury yields and the US dollar, the impacts of which were mostly absorbed by US equities – while emerging market stocks, precious metals and commodities took the full impact of a much stronger dollar and surging Treasury yields.
What's interesting and perhaps lost or largely ignored over the short-term is that although many strategists and managers now see an intermediate-term catalyst for US equities and a rejuvenation of inflationary forces here in the US, emerging market stocks that had significantly outperformed within the wider reflationary trend this year, now face a clear and present danger as yields break materially higher and as the dollar targets its highs from last year.
Our comparative with the 1987 breakdown in long-term Treasuries would indicate a near-term low is imminent of a first leg down within a broader ABC corrective decline. We estimate this pattern would work out to an eventual target for the 30-year Treasury bond of around 140 next year.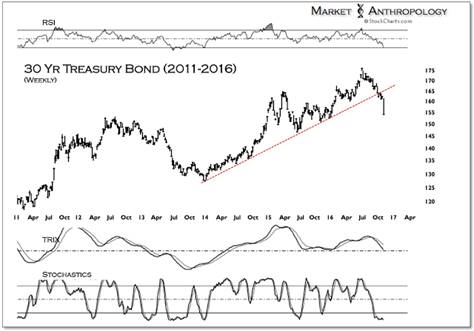 30-Year Treasury Weekly 2011-2016
30-Y Treasury 1981-1987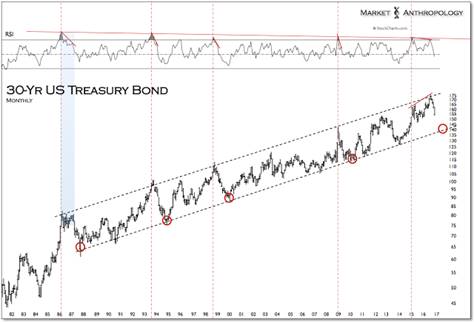 30-Y Monthly 1982-2016
Considering the recent intermarket developments, we continue to like the protection of a short position in iShares MSCI Emerging Markets (NYSE:EEM), that is still loosely following the breakdown of the reflationary outperformance of US equities in late 1987. While we never expect history to repeat in perfect cadence or proportion, intermediate-term support was broken last week that from our perspective points to further declines.
SPX 1987 vs EEM 2016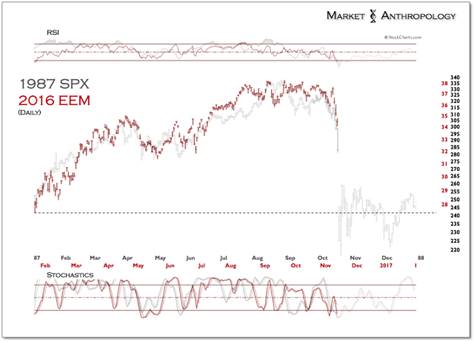 1987 SPX-2016 EEM Daily
This negative outlook also applies to oil, which continues to follow the inverse performance of the dollar, which is now targeting its highs from last year.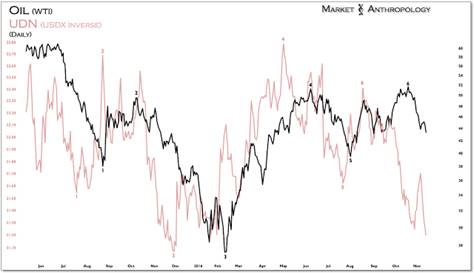 Oil: UDN Daily
Although US equities came up a bit short in open market trading of our corrective decline target of around 2050-2060 in the S&P 500, we still think it warrants following the leading pivots in gold that now suggests another leg lower is approaching.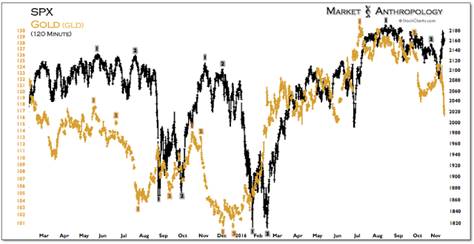 SPX:Gold 120 Minute Chart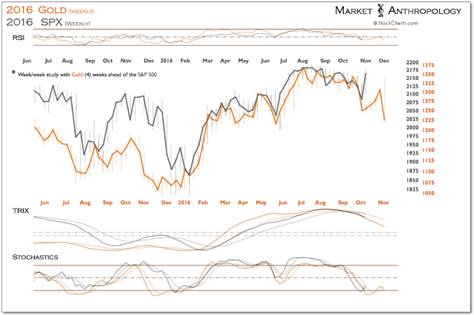 Gold:SPX 2016 Weekly