Trend Changes And Gold Price
The stock market, the US dollar and gold are all undergoing important changes in trend that will impact millions of investors around the globe for the next several months to years.  Sadly, a large percentage of investors are completely oblivious to this fact.  Many are in denial that a new bear market in stocks has started.  They lack the ability to both identify the major trend, and understand that markets are cyclical and oscillate from bull to bear market and back again.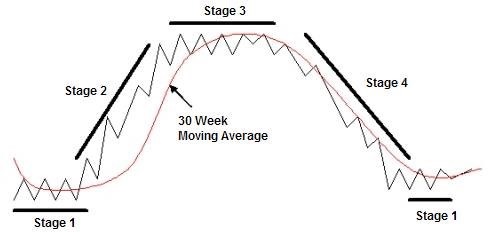 Stock market investors have enjoyed a bull market from 2012 until 2015 where the S&P 500 surged from roughly 1250 to 2100.  After breaking down for multiple months in 2011, the S&P 500 was able to retake the 30-week moving average in 2012.  Once this retest was completed successfully the S&P 500 continued higher in a stage 2 uptrend into 2015.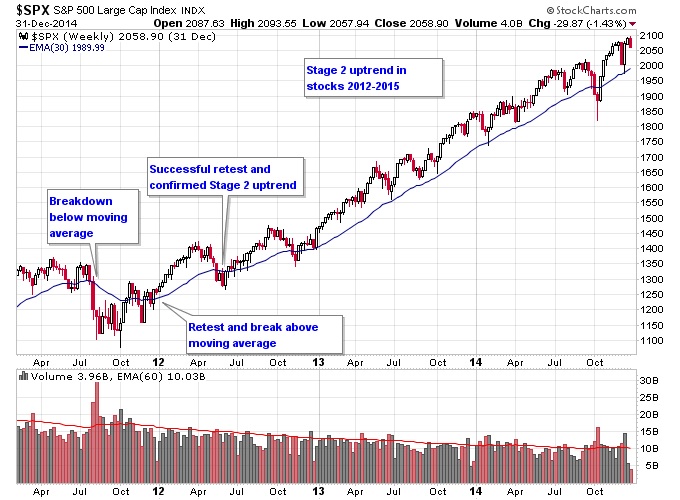 This new stage 2 uptrend in stocks was propelled by the healthcare sector which broke out from a multi-year base into a powerful stage 2 uptrend.  The biotech sub-sector of healthcare in particular staged an amazing run where biotech stocks were up double digits for 7 years in a row.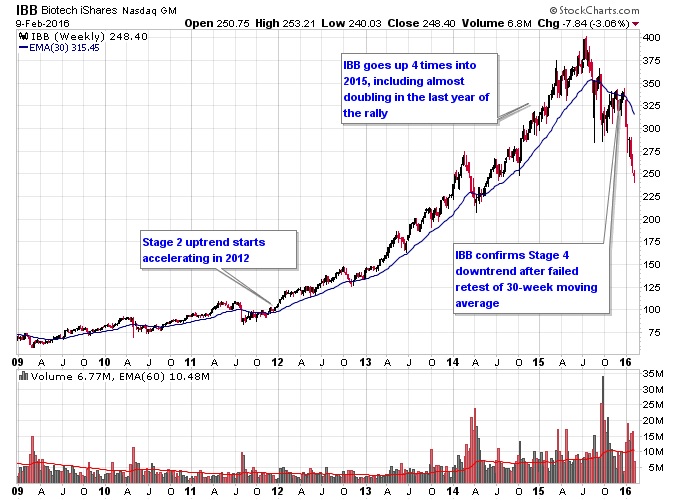 But stocks underwent a stage 3 topping process in 2015 where breadth deteriorated rapidly across the stock market and no new leadership formed.  In particular key indices like the transports and small caps diverged from the other major indices and started trending lower.  Finally the plunge in January confirmed the stage 3 transition into a stage 4 bear market in stocks.
The U.S. dollar followed a slightly different path than U.S. stocks, rallying into 2012 but then trading sideways into 2014.  Then after a tight consolidation formed over multiple months the dollar exploded higher in a parabolic stage 2 rocket launch that enthralled the media.  But just as this epic dollar rally was loved by the masses it topped out in March 2015 and has traded sideways in a topping formation since.
Both of these markets put pressure on gold over the last 4 years as gold moved counter-cyclical to both stocks and the U.S. dollar over that time period.  Gold broke into a stage 4 downtrend in 2012 and kept plunging into a major bottom in mid-2013.   Although the majority of gold's stage 4 bear market was over in 2013 it continued to drift lower into the end of 2015 as stocks were making a major top.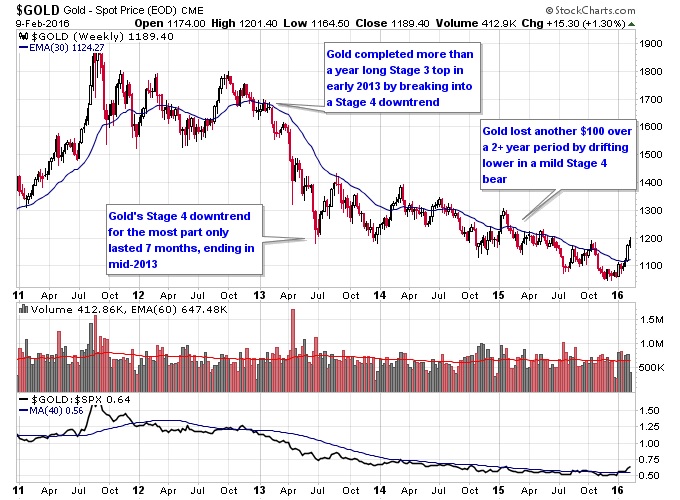 The cyclical nature of the markets has started to reassert itself in a major way to start 2016.  With stocks getting pummeled in a new stage 4 bear market, you would think investors would flock to the U.S. dollar as a safe haven.  But since the dollar has undergone a multi-year rally of its own it's not the safe haven that it's been in the past.  As long as the dollar stays below its 30-week moving average it's no safer than stocks and could cause severe losses for currency investors if it enters a new stage 4 bear market.
Gold on the other hand is threatening once again to enter a new bull market.  Given that it has produced at least 7 failed rallies in its bear market since 2011, most people are skeptical gold can ever enter a bull phase again.  But that's the kind of skepticism and utter disdain for an asset class that creates the conditions necessary for a new bull market to begin.
Checkout my new Stage Analysis Screening Tool at: http://screener.nextbigtrade.com
Twitter: @nextbigtrade
The original article and much more can be found at: http://www.nextbigtrade.com
The views and opinions expressed are for informational purposes only, and should not be considered as investment advice. Please see the disclaimer.