Gold Stock Insiders & Patience
Without any doubt gold company insiders are aggressive buyers of their own stock at current price levels.
In the big picture, that's great news for gold stock investors!
Unfortunately, while long term market fundamental & technical indicators suggest that gold offers tremendous value to investors, the daily charts of gold and related assets… seem to be presenting quite a different picture.
You are looking at the daily T-bond chart.  Quantitative easing is a big factor in this crisis.  Generally speaking, as long as QE is in play, when bond prices rise, gold prices rise.
So, unless the T-bond can rise above HSR at about 145, gold will likely have a very hard time making upside progress.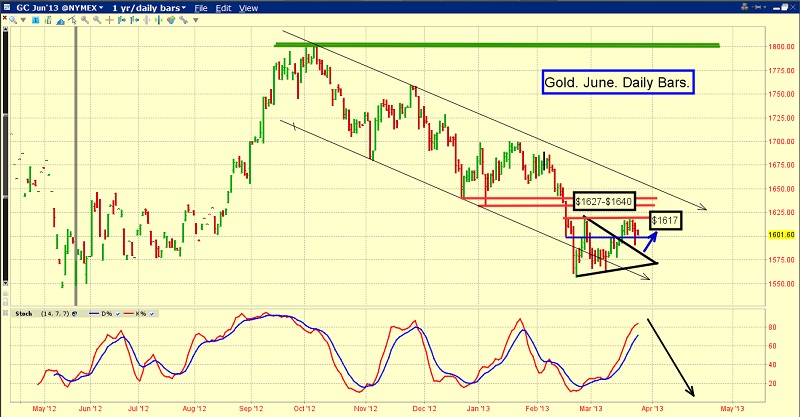 That's the daily gold chart, and I'd like you to make careful note of the position of my "stokeillator" (Stochastics 14,7,7 series). 
Technically, gold is beginning to become overbought, in the short term.  If you make the assumption that the T-bond can make it to the 145 level, it's reasonable to project a little higher gold price, too. 
That would make gold even more technically overbought than it is now, and quite vulnerable to a more substantial sell-off.
A week ago, as the gold price arrived in the $1615 zone, I suggested that it had broken out upside, from a symmetrical triangle.  I said that it was due to pull back, immediately, to about $1585.
Gold's rise did stop there, in that $1615 area.  Yesterday it fell to $1590, and then blasted higher, to about $1608.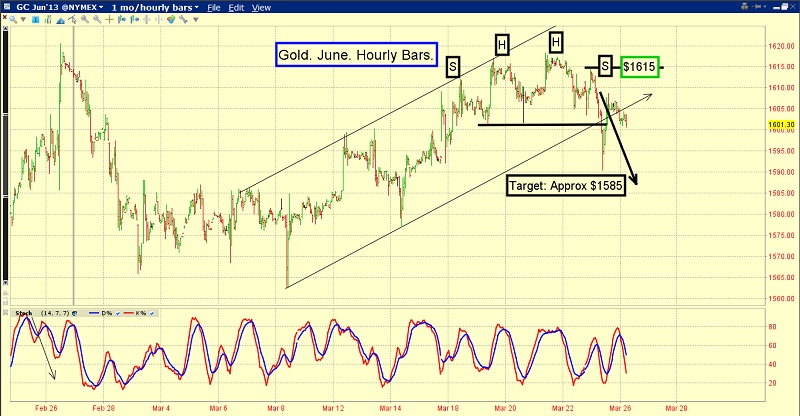 My concern now is not that it pulled back to $1590, but how it did so.  That's the hourly bars gold chart, and you can see that a head & shoulders top pattern formed.
The neckline has broken.  To abort the pattern, and put the bulls back in control, gold needs to rise over the right shoulder high, which sits at about $1615.
That hasn't happened.  Instead, gold has started a fresh decline this morning, and is doing so against the background of that overbought "stokeillator", on the daily chart.
Gold needs an immediate-term fundamental catalyst of size, to "blast" it over daily chart HSR at $1617, and $1627-$1640. 
There are quite a few key economic reports scheduled for release today; hopefully one of them is just what the gold doctor has ordered.
Silver is also having a tough time right now, and a lot of market timers are becoming increasingly frustrated.  It seems to be almost incapable of mounting a significant rally.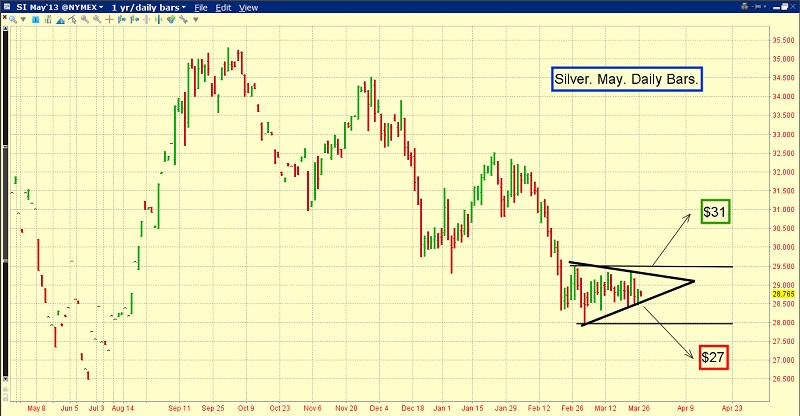 Silver is trading within the boundary lines of a near-perfect symmetrical triangle.
Aggressive traders should watch for a move beyond those lines, as a breakout signal.
The triangle suggests that silver should either fall to the $27 area, or rise to about $31.
Technically, the odds are about 67% that the break comes to the downside, but there is another technical event that needs to be considered, before you get too glum!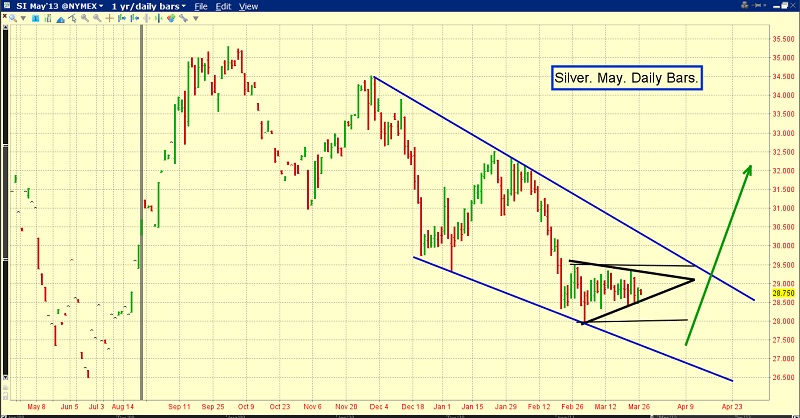 That's another look at the daily silver chart.  Note the bullish wedge pattern that is forming.  It's defined by the converging blue trend lines.
This wedge indicates that regardless of how the triangle pattern is resolved, a trending move to the upside is becoming much more likely.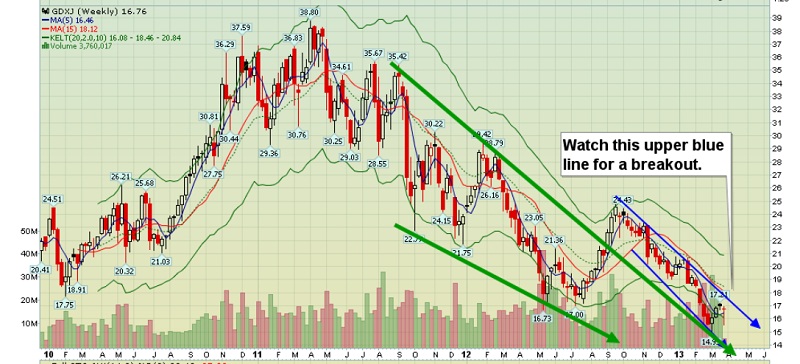 That's the weekly GDXJ chart.  It's very possible that after breaking out from a huge bull wedge, junior gold stocks (and silver stocks) have simply pulled  back to the supply line (in green here) of that huge wedge, and done so in a narrow drifting parallel channel.  Watch the upper blue supply line for a breakout.  It may hold more significance that it appears! 
I'm more net long gold & silver stocks that ever, and company insiders clearly are taking a similar approach, at this point in market price and time!  Be aware that insider buying doesn't necessarily translate into an immediate parabolic move to the upside.  Patience continues to be the gold stock investor's very best friend!
 
Special Offer For Gold-Eagle readers:  Send me an Email to [email protected] and I'll send you my free "Trap Door!" report.  In October of 2008, the Dow almost went right off the trading board.  Since then, it's risen on a wave of liquidity, created by Ben Bernanke's electronic printing press.  I'll show you some key technical "trap doors" that I'm following, which could produce put option profits!
Note: We are privacy oriented.  We accept cheques.  And credit cards thru PayPal only on our website.  For your protection.  We don't see your credit card information.  Only PayPal does.  They pay us.  Minus their fee.  PayPal is a highly reputable company.  Owned by Ebay.  With about 160 million accounts worldwide. 

Rate Sheet (us funds):
Lifetime: $799
2yr:  $269  (over 500 issues)
1yr:  $169    (over 250 issues)
6 mths: $99 (over 125 issues)
To pay by cheque, make cheque payable to "Stewart Thomson"   Mail to:
Stewart Thomson / 1276 Lakeview Drive / Oakville, Ontario L6H 2M8 Canada
Stewart Thomson is a retired Merrill Lynch broker. Stewart writes the Graceland Updates daily between 4am-7am. They are sent out around 8am-9am. The newsletter is attractively priced and the format is a unique numbered point form.  Giving clarity of each point and saving valuable reading time.
Risks, Disclaimers, Legal
Stewart Thomson is no longer an investment advisor. The information provided by Stewart and Graceland Updates is for general information purposes only. Before taking any action on any investment, it is imperative that you consult with multiple properly licensed, experienced and qualifed investment advisors and get numerous opinions before taking any action. Your minimum risk on any investment in the world is: 100% loss of all your money. You may be taking or preparing to take leveraged positions in investments and not know it, exposing yourself to unlimited risks. This is highly concerning if you are an investor in any derivatives products. There is an approx $700 trillion OTC Derivatives Iceberg with a tiny portion written off officially. The bottom line:   
Are You Prepared?